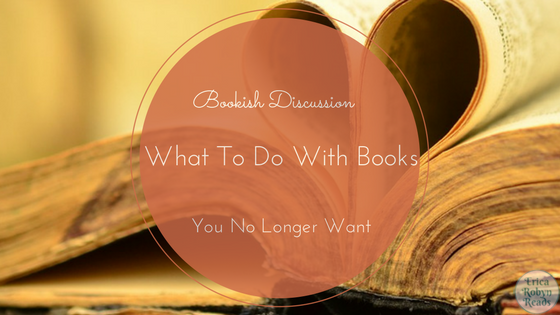 Summer may be right around the corner, but in New England where I live, Spring is still holding on tight! Sure, rain makes lovely cozy reading weather, but I'm starting to get antsy. I just want to sit outside in the sun and enjoy some iced tea while reading a nice book already!
Anyways, I don't know about you, but I always feel a bit better after completing a nice sort before I dive into my Spring cleaning. I personally love one of the ideas from Marie Kondō; I ask myself if owning a certain thing still sparks joy. If it does, great! But if it doesn't, it's probably time for that item to go.
Sorting books can be a difficult task, I know. But when the time comes for to "un-haul," there are many options for you.
What To Do With Books You No Longer Want
Sell them back to a second hand store.
Need some pocket change? Bring the books to a second hand store that purchases used items. If you haven't sold books back before, just be aware that the stores won't offer you as much as you would hope. But hey, any little bit can help sometimes!
Sell them online.
There are many websites that allow you to create a sellers profile and list items for sale or for auction. Just a few include eBay, Half.com, and Amazon. Selling online can be a bit of a hassle, but you may get more more here than selling to a secondhand store.
Donate them to a library, hospital, retirement home, thrift shop, etc.
If you already know of an place near you, shoot them an email or give them a call and ask if they are looking for book donations. Or if you're unsure, just Google "book donation near me" and all kinds of options will pop up.
Release your books "into the wild" using BookCrossing.
I've never tried this, but I would love to someday soon! For this, you simply label a book using the BookCrossing template, leave it in a place where someone would pick it up, and then check back on the website to see where the book has traveled. Sounds pretty neat, huh?
Give away to family or friends.
Always a great option! Before I donate or try to sell books, I always ask someone that I think may be interested.
Host a book swap.
This is another thing I have yet to do, but would absolutely love to someday! The closest I came to this was a Christmas party where we each purchased our favorite book, wrapped it, and then participated in a Yankee swap.
Set up a little free library.
I'm so happy to see these popping up all over the place! Especially in more rural areas where trips to libraries and bookstores are a bit out of range. You could also try Googling to see if someone has reported one that is already set up near you and leave all of your books there.
Do a book craft.
I know this is a touchy subject in the bookish world, so if "destroying" books makes you angry, just skip this bit!
There are so many lovely crafts you can do with unwanted or damaged books! Just check out Pinterest, searching for things like "Old Book Drafts" for dozens of incredible projects. One of my all time favorite projects are Paper Roses! One day I would also love to make bookish coasters (using ceramic tiles, book pages, and a few layers of decoupage glue and varnish!) and hollow out a book for secret storage.
Recycle them.
If all else fails, that probably means your books are in wicked rough shape… So if there is no hope for them, you can always bring them to a recycling center.
Thanks for reading!
What do you usually do when you no longer want a book?