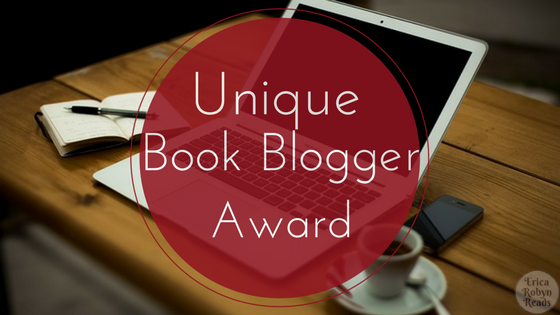 Shout out to Anna Reeves of Coffee, Tea, and Books for nominating me for the Unique Book Blogger Award! I'm so excited to be taking part in this.
Unique Book Blogger Award
The Rules:
Share the link of the blogger who nominated you.
Answer the questions provided by the blogger who nominated you.
Nominate 8-10 other bloggers for their uniqueness.
Ask them 3 questions.


The questions I was asked:
If you could be any book character who would you be?
Oh! What a tough question! This may be considered a bit of a cop out, but I would have to go with a character from the Harry Potter series. Though I wouldn't want to be one of the main characters, after all the crazy things they had to go through! I'd just like to dip into that world to experience all of the magic. And of course I'd love to visit Hogsmeade and fly on a broom!
If you could convince an author to change one thing (a character, a plot, etc) about a book they wrote what would it be?
I wouldn't literally try to convince an author to change something in their book. But for the sake of this question, I would ask Francesca Zappia to change one scene in Eliza and Her Monsters where a character acted totally out of character (sorry, I can't spoil it!). It was such a bummer!
What storyline or characters would you like to see more in books?
I'd love to see more training in YA Fantasy. Far too often, the main characters are suddenly able to use their full power right in the nick of time. I would personally love to see more books take the time to train the characters so there isn't such a huge leap between being clueless to being a master.
Unique bloggers I nominate:
My apologies if you have already been tagged in this. Also, if you haven't been tagged yet but would like to participate, feel free to let me know! I'll add you to the list above.
My questions for the nominees are as follows:
What blog post from 2017 do you wish had gotten more love?
When did you begin blogging?
What is your favorite type of blog post to write (reviews, discussions, etc.)?
Thanks for reading!