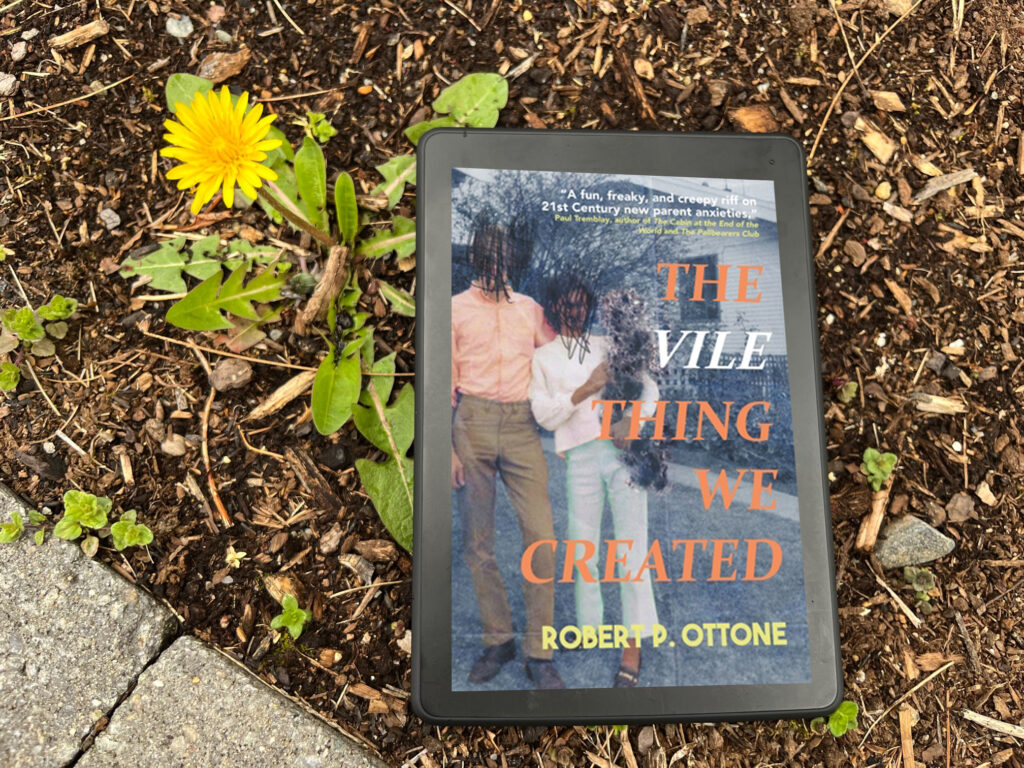 The Vile Thing We Created by Robert P. Ottone is a tale centering around everyday life elements like work, relationships, and starting a family. But it's a life where not everything is what it seems …
Content Warnings:
Abortion, Animal Death, Body Horror, Death, Forced Institualization, Gaslighting, Gun Violence, Mental Illness, Pregnancy, Racism, and more.
Right at the start, I wanted to mention that Robert added a note to his lovely introduction that stated:
"To all the expectant mothers: You may want to sit this one out."
As I am at a very tricky spot in life when it comes to infertility and pregnancy, I checked with the author himself as well as a few friends, to see if I should hold off on this one. As the votes were split, I decided to go ahead and dive in. After reading the book, I think I should have waited as I struggled with a bit of this. But that just means I'll need to re-read it one day down the road when I'm in a different headspace! But even so, I enjoyed a lot about this book!
Let's dive in!
My Thoughts on The Vile Thing We Created by Robert P. Ottone
When Lola and Ian drop off dessert that Lola had baked for a birthday party, they look around to see that all of their close friends whom they hadn't heard from in a while were there. Previously thinking they had the perfect life filled with lots of laughter, sex, and fun, Lola and Ian soon feel like they are missing out because they don't have a kid like the rest of their friends.
Logically, they know this isn't a reason to have a kid. But their fear of FOMO wins out.
With the news of the pregnancy, things start to change. They think it's for the better, but that all changes again once the baby arrives.
The first half of the book focuses mainly on the relationships and build-up. As soon as the baby arrives, the book takes a sharp turn into horror.
Unfortunately, I struggled a lot with the first half of the book as I'm a bit too close to the topic. The author says it himself, but I would also very strongly recommend that expectant mothers hold off on this one.
But the second half of the book, now that had me totally invested! There is so much going on inside these pages! I really enjoyed not being able to guess at what was to come! Just when I thought I may know, things got darker and darker, leading up to an explosive ending I did not see coming.
And let me tell you… there is one scene with bugs that REALLY got into my brain. I pictured that far too realistically while reading.
My Favorite Passages from The Vile Thing We Created
Suddenly, she felt it. At first, she thought it was just some gas on its inevitable journey south, but instead, it lingered in her belly. She panicked, and she then felt it again. "Oh my god…" she said, the shower pouring down on her, rinsing her hair. She held her stomach and felt it again. The baby was kicking.
He tried to spin and get a better look, but every time he did, the breathing shifted just out of his line of sight. Eventually, he was able to catch a glimpse. He wished he hadn't.
In the gloom, she heard only his giggling. It assaulted her ears as it, like her own screams, reverberated in the dark.
My Final Thoughts on The Vile Thing We Created
A must-read for fans of slow-burning and layered horror centered around everyday life but then later with a twist of the supernatural. Just tread lightly if any of the content warnings make you nervous.
---
Purchase your copy of The Vile Thing We Created
Thanks for reading!