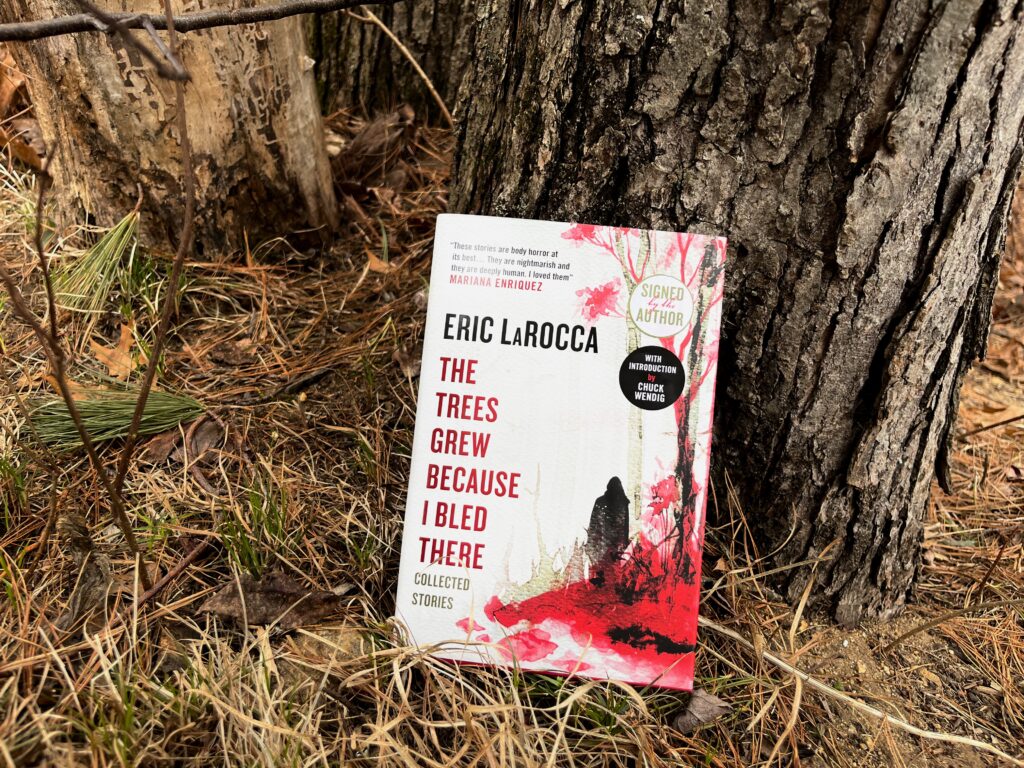 The Trees Grew Because I Bled There by Eric LaRocca is a horrifically beautiful collection of short stories centering around grief and internal struggle.
Let's dive in!
My Thoughts on The Trees Grew Because I Bled There by Eric LaRocca
I first read each of these stories when they first came out in The Strange Thing We Become and Other Dark Tales and absolutely loved each of them. The creativity here is just astounding.
Here are my thoughts on each story from reading the second time around!
You Follow Wherever They Go – 
A young man is nervous to join a group of children out in the street, but his ill father encourages him.
A heartbreaking story of loss and grief. This one paints such a strong scene in your mind! It was just as gut-wrenching the second time, and I still couldn't help but imagine The Black Parade. 
---
Bodies Are For Burning –  
When a woman still reeling in grief and struggling with thoughts of burning is asked to watch her niece, she's nervous. When her niece is dropped off, the dark thoughts really dial-up. 
This one will make you clench your jaw the entire time while reading! Such intense dark thoughts and terrifying scenarios. 
---
The Strange Things We Become – 
Writing on a forum, this person writes about what she and her partner become after horrible news from a doctor. 
This story is equal parts beautiful and tragic. Your heart will shatter just in time for the bits to be stomped on. 
---
The Trees Grew Because I Bled There – 
Giving this man anything he asks for, this woman decides that she has had enough once she has reason to stop.
This is such a wild story with so many little one-liners that pack such a big punch. This is truly one of the most haunting tales I have ever read. 
---
You're Not Supposed To Be Here – 
Approached by a couple while at a park with their son, one man thinks the situation is odd but the other is oblivious. When their child goes missing, they realize they were set up. Now they must play along or risk never seeing their son again. 
This story is absolutely terrifying. The fact that this could very easily happen when you're just out and about, minding your own business… 
---
Where Flames Burned Emerald As Grass – 
Approached by a man that seems to be clairvoyant, this father is asked to make an impossible decision. But when he second guesses, he sets off a chain of terrible events.
Would this have all played out if the two men never met? Or did the conversation force the situation?
---
I'll Be Gone By Then – 
Stuck in a position where she needs to be the caregiver of her elderly mother, this woman thinks of any option to not be in this situation. But when she has a change of heart, is it too late?
This story is heartbreaking on so many different levels!
---
Please Leave Or I'm Going To Hurt You – 
On a hike, this son struggles with what is to come and whether or not he should tell his secret to his father after all these years.
This tale is so beautifully uncomfortable.
My Favorite Passages from The Trees Grew Because I Bled There
Out of the corner of my eye, I spy the clock on the wall-the unofficial referee of our back-and-forth. Only five minutes left. I've been keeping something from him for the past forty minutes, but it's slowly creeping up my esophagus and pushing against my gritted teeth. I push it out in one breath:
"My sister wants me to look after my niece tomorrow."
– Bodies Are For Burning
I wonder if it's because each thing that loves us leaves behind a small stain.
– The Strange Things We Become
I suddenly regard them, not as if they were human beings, but rather as if their bodies were the undisturbed archaeological sites of ancient tombs- the secrets they must protect in their darkest recesses, the unrevealed confessions lying dormant inside them like the jeweled remains of long-since deceased Pharaohs.
– You're Not Supposed To Be Here
My Final Thoughts on The Trees Grew Because I Bled There
Each story in The Trees Grew Because I Bled There will get under your skin and float through your bloodstream. This collection is just so creative!
Eric will never cease to amaze me with the way he blends beauty in even the darkest moments.
---
Purchase your copy of The Trees Grew Because I Bled There