The Stark Divide by J. Scott Coatsworth was a wonderfully written space adventure filled with suspense! I fell in love with the characters immediately and could not wait to see what was going to happen next.
When I logged on to Goodreads to mark this as finished, I was thrilled to see that it was labeled as book number one! I NEED to get my hands on a copy of The Rising Tide soon! I cannot wait to see where this story goes next!
Full disclosure: I was given a free copy of this book from the author in exchange for an honest review. This did not affect my rating in any way.
The Stark Divide (Liminal Sky #1) by J. Scott Coatsworth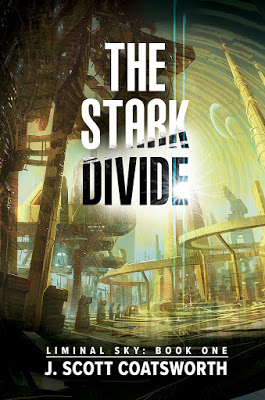 The book began with an absolutely lovely dedication page filled with wonderfully heartfelt messages! I just loved this so much.
The story then began with quite the bang! I was hooked immediately!
As the story continues, the reader learns that the Earth is becoming a very dangerous place to live. There is too much carbon dioxide in the atmosphere and the planet is very warm. So warm that many coastal cities are now under water and a great number of the population has been wiped out…
Over the course of this novel, Earth begins to fall apart as the humans wage war and the atmosphere becomes more and more toxic. Luckily, three living generation ships have been built, each with an artificial intelligence. When a seed is planted on an asteroid, a new living world begins to grow.
It is on this planet that three generations focused on in this first book work together to properly colonize the planet.
But is the new planet they are helping grow going to be safe?
This graphic was sent over by the author and I really enjoyed seeing the map! This really helped to add more dimension to the story because I could imagine the world a bit more clearly.
The Characters:
My goodness, I loved this crew! Each character was so wonderfully developed and interesting. I loved that they were a diverse cast as well and that their diversity wasn't overly discussed or brought up too frequently; it was just totally natural, as it should be!
I really enjoyed that in the first part of the book, we met three characters that played very important roles in the creation of the planet. It was so nice to see their influence throughout the rest of the book as other generations came through. These three were Collin McAvery, the ship captain, Anastasia Anatov, the "doctor" who is an expert in the ship genetics, and Jackson Hammond, the engineer with a very useful ability.
Part One: Seedling, 2135 AD
The first part of the book was so suspenseful! It was a major life and death situation for more than just the ship and the three crew members, but also for the humans on Earth as the crew of three raced the clock to get off the dying ship and save the seed.
The overall situation that they were all in was terrifying, but there were also many other things that occurred that got my heart racing! Each time they got out of one sticky situation, another popped up! I could never have guessed what was going to happen next! It was so nerve wracking and so wonderfully written!
Part Two: Colony 2145 AD
The Hammond! Oh my gosh they named a ship after him like he requested; "Name something after me." And his son, Aaron, is on the ship! And then the lake?! Welp, there came the water works for me… What a lovely touch!
This part of the story was another action packed section with a fun little whirlwind romance. I loved learning more about the growing world in this section and I really enjoyed meeting the new characters!
Part Three: Refugee, 2165 AD
I loved seeing how the third generation Hammond's powers have evolved! I thought it was so neat that each generation had something slightly different.
Just like the other sections, this one held many suspenseful situations.
My Favorite Passages from The Stark Divide
Somewhere out there, their destination awaited them, an asteroid floating in a sea of stars.
Men were often dismissive of the things they didn't understand.
My Final Thoughts on The Stark Divide
Overall, a super fun and action packed read that kept me totally engaged. This was so wonderfully written and it was very easy to get totally immersed while reading. I adored the wonderful characters and the plot was so interesting! I just couldn't wait to see what was going to happen next!
If you enjoy space adventures with a wonderful cast, this is one that I highly recommend to you!
---
Snag a copy through Bookshop to help support local indie bookshops:
About The Author: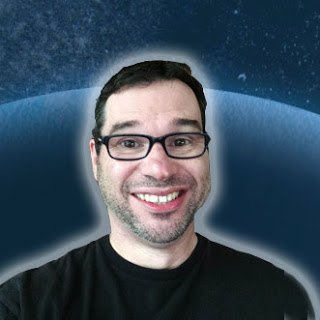 Scott lives with his husband in a leafy Sacramento, California suburb, in a cute yellow house with a pair of pink flamingos in the front yard.He has always been in the place between the here and now and the what could be.
He started reading science fiction and fantasy at the tender age of nine, encouraged by his mother. But as he read the golden age classics and more modern works too, he started to wonder where all the queer people were.
When Scott came out at 23, he decided he wanted to create the kinds of stories he couldn't find at the bookstore. If there weren't gay characters in his favorite genres, he would reimagine them, filling them with queer men. He'd remake them to his own ends, and if he was lucky enough, someone would even want to read them.