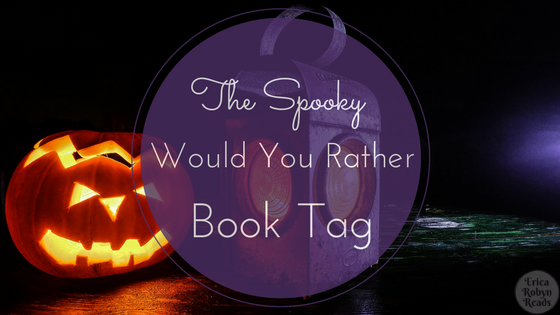 When I saw Lii of Girl Hearts Books post this book tag, I immediately wanted to dive in! This was such a fun tag, I highly recommend taking part!
The Spooky Would You Rather Book Tag
The Spooky Would You Rather Book Tag was created by BookTuber, The Book Pusher!
1. THRILLERS OR SUPERNATURAL ELEMENTS?
Thrillers for sure! I am a total sucker for Thrillers. I do also enjoy a supernatural element, but far too often, I just get a bit bored with them.
2. GHOSTS OR ZOMBIES?
Zombies! Check out five of my favorite zombie reads.
3. VAMPIRES OR WEREWOLVES?
Vampires. Unfortunately, I have yet to find a book featuring werewolves that I really enjoyed.
4. WITCHES OR DEMONS?
Oh, this one is tricky! I think I would have to go with witches.
5. WOULD YOU RATHER READ A BOOK WITH 13 CHAPTERS OR READ A BOOK WITH A BLACK CAT ON THE COVER?
I'd rather read a book with a black cat on the cover. I'm not really superstitious, but there's just something about the number 13… I can never stop reading if I hit chapter 13. I ALWAYS go to 14.
6. WOULD YOU RATHER READ A SPOOKY BOOK IN THE DARK WITH ONLY A CANDLE FOR LIGHT OR BY YOURSELF IN A LOCKED BRIGHTLY LIT ROOM?
Read a spooky book in the dark with only a candle for light. I LOVE this setting! 🙂
7. WOULD YOU RATHER FACE YOUR WORST FEAR IN A BOOK OR BE TRAPPED IN THE MIND OF A KILLER?
Trapped in the mind of a killer. It sounds really dark, but I find it really interesting to see how characters like that think and function.
8. WOULD YOU RATHER WATCH A SCARY MOVIE OR READ A SCARY BOOK?
Argh! Both!! But because I have to pick one… I'd say read a scary book. I LOVE when I'm reading something that has me frantically flipping the pages to see what happens next.
9. WOULD YOU RATHER READ SPOOKY BOOKS ONLY DURING THE FALL TIME OR ALL YEAR?
I totally read spooky books all year. But there's just something so special about reading spooky books during the fall!
10. WOULD YOU RATHER READ 10 SPOOKY BOOKS IN OCTOBER OR 10 SPOOKY BOOKS ALL YEAR??
10 spooky books in October! That was actually my goal of this month, but because I was so behind on honest reviews, I didn't succeed…
Thanks for reading!
If you'd like to participate in this tag, consider yourself tagged! 🙂
Happy October everyone!