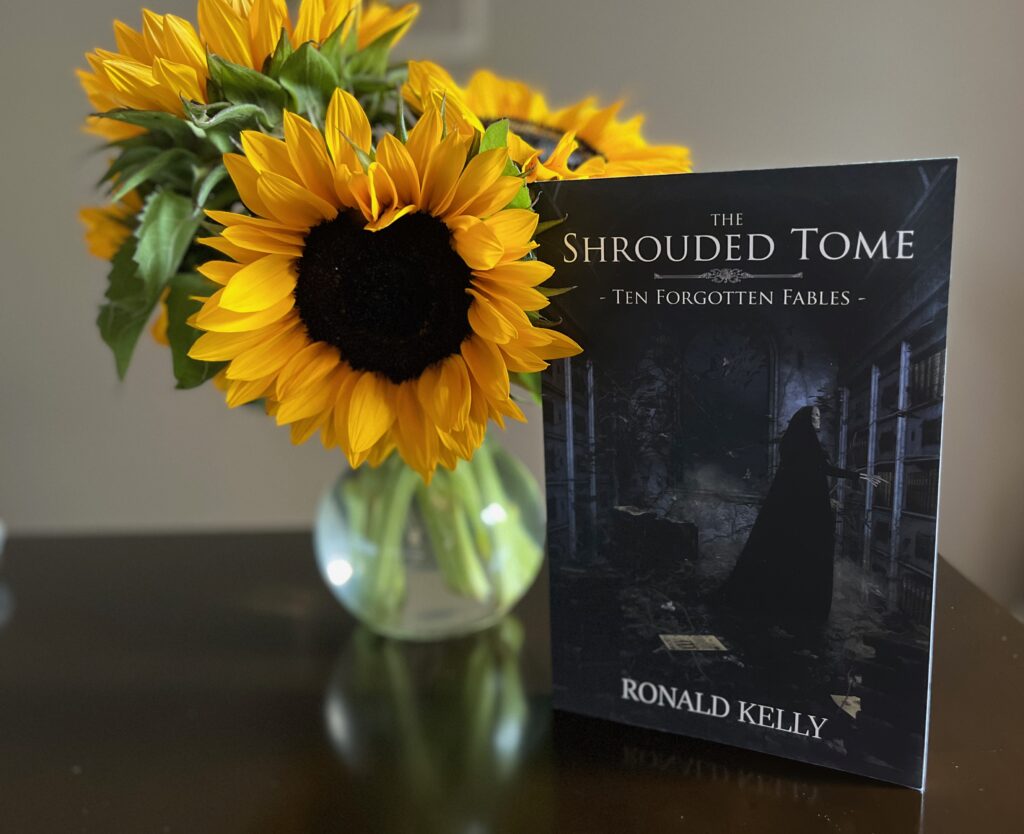 The Shrouded Tome: Ten Forgotten Fables by Ronald Kelly is a spectacular collection of chilling tales brought back into the light to settle into readers' nightmares.
Let's dive in!
My Thoughts on The Shrouded Tome: Ten Forgotten Fables by Ronald Kelly –
Ugh, I just cannot get enough short stories from Ron Kelly! Each and every tale here was so much fun to experience. As always, each tale is so engaging and vivid; they'll suck you right in before you know it, you've reached the end.
While I absolutely loved each and every one of the stories here, my favorite from this collection was Romocide!
Per usual, here are my notes on each!
Strong Steps – 
Haunted by horrible nightmares, everyone keeps telling him that the dreams can't hurt him. But this man is increasingly nervous to have his son stay for the weekend, dreading that something will happen.
I love short stories with dream or nightmare sequences! This one was gut-wrenching. The helplessness the main character feels is transferred to readers quickly and potently. 
---
Midnight Tide – 
Taking a week off to stay in their Oceanside cottage, this woman passes the time running along the beach, saying hello to the young boys that are staying next door with their mom, and relaxing with her dogs. But one day, she meets another renter and has a bad feeling. Then one of the boys goes missing, but things are about to get much worse from there.
What an intense tale! The focus on how this woman reacted to the situation and how it affected her is so chilling. 
---
The Dark Tribe – 
Determined to find dinosaur bones under one of their houses, these two boys uncover something much more alarming. Before they can tell an adult, things go sideways.
Oh my gosh, who didn't try to dig for fun discoveries when they were a kid?! This story was so much fun. I had a dark guess at where this one may be going, but I was very wrong.
---
Tyrophex-14 – 
After witnessing the horrible death of his herd of cows, this man quickly makes some phone calls. Soon, this town and the FBI find themselves rushing to figure out what the contaminant is and who was making it in the first place before more can be spilled.
The thought of this premise is incredibly unsettling. How many chemicals are made every day for good or unintended ill? And how many of them are known to be bad, but just go about being manufactured anyway?
---
The Boxcar – 
During troubling times, these two men wander around just trying to survive, hopping trains and finding shelter wherever they can. But one night, everything changes. 
Oh my gosh, I love a good dream sequence inside of a story! This one was wonderfully hazy like we were seeing the dreams from behind a bit of cloth. 
---
Dust Devils – 
Stuck in a violent and scary household, this young girl makes an unusual friend that helped her just when she needs it the most.
A blood-boiling tale that keeps throwing punches until the very end and yet, still manages to leave us on a lovely note. 
---
Better Than Breadcrumbs – 
Terrified of birds, this young man decides to bide his time one afternoon by shooting them in his parent's backyard. Cautioned not to be so wicked, he doesn't listen. Later, when waking up in a nightmare, he's determined to take down more of the birds. Will he succeed?
I absolutely love the film, The Birds. I loved the elements that came into play in the story that were from the film. And boy, what a wicked and terrible character! 
---
Romocide – 
Going to a crime scene with a very unusual death, the best they can hypothesize is spontaneous human combustion. But the deeper they get into this investigation, the more they learn about this dangerous situation.
Take being a hypochondriac and dial that up to an eleven, and you're close to this tale! Phew. This was brilliant and so terrifying. I loved that the focus on these events was from the investigators' perspectives. 
---
Thinning the Herd – 
In a world filled with supernatural beings, these two have taken it upon themselves to be hunters.
With a slight Van Helsing vibe, this tale is a blast! Absolutely action-packed and brutal. And shout out to the werewolf that was okay with someone not drinking alcohol! 
---
The General's Arm – 
Determined to bring back his right-hand man, this war general won't rest until things are back to normal. But even through his hesitations, he knows what he's about to do certainly isn't natural.
What a fun and creepy slow burn that takes a brutal turn!
My Favorite Passages from The Shrouded Tome: Ten Forgotten Fables –
"…It wouldn't be the first time that innocents have suffered in order to fill my needs."
– Midnight Tide
The little town moved as slow as winter molasses.
– Thinning the Herd
"…I believe they are more frightened of seeing what emerges from this tent than you might think. And fear can bring about violence and retribution more swiftly than a match can light fire to dry tender."
– The General's Arm
---
My Final Thoughts on The Shrouded Tome: Ten Forgotten Fables
I blew right through this collection! I just couldn't stop reading, too excited to see what tale would come next!
This is a must-read for horror fans, especially if you like really eerie stories with supernatural or disastrous elements!
Thanks for reading!
And a major thanks to Ronald Kelly himself! I still cannot believe this collection was dedicated to me! When he messaged to tell me, I was in total shock. This is such an honor.
The dedication reads:
For Erica Robyn Metcalf
Much thanks for your kindness & friendship,
and for loving my style of Southern storytelling.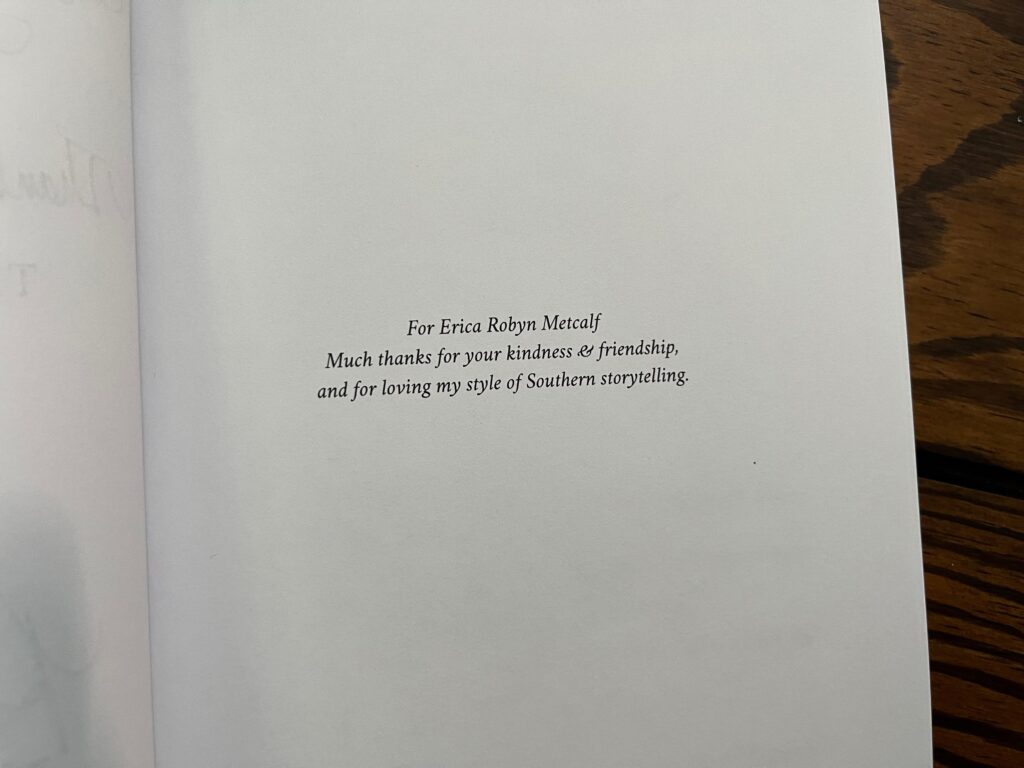 Of course, I had to snag one from the author's online bookshop to get a doodle and further customization as well! Don't miss your chance to grab one, check out the purchase links below.
---
Purchase your copy of The Shrouded Tome: Ten Forgotten Fables