It has been ages since I have done a book tag. When Esther from BiteIntoBooks tagged me in this one, I just couldn't pass it up! After all, I'm quite obsessed with all things Nightmare!
This tag was created by The Butterfly Reader. Check out her post here!
The Nightmare Before Christmas Book Tag
Jack – A book with a character who longs for more
Victor and Eli from Vicious by V.E. Schwab
In this book, both main characters long for more! This longing ends up destroying their friendship… Read my review of Vicious here!
Sally – A book with a character who loves someone so much and actually gets them in the end
I'm going to skip this one because the only book that came to mind for this prompt would be a total spoiler!
Zero – A book with a loyal sidekick
Ford Prefect, The Hitchiker's Guide to the Galaxy
Ford not only saves Arthur from death when the planet is scheduled for demolition, Ford also sticks by Arthur through thick and thin and helps him along their mission.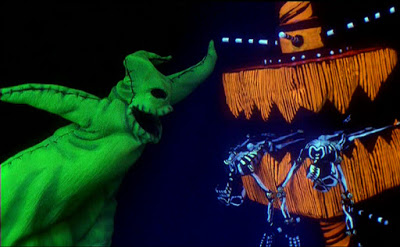 Oogie Boogie – A book with one hell of a wicked villain
Count Olaf from A Series of Unfortunate Events
Olaf is one of my all time favorite villains! You never know what scheme he is trying to cook up next!
Halloween Town – A book that's creepy or has a scary theme
The Murders of Molly Southbourne by Tade Thompson
The plot of this story is terrifying to me! It is such an original horror story filled with life, death, and lots of blood. While reading, I felt very unsettled and anxious throughout; I loved it!
Check out my review of The Murders of Molly Southbourne here
!
Christmas Town – A book that left you feeling warm and fuzzy inside
The Readers of Broken Wheel Recommend by Katarina Bivald
This is such heartwarming story! If you haven't read it yet, I highly recommend it! This one gave me all the feels.
What's This? – A book that took you by surprise
Switched by R.L. Stine
The ending of this book took me totally by surprise! I definitely did not see it coming. Feel free to read
my review of Switched here
!
Your turn!
If you're a fan of Nightmare Before Christmas, or just want to do this tag, consider yourself tagged! <3 If you complete the tag, feel free to leave your links in the comments below! I'd love to check out your picks!

Looking for your Nightmare fix? I own each of the items below and I love them all! I considered putting all of my collection here… but it would be a bit overwhelming. 😀