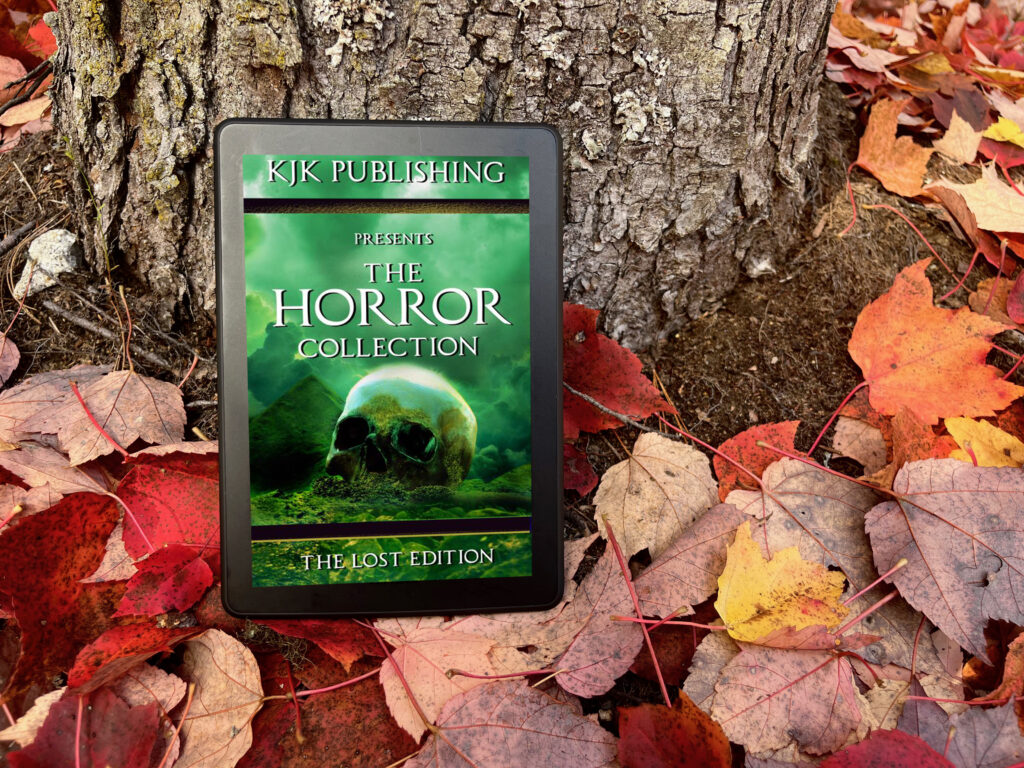 The Horror Collection: Lost Edition presented by KJK Publishing is the 14th chilling collection in this series. Per usual, I absolutely loved it!
Let's dive in!
My Thoughts on The Horror Collection: Lost Edition presented by KJK Publishing
With this lineup of authors, I knew we were in for a treat! This is another collection that covers a ton of ground.
My favorites from the collection include:
Eric's Tune by Mark Towse
Encounter by Daemon Manx
The Maiden of Underbank by Lex H. Jones
From A Colder Place by Judith Sonnet
Shameless Sam Changes His Life by Steve Stred
The Association by Richard Chizmar
Frequencies by Candace Nola
Per usual, here are my thoughts on each tale!
A Perfect Match by Russell James –
When a fancy man arrives in town, the women at a brothel are curious to see if he will stop by their establishment. He does, and while he chooses one special lady, he takes her to his hotel rather than staying under the roof. That was just the frost red flag…
Ofh, what a story to kick things off with! The reveal toward the end regarding his cape was horrifying.
---
Eric's Tune by Mark Towse –
Going into a jail cell while on a tour to play a prank, this man gets much more than he was anticipating.
What a terrifying tale! I was already nervous about the cell door being shut, but I couldn't have guessed the horrors to come!
---
13 Hook Street by Tim Curran –
When moving into a house with a dark past, Marie could feel the pain immediately but she had no idea what secrets it held.
This poor woman. Watching her wither away and be constantly gaslit by her husband was terrible.
---
Encounter by Daemon Manx –
After being released from jail, this man only has one person in the world that he was looking forward to seeing; his old cellmate that had gotten out six months ago and promised to be at the jail when he was released too. But things start to change quickly…
This tale took so many unexpected turns! Just when I thought it was one type of story, that changed! This was darkly fun!
---
The Maiden of Underbank by Lex H. Jones –
When two men go out to have an afternoon of fishing, they talk about urban legends, ghost stories, and local legends. But then something from their past comes up, and the mood takes a sharp turn.
What an ending! My goodness. I should have guessed at this one based on the start, but I go so sucked into the normal everyday life storyline and hoped to see the big fish! What perfect revenge.
---
Excoriation by J.A. Sullivan –
Guilted to return to an island she had escaped for her ex-mother in laws dying wish, this woman regrets going before she has even left. But things are about to get much worse.
Yikes, the path this story took! I started having a little PTSD myself reading about being on the ferry and heading to an island. Definitely a lesson in not letting your people-pleasing win!
---
He by Konn Lavery –
While delivering food during a winter storm, this man takes an order with an amazing tip. But once he arrives to drop the food off, the specific drop-off request, one he must oblige, takes him into the basement of the home where he meets a strange man. Things only get stranger from there.
What a fun and super creepy tale! How easily this could really happen if the magic were there is alarming. The poor original.
---
Glass Weavers by C.M. Forest –
On a space shuttle headed on a specific job, Jonah is alone with various Service Units who were automated to take care of the ship. But one day, he finds a patch of wall that doesn't match the rest and of course, his curiosity gets the best of him.
This was so eerie. Tales about being alone in space always freaks me out, but this took a path I wasn't expecting at all.
---
All The Teeming Life with Wings by J.R. McConvey –
A man who keeps referring to himself as "Doctor" has been going out on the island he and his family live on to drink in private. His wife has spoken to him about his drinking, but he just keeps going. One day, he spots something in the trees…
This story was dark and unsettling. I loved not really being able to trust what was happening as we were seeing in through the lens of someone who was always drunk.
---
From A Colder Place by Judith Sonnet –
Traveling home from a holiday, this family runs into a human-shaped form in the roadway. It's storming and the father just wants to get his family home safe, but he's nervous about driving around the shape.
This is such a terrifying story! I loved the tension that is built in just a short amount of time. And that ending!!
---
Flaming Eros by Mark Allan Gunnells –
Taking a job caring for an old man in the evenings, this young man is shocked he got the job. Soon, he finds out this old man has other, darker needs…
I was so nervous about where this story would go when I first started it. Definitely couldn't have guessed!
---
Transcendence by Edward Lee and John Pelan –
When a man transcends to another place with Her, he fears telling his partner as she would feel inadequate. Jumping back in time, we learn what the transcendence is all about.
Such an extremely brutal and sexual body horror tale!
---
Shameless Sam Changes His Life by Steve Stred –
Going off the grid to try to turn his life around, this man who has made a lot of money pranking people suddenly has one last prank he must complete.
I loved this one so much! The story starts off in a terrifying situation before jumping back to show readers how we got there as well as what happened next!
---
The Association by Richard Chizmar –
Moving into a new home, this couple learns their new homeowners' association is very strict. When they start getting notices, they refuse to play along like the neighbors seem to. They soon regret that.
Gosh, homeowners associations are truly something of nightmares. I can't imagine dealing with a regular one, let alone this group.
---
Heartless by Calvin Demmer –
Thinking something is up with his wife, he plans a terrible experiment. But what he finds doesn't shock him.
This was so unsettling! I loved that we didn't know what was going on until the end!
---
Frequencies by Candace Nola –
Obsessed with making a musical masterpiece, this man has a brutal and horrific plan.
Starting off with a bang, we slow down a bit to ground ourselves in what's going on before seeing the big reveal. This one had me swallowing and rubbing my throat. Phew!
---
Voices From The Abyss by Brian G. Berry –
Stuck underwater, this man is convinced he's hearing voices…
A super eerie tale where the narrator can't be trusted. I was so nervous to see what would happen next!
---
Bad Ink by Matthew V. Brockmeyer –
After a terrible accident kills his daughter and leaves his wife in a coma, this man stumbles across a tattoo shop. Going in, he is almost in a trance and agrees to a very large tattoo. The ink isn't just addictive as it, it also helps him dream of his daughter. Before ping, he's covered in ink…
This tale is a perfect mix of gut-wrenching horror and unsettling horror. I was so nervous to see how this would progress. I need to know more about this tattoo artist! I'd love a book all about her and her clients!
My Favorite Passages from The Horror Collection: Lost Edition
He had dedicated his life to collection the perfect sound. This instrument would be his legacy. The perfect combination of life and death, beauty, and madness.
— Frequencies by Candace Nola
It made him feel complete in a way he couldn't seem to fathom, as if he'd been given a new limb he didn't know he'd been missing, or was suddenly able to see colors or hear sounds he couldn't before. It felt like such a natural part of him.
— Bad Ink by Matthew V. Brockmeyer
My Final Thoughts on The Horror Collection: Lost Edition
So many of these tales really nestled their way into my brain! Days after finishing reading, they are still so fresh and pop into my head throughout the day.
This is a collection that I highly recommend picking up.
---
Purchase your copy of The Horror Collection: Lost Edition