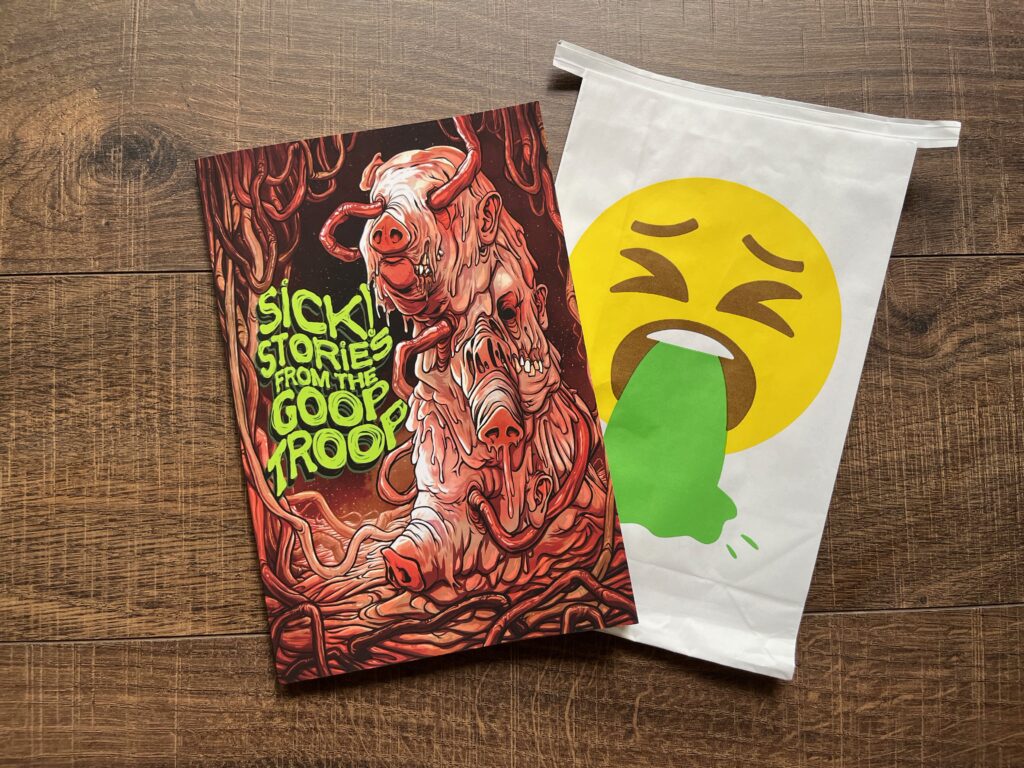 Sick! Stories From the Goop Troop by Lor Gislason, Shelley Lavigne, and Eric Raglin is a unique and brutal gag-inducing collection of tales that is sure to upset even people who boast that they have a stomach of steel.
When I started putting together my review, I realized I had written, "Oh my gosh!" at the start of my notes for every single tale… If that doesn't sum up my thoughts on the collection, I'm not sure what will.
So, oh my gosh, let's dive in!
My Thoughts on Sick! Stories From the Goop Troop by Lor Gislason, Shelley Lavigne, and Eric Raglin –
There are just no words for how wild I thought this collection was… Try as I might, I think this is a book you just need to immerse yourself in.
Good luck! 🙂
Per usual, here are my notes on each tale:
A Word From The Swinesayer –
Oh my gosh. Short and sweet, and so much fun! I loved that there were notes from The Swinesayer before each tale.
---
Baby Face by Eric Raglin –
Knowing a family curse may be right around the corner, this 29-year-old decides to have an extravagant birthday party. But will the curse arrive as he dreads? If so, what will his friends think?
What a dread-filled tale! I can only imagine having this countdown going on in the back of your mind at all times… The burst of body horror had me ready to gag even though I felt terrible for the poor guy.
---
Such Beautiful Nodules by Shelley Lavigne –
All this poor high school girl wants is to be able to produce silk just like her classmates. Unfortunately, try as she might, her nodules just won't pop like the other girls.
This brought up the tension of waiting for my period to start back in elementary school when all the other girls started getting theirs. Such a weird form of feeling left out as your body doesn't cooperate with what you think you want.
---
Unkempt by Lor Gislason –
Determined to satisfy their curiosity and finally look at the rooms in the back half of the trailer, this character gets quite a shock!
This was WILD! I was so nervous to see what we were going to discover. The grease and the hair elements… Eek.
---
The Disintegrating Vessel by Eric Raglin –
When this takeover begins, it's off to a rocky start and time is extremely limited. Will they be successful?
This one had me feeling so nauseous thinking about the smells… Glad I'm not a huge meat kind of person after reading this one!
---
He's A Grower by Shelley Lavigne –
Determined to just grow a couple more inches, this man doesn't take no for an answer and finds other means to continue his journey. Of course, he should have heeded his original doctor's warning.
Ah, the pressure to be tall. This poor guy. I can't blame him for how obsessed he gets as there are plenty of things I would obsess over if science and money weren't setbacks.
---
Baby Soft by Lor Gislason –
In a lab, the latest velvet garments are created. But once the process is unveiled, will anyone still want them?
The things people will do for money AND the things people will buy even if the ethics are iffy.
---
A Pressing Matter by Eric Raglin –
While at a gym, almost everyone knows to leave one man alone. But not this guy. Unfortunately for him, he tries to help and it doesn't go well.
A terrifying tale of body horror and the intention to help that just ends up backfiring on you. The word "squelch" here was insanely perfect and gag-inducing.
---
Poxxx Party by Shelley Lavigne –
Determined to spread an infection, this mass of people all take part in a grotesque party, each step of the way getting more and more intense.
Right from the invitation, I was already feeling sick over this one. The lack of understanding, caution, and empathy for others is terrifying and hits home with COVID still so present. By the end of this one, I was ready to be ill. Phew!
---
Sick-Off by Lor Gislason –
A midnight club at a hospital gets together to tell patient stories to try to make others sick. But that's not all they bring to the table.
This one just gets worse and worse! Good lord, Lor has an intense tale here. This is the top tale that I have read that made me feel wildly ill. I'm surprised I didn't actually get ill… My husband was eating an apple next to me while I read this, and let me tell you, his crunching did not help. Bravo, Lor!
---
Turn Their Eyes To Fire by Eric Raglin –
Living in an apartment with a Clean Living Clause, this couple is distressed when their landlord and her two children bust in and tear their place apart looking for "filth" to claim. But unfortunately, that's not the most distressing part of this night.
This tale was WILD. The initial scene of the intrusion had me ready to rage. Things only get more strange from there! What a story to end the collection with!
My Favorite Passage from Sick! Stories From the Goop Troop –
All other passages were major spoilers, so I will just leave this very simple, fun one:
I crossed the street to avoid a rat hauling a half full bag of fries with the confidence of someone who had paid for them.
My Final Thoughts on Sick! Stories From the Goop Troop –
DO NOT READ THIS ANY TIME AROUND WHEN YOU'RE PLANNING TO EAT. Don't even look at the cover too close to mealtime…
Gross horror fans, you're gonna absolutely love this one. Each tale is so disgustingly and horrifically wonderful! I can't say I "enjoyed" this exactly, but I did have a blast seeing which tales would give me full-body reactions with the grossness! These authors nailed this genre.
---
Purchase your copy of Sick! Stories From the Goop Troop
---
Thanks for reading!
And a shout-out to Little Ghost Books for sending me a signed copy in part of my monthly book box!