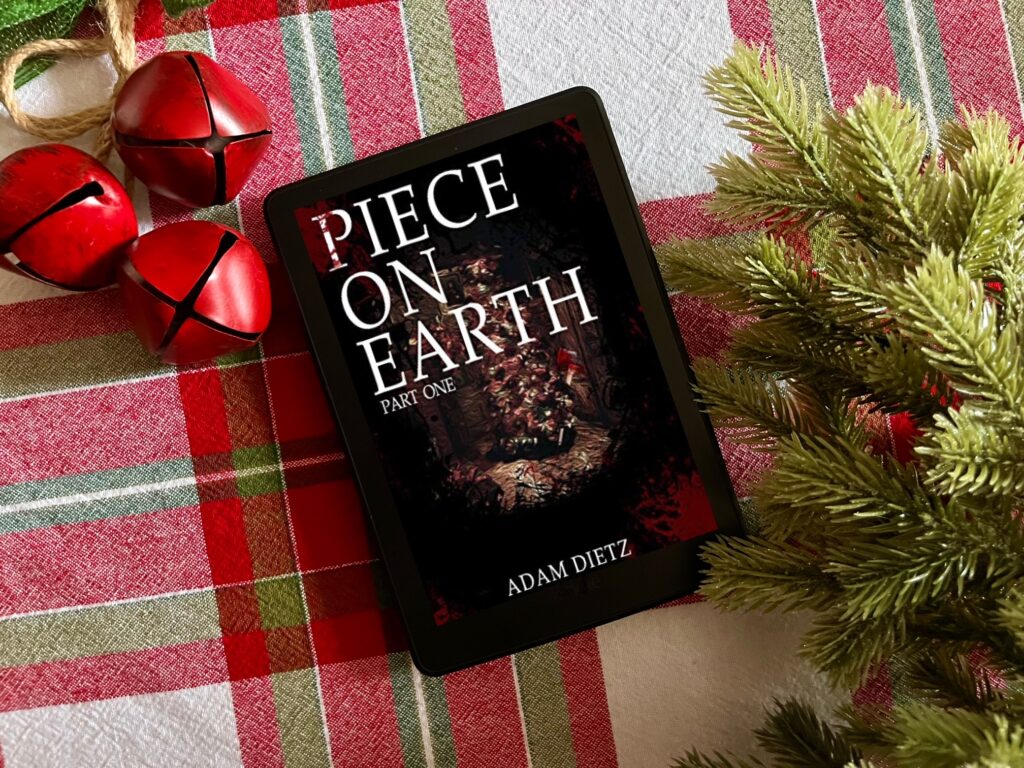 Piece on Earth by Adam Dietz is a brilliant Christmas horror short that is presented to readers in the form of a bar story told over drinks.
And trust me, you'll want to snag a strong beverage for yourself before reading along and experiencing this story.
Let's dive in!
My Thoughts on Piece on Earth by Adam Dietz
The tale begins with a monologue from a man talking directly to a new person in town. Right away, it's clear that something very bad happened. Bad enough that the town doesn't like talking about it. Unless it's over drinks at a bar, of course!
After getting some of the set up out of the way, and when fresh drinks are ordered, we get right into the story that the man had been setting up to tell… and what a doozy it was!
I loved that every chapter started up with a little side monologue before the narrator got back into the main story!
While reading, I was anxiously watching the time left in the story count down. When we started getting little recaps, I was prepared for it to end, but oh my god did that last paragraph about the little house where everything seems quiet… My eyes got SO wide and my jaw literally dropped. I sat there for quite awhile, just staring at my Kindle before moving on to the next page.
This storyline is so intense!
My Favorite Passages from Piece on Earth
Of course I remember it. Terrible, terrible thing. The worst thing to ever happen to this small town. Hands down.
Griff's shrieking stops abruptly with a thwack and dull unremarkable thud that would signify the end of a life lived.
"Let's not worry until we need to," Fred says.
"Call me after you talk to this…?"
"Jason," Fred says.
"Never met a Jason I liked," Greg says.
"Well, there's Jason Vorhees," Fred says, smiling.
"Oh that's true," Greg says, reconsidering.
My Final Thoughts on Piece on Earth
What a brilliant tale! I mean, the fact that it's set up as a story told at a bar?! You can literally imagine buying a drink and listening to this tale being told. Once the drinks are gone, the story wraps up, and both people move on with their nights.
This is a must read for horror fans that don't mind a quick wrap up that leaves you equally wanting more, but also totally satisfied with the format itself. I would love to see a part two one day!
---
Snag a copy through your local bookstore if you are able or feel free to use my Amazon affiliate link: