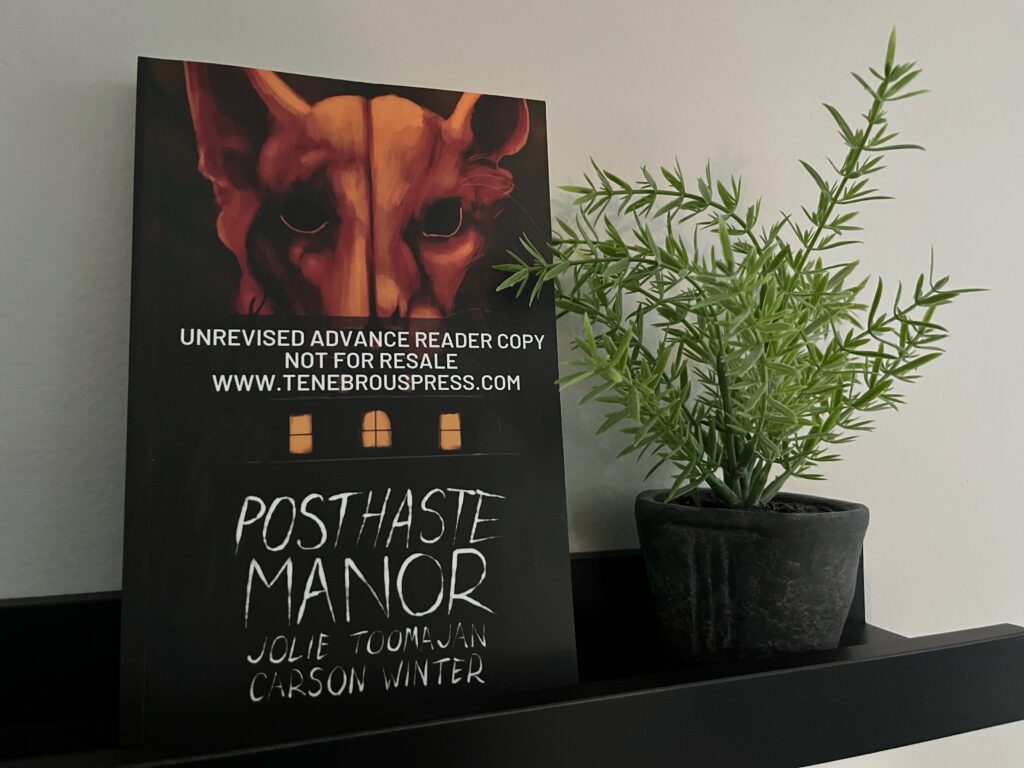 Posthaste Manor by Jolie Toomajan and Carson Winter is a tale of a house with a name and a long history of darkness from the energies that have seeped deep into the walls over the years.
Content Warnings:
This book has a beautiful content warning page that breaks things down, but I'll share this line here: "Being a work of mature Horror, a degree of violence, gore, sex and/or death is to be expected."
Let's dive in!
My Thoughts on Posthaste Manor by Jolie Toomajan and Carson Winter –
A book organized in two main parts, in part one, we get a glimpse into the house before the fall. Splitting the time between two characters, with little bursts of others that peek in, we learn about the house and its stories of the past.
In this section, we follow Otho and Adira.
Otho is a young man in the 90s who bought the house based on the stories he'd heard about it. He can't wait to meet all his neighbors and spend time in the basement to get to know the house as well. While he's a bit shocked at the behavior of his neighbors, the house has no problem welcoming him in.
Adira is a woman running from her abusive husband, determined to start a better life. She buys Posthaste Manor as it's the one place she knows he won't go. But when he does show up, the house provides, setting her down a new path.
Then in part two, we see the downfall of the house in a format that's a bit like a quick slideshow. With each quick snippet, you're able to get just enough detail to understand what's happening in the quick segment of life within the slide, but nothing close to the full story.
I thought this was such a cool method that leaves readers with information on the bits of energy each person living in the home left behind.
Toward the end, we get a lovely chapter from the real estate agent who takes these snippets and weaves them into a report for the house listing. But before things can all fall into place, we're off on another story from the home. 
Throughout the book, there are also a few illustrations included. My goodness, the one of the face… this is SO MUCH CREEPIER than what I pictured while reading the text. That one is something of nightmare. The choose-your-own reality sections were so fun!
My Favorite Passages from Posthaste Manor –
Life here existed, he had to remind himself, although sometimes it felt like it was carefully hidden.
That's how it is in moments of panic. You just don't know what to do. Everything smart inside of you shuts off and you're left scrambling for whatever's closest.
Posthaste stood tall and screamed. Where most houses were content in their silence, Posthaste was loud. Its boards creaked, its boiler clanked and whistled; its being shook the bars of whatever cage it was trapped in.
"Lady, you might have a ghost," I said aloud to myself, joking.
"Yes, probably. But you're here to fix the boiler."
My Final Thoughts on Posthaste Manor –
Tenebrous Press has done it again; publishing a killer bizarre horror tale from Jolie Toomajan and Carson Winter that sucked me right in! If I were asked to explain exactly what this book was about, I honestly couldn't tell ya I knew for sure! What I can tell you is that I enjoyed it immensely.
This is a must-read for fans of bizarre and spooky horror spiked with gore and terror that reads like you're looking at a giant mosaic far too closely at first. As the read goes on, and you slowly take a step back with each page, you begin to see what the image is. And yet, at the very end, you're still left a bit puzzled, like you've realized the mosaic you were trying to figure out is actually a Rorschach test!
Enjoy!!
---
Purchase your copy of Posthaste Manor
Thanks for reading!
And a shout-out to Tenebrous Press for sending a lovely ARC copy my way!