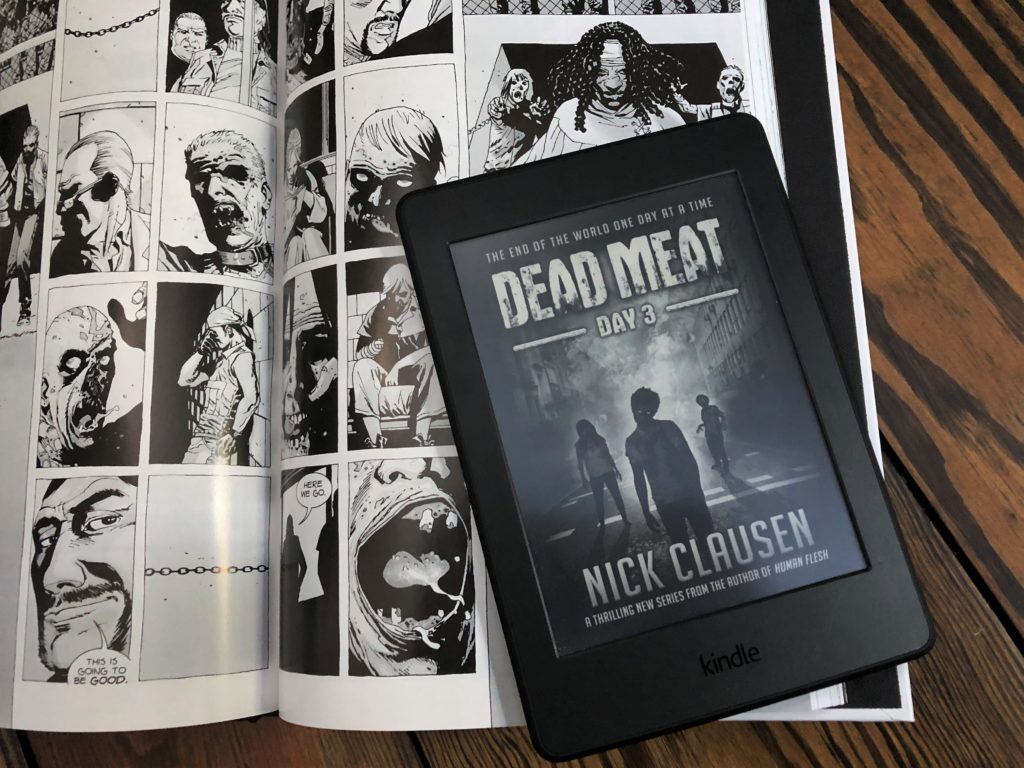 Dead Meat: Day 3 by Nick Clausen is another addition to this awesome zombie series. This one was even more intense than the other two and much more gruesome!
I could not put this one down.
Full Disclosure: I received a copy of this book from the author in exchange for an honest review. This did not affect my rating in any way.
If you missed my reviews Day One and/or Day Two, or hadn't read those two novellas yet, I'd recommend starting there before reading this quick review.
Let's dive in!
My Thoughts on Dead Meat: Day Three by Nick Clausen
When the story begins, a young man named William is doing his job at the hospital when he hears someone scratching behind a door. Thinking it may be a dementia patient that managed to lock themselves in the room, he unlocks the door. On the other side is the gruesome scene where we left off on Day 2.
Over the course of Day 3… well, this line sums it up nicely:
If he'd still had a frail hope that the catastrophe could be somehow stopped, it dies in this moment.
I love that Nick Clausen weaves the story lines of the characters that will pay a role in the situation of the day and the overall series together! I was super curious to see where new characters, William and Millie, would wind up. Then when William and Dan crossed paths, I let out a little 'Whoop!' I really enjoyed seeing William and Dan meet and talk about the situation.
I also loved that we've added a dog to the mix! The scene where William was debating whether or not to go to his apartment for the dog named Ozzy, and then to have Iron Man come on the radio… Brilliant!
I was pumped when the dog came to the rescue at one point, but I'm still worried about how it bit one of the zombies… I hope it won't be infected! Maybe there wasn't enough blood transfer… *fingers crossed*
One more thing I wanted to make sure to comment on was how respectful William and Dan are when it came to Millie and waiting until she was conscious to ask her to check herself for scratches. That was wonderfully done!
Yet again, there's a bit of a cliffhanger at the end, but it was perfect! I cannot wait to see what happens on Day 4!
My Favorite Passages from Dead Meat: Day Three
If he'd still had a frail hope that the catastrophe could be somehow stopped, it dies in this moment.
As William stares at the scene, his head is suddenly drained of all thought. He can only sit there and glare in dumb amazement and horror, He realizes just how fast this thing will spread. How soon everything will turn to chaos. He had somehow naively figured that zombies had by now become a known phenomenon; that regular people would recognize the danger, they had watched at least a few fucking episodes of Walking Dead.
Her brain is still fighting to keep up. It feels like it can't really update its software, like it doesn't want to compute how everything has changed.
My Final Thoughts on Dead Meat: Day Three
Day 3 was my favorite in the series so far! It was another super fun, but also wicked stressful read. I wanted to just scream at the random people that couldn't comprehend what was going on and kept putting themselves in harms way.
I really enjoyed all the nods to and mentions of zombie books and films like Shaun of the Dead and The Walking Dead!
If you're a fan of zombie tales, I highly recommend checking this series out!
---
Snag a copy through Bookshop to help support local indie bookshops:
Thanks for reading!