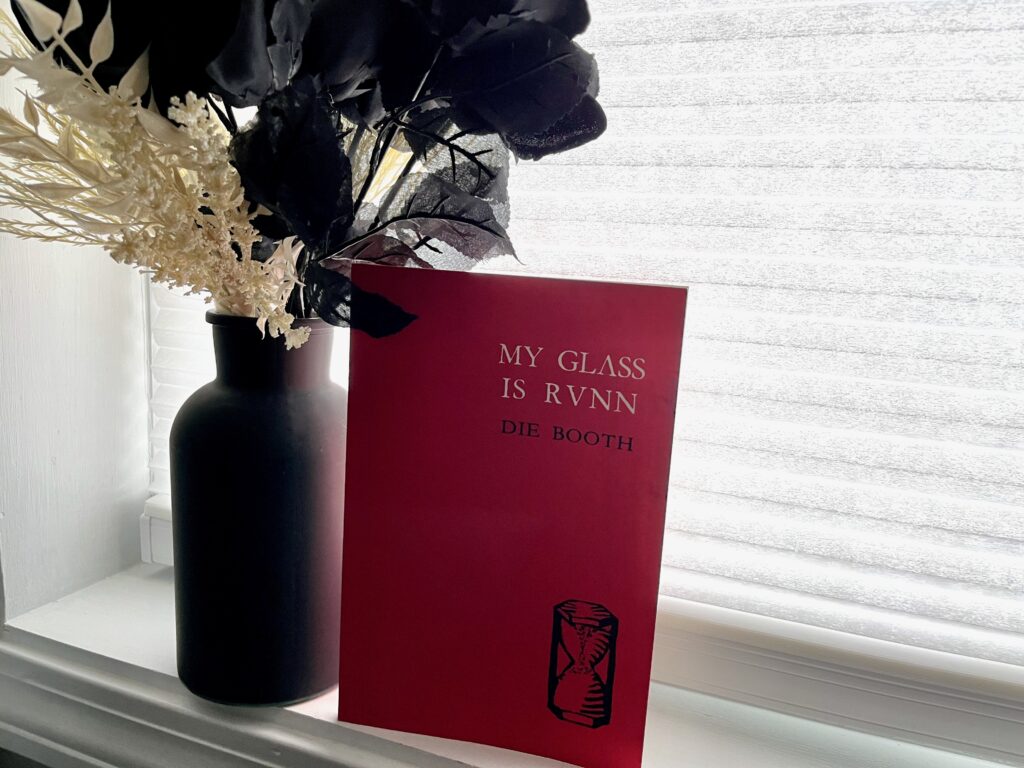 My Glass is Runn by Die Booth is a collection of haunting tales that range from spooky supernatural beings to the terrifying horror of humans.
Let's dive in!
My Thoughts on My Glass is Runn by Die Booth –
What a collection! This author writes in such an engaging style, once I picked up the collection, I had a hard time putting it down to get to other life things!
My favorite stories from the collection included:
Hearts of Gold,
The Dust Bunnies,
To Be Heard,
Sphere Music,
Life Skills.
Per usual, here are my notes on each tale!
The Audsley Chimera –
A boy obsessed with animals and creatures of lore grows up with the goal of making the myths and legends more of a reality.
The final line of this one is quite the gut punch! The author does an awesome job leading up to this last bit, but it still hit me wicked hard!
---
Hearts of Gold –
Going to the known witch of the town, this man asks for a favor but ends up skirting payment. Cursed to be ruined by a fly, this curse bides its time.
The gall of this man! I was so excited to see what would come of this situation.
---
This is the Life –
When a coworker goes missing, only two people seem to care at all. One of those people may have answers.
This tale was so unsettling! How often could something like this actually happen and as coworkers, we'd have no idea?
---
The Dust Bunnies –
Told to just go to bed, this little girl fears the numerous monsters that haunt her room in the dark. The mother assumes seeing shadows and hearing tales is just her imagination, but what if they aren't?
Such a creative spin on the monsters we all fear in childhood!
---
To Be Heard –
All this man wanted was to be heard. In death, he has the same wish.
Captured by journal entries, readers follow this poor guy through the transition. This one was so bleak and sad, but that ending was excellent!
---
Play Ball –
All little Bertie wants to do is play in the ball pit with the other kids. His mother, equal parts controlling and totally disconnected, won't allow him to. But today, he has a plan.
Oh gosh, the germ-infested ball pits… I have a very clear memory of going into one as a kid and finding all kinds of trash at the bottom. What this kid finds is truly something of nightmare.
---
Waifs –
Just trying to find her path, Marie tries to become a model. One day, she spots the perfect dress to ask to wear. But once she has it on, will she be seen past the clothing or is she just another human clothes hangar?
A quiet little unsettling tale!
---
The Ghost Bride –
After the loss of a young man, this family has one more task to attend to so he can rest.
Oh my, the grief horror here, but with quite a twist.
---
Sphere Music –
When people are suddenly hearing things that drive them to harm themselves, this woman is afraid when her husband begins showing symptoms. But both of them are determined to make it through this together.
The premise here is absolutely terrifying! Thinking about what I would do if I were in their shoes makes this much more horrific. Would I be able to do what the husband did? I had tinnitus for 6 months and that almost drove me batty! I can't imagine this situation.
---
Life Skills –
Going on the first trip that they can remember in ages, this group of school kids are shocked to see where they end up.
My goodness, this tale is set up so wonderfully. When the realization of what was happening slammed down, I actually gasped out loud.
---
Don't be Afraid of the Lights –
Determined to help convince her husband to get over his fear of spiders, she convinces him to go see someone. Transforming spiders in his mind into something beautiful, this trick works until suddenly, it doesn't.
I'm just like this guy – I hate spiders. I don't care how big or small they may be, I don't want to be anywhere near them. If I was given the chance to get hypnotized to remove the fear, I'd like to think I would do so. But after reading this… maybe not.
---
Twice a Day with Water –
Living a life filled with gray and confusion, this man takes a shot of vodka and suddenly has a new friend. But is the friend really there to help?
A quiet grief adjacent horror tale! This one is so atmospheric, but also so dreary at the same time.
---
Maketh the Man –
Drawn to his new friend immediately, this young man realizes there's something too magnetic about this guy to stay away, even if there are a few reasons to. But one night when he starts talking about death and something worse than death, is it too late to leave?
I absolutely love tales like this that start out so fun and innocent before they take a sharp dark turn!
---
The Fourth Ape –
Arriving to care for a strange man's home, his displays make her nervous and sad. She continues to do all of the work he requests until one day, he invites her into his office…
This tale has such a cold, gothic horror vibe!
My Favorite Passages from My Glass is Runn –
It seemed darker, if possible, than the main room, although how when both were equally ill-lit was a mystery. Perhaps because this sleeping chamber was smaller: the walls seemed to crouch in around them like a circle of great dark creatures bending down to look. There was plaster off the walls here, too, lending the small space the feel of being inside a ribcage, their twin life essence in the dead house an incongruous heart, beating after death.
— Hearts of Gold
It's quieter at night and in the dark is when the fear leaks in and people are most open to seeing the things that they don't want to admit are there.
— To Be Heard
The dark corridors seemed to narrow before Charlotte's path, panic stifling her, making the panelling close in and every rug slip beneath her feet.
— The Fourth Ape
My Final Thoughts on My Glass is Runn –
I had such a blast reading this collection! So many of these tales really cemented themselves into my psyche. I cannot stop thinking about how moving our bed and giving the space underneath a really good clean is long overdue… I'm sure there are some dust bunnies under there.
This is a must-read for fans of chilling horror closer to the quiet horror side of things than the extreme. But don't let that fool you, there are plenty of terrors on these pages.
---
Purchase your copy of My Glass is Runn
Thanks for reading!
I lucked out and snagged a physical copy of this one directly from the author himself! I'm so grateful to have a signed copy on my shelf!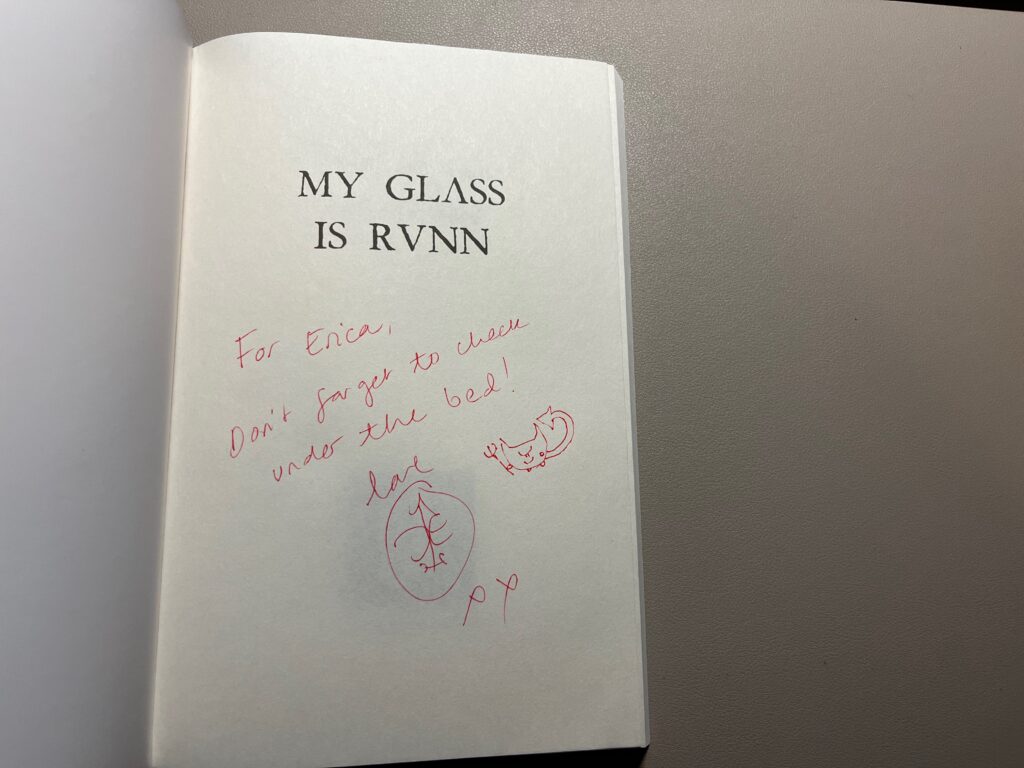 ---
Related Reading:
Cool S by Die Booth is a story centering around the little doodle we all drew at one point. We thought it was so innocent, but what if there was a dark power behind it when done with a certain intent?