On a unusually warm and blustery day in October that was threatening rain, my friend Amber and I headed to Gibson's Bookstore in Concord, New Hampshire to attend a book talk. The presenter? Mr. Joe Hill.
If you've been following me for awhile, you know how often I rave about Joe Hill. I've been meaning to do a few re-reads so I can write up reviews of the books I had read before starting this blog. So stay tuned for that!
I had been looking forward to this talk for months, and it was even more incredible than I could have imagined!

Meeting Joe Hill at Gibsons Bookstore in Concord, NH –
The session started with Joe presenting his new book, Strange Weather, a book of four novels. There were jokes about what a fitting day this was for the book release, as we were indeed having strange weather! Then he jumped into explaining the book, situations as past book releases, and then reading a passage.
This reading was followed by an awesome question and answer session! I could hardly stay in my seat when the discussion covered the Locke and Key series.
Here are a few of the things that stuck with me during the talk:
The Locke and Key series is currently filming. Fingers crossed Hulu picked it up for a long-term series!!
If the Locke and Key series does well, Joe has two other comic series in the Locke and Key world in mind. One during wartime at Keyhouse, one when the kids in Locke and Key are a bit older. I would LOVE to see this!
The boy that plays Bode is also in the new IT movie. Joe would love to have a scene where Tyler asks Bode if he wants ice cream, and Bode will respond, "FLOAT! FLOAT! FLOAT!"
Joe's current favorite horror movie is the new IT.
He did a Spiderman comic one time.
He didn't tell his agent who he really was until his first book was picked up by a publisher. He wanted to do everything right, and not just be picked up because his father is Stephen King.
Of course, there were many other things discussed, but I will leave it with this; Joe was hilarious and such a great public speaker! I cannot wait to see him on another book tour!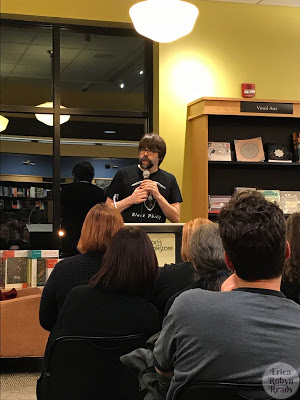 Then, it was time for the book signing! The line moved very slowly at first because it branched off two ways… so that was a bit of a bummer that it wasn't organized better. However, the line moved quickly enough!
When it was almost Amber and my turn, we swapped phones so we could take photos of one another with Joe. He was so kind and had no problem posing for shots.
When I stepped up, Joe noticed my tattoo on my forearm; "Sunshine is free" which is a quote from my uncle that passed away a couple of years ago. Joe said, "Oh that is a great tattoo! So true! Sunshine is free!" when I looked down at the book, he was writing the quote in it. I almost started crying, but thankfully held it together!
I wish I could have put into words how much that had meant to me. It was such a simple thing for Joe to do, but it means the world to me. My Uncle Scott and I had talked about Stephen King books on numerous occasions. The last book that he had let me borrow was actually Doctor Sleep by Stephen King. I also remember talking one Thanksgiving about Joe Hill and how amazing his novels are. <3
Thanks for reading!
Have you attended any book talks or had the opportunity to meet an author?