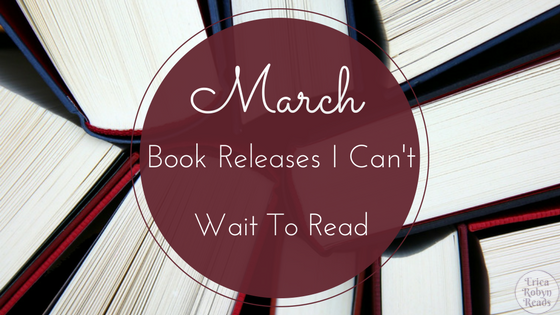 I have already heard so much hype around a few of the books I can't wait for this month. Fingers crossed I enjoy them as well!
6 March Book Releases I Can't Wait To Read
The Hunger by Alma Katsu
Expected publication date: March 6th 2018
Genre: Horror
Synopsis:
Evil is invisible, and it is everywhere.


Tamsen Donner must be a witch. That is the only way to explain the series of misfortunes that have plagued the wagon train known as the Donner Party. Depleted rations, bitter quarrels, and the mysterious death of a little boy have driven the pioneers to the brink of madness. They cannot escape the feeling that someone–or something–is stalking them. Whether it was a curse from the beautiful Tamsen, the choice to follow a disastrous experimental route West, or just plain bad luck–the 90 men, women, and children of the Donner Party are at the brink of one of the deadliest and most disastrous western adventures in American history.


While the ill-fated group struggles to survive in the treacherous mountain conditions–searing heat that turns the sand into bubbling stew; snows that freeze the oxen where they stand–evil begins to grow around them, and within them. As members of the party begin to disappear, they must ask themselves "What if there is something waiting in the mountains? Something disturbing and diseased…and very hungry?"




Expected publication date: March 8th 2018
Genre: Historical Fiction
Synopsis:
April 1943: four boys playing in Hagley Woods, Essex make a gruesome discovery. Inside an enormous elm tree, there is the body of a woman, her mouth stuffed with a length of cloth. As the case goes cold, mysterious graffiti starts going up across the Midlands: 'Who put Bella in the Wych Elm?'
To Ross Spooner, a police officer working undercover for spiritualist magazine Two Worlds, the messages hold a sinister meaning. He's been on the track of a German spy ring who have left a trail of black magic and mayhem across England, and this latest murder bears all the hallmarks of an ancient ritual.
At the same time, Spooner is investigating the case of Helen Duncan, a medium whose messages from the spirit world contain highly classified information. As the establishment joins ranks against Duncan, Spooner must face demons from his own past, uncover the spies hiding beneath the fabric of wartime society – and confront those who suspect that he, too, may not be all he seems.
The Wicked Deep by Shea Ernshaw
Expected publication date: March 8th 2018
Genre: YA Fantasy
Synopsis:
Hocus Pocus and Practical Magic meets the Salem Witch trials in this haunting story about three sisters on a quest for revenge—and how love may be the only thing powerful enough to stop them.


Welcome to the cursed town of Sparrow…


Where, two centuries ago, three sisters were sentenced to death for witchery. Stones were tied to their ankles and they were drowned in the deep waters surrounding the town.


Now, for a brief time each summer, the sisters return, stealing the bodies of three weak-hearted girls so that they may seek their revenge, luring boys into the harbor and pulling them under.


Like many locals, seventeen-year-old Penny Talbot has accepted the fate of the town. But this year, on the eve of the sisters' return, a boy named Bo Carter arrives; unaware of the danger he has just stumbled into.


Mistrust and lies spread quickly through the salty, rain-soaked streets. The townspeople turn against one another. Penny and Bo suspect each other of hiding secrets. And death comes swiftly to those who cannot resist the call of the sisters.


But only Penny sees what others cannot. And she will be forced to choose: save Bo, or save herself.







The Broken Girls by Simone St. James
Expected publication date: March 8th 2018
Genre: Mystery
Synopsis:
A breakout suspense novel from the award-winning author of The Haunting of Maddy Clare.


Vermont, 1950. There's a place for the girls whom no one wants–the troublemakers, the illegitimate, the too smart for their own good. It's called Idlewild Hall. And in the small town where it's located, there are rumors that the boarding school is haunted. Four roommates bond over their whispered fears, their budding friendship blossoming–until one of them mysteriously disappears. . . .


Vermont, 2014. As much as she's tried, journalist Fiona Sheridan cannot stop revisiting the events surrounding her older sister's death. Twenty years ago, her body was found lying in the overgrown fields near the ruins of Idlewild Hall. And though her sister's boyfriend was tried and convicted of murder, Fiona can't shake the suspicion that something was never right about the case.


When Fiona discovers that Idlewild Hall is being restored by an anonymous benefactor, she decides to write a story about it. But a shocking discovery during the renovations will link the loss of her sister to secrets that were meant to stay hidden in the past–and a voice that won't be silenced…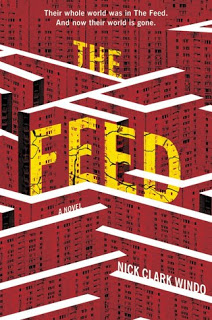 The Feed by Nick Clark Windo
Expected publication date: March 13th 2018
Genre: Sci-Fi / Thriller
Synopsis:
The Feed is accessible everywhere, by everyone, at any time. It instantaneously links us to all information and global events as they break. Every interaction, every emotion, every image can be shared through it; it is the essential tool everyone relies on to know and understand the thoughts and feelings of partners, parents, friends, children, colleagues, bosses, employees . . . in fact, of anyone and everyone else in the world.


Tom and Kate use the Feed, but Tom has resisted its addiction, which makes him suspect to his family. After all, his father created it. But that opposition to constant connection serves Tom and Kate well when the Feed collapses after a horrific tragedy shatters the world as they know it.


The Feed's collapse, taking modern society with it, leaves people scavenging to survive. Finding food is truly a matter of life and death. Minor ailments, previously treatable, now kill. And while the collapse has demolished the trappings of the modern world, it has also eroded trust. In a world where survival of the fittest is a way of life, there is no one to depend upon except yourself . . . and maybe even that is no longer true.


Tom and Kate have managed to protect themselves and their family. But then their six-year-old daughter, Bea, goes missing. Who has taken her? How do you begin to look for someone in a world without technology? And what happens when you can no longer even be certain that the people you love are really who they claim to be?




Not That I Could Tell by Jessica Strawser
Expected publication date: March 27th 2018
Genre: Mystery
Synopsis:
When a group of neighborhood women gathers, wine in hand, around a fire pit where their backyards meet one Saturday night, most of them are just ecstatic to have discovered that their baby monitors reach that far. It's a rare kid-free night, and they're giddy with it. They drink too much, and the conversation turns personal.


By Monday morning, one of them is gone.


Everyone knows something about everyone else in the quirky small Ohio town of Yellow Springs, but no one can make sense of the disappearance. Kristin was a sociable twin mom, college administrator, and doctor's wife who didn't seem all that bothered by her impending divorce—and the investigation turns up more questions than answers, with her husband, Paul, at the center. For her closest neighbor, Clara, the incident triggers memories she thought she'd put behind her—and when she's unable to extract herself from the widening circle of scrutiny, her own suspicions quickly grow. But the neighborhood's newest addition, Izzy, is determined not to jump to any conclusions—especially since she's dealing with a crisis of her own.


As the police investigation goes from a media circus to a cold case, the neighbors are forced to reexamine what's going on behind their own closed doors—and to ask how well anyone really knows anyone else.






Thanks for reading!
What book releases are you looking forward to this month?
SaveSave