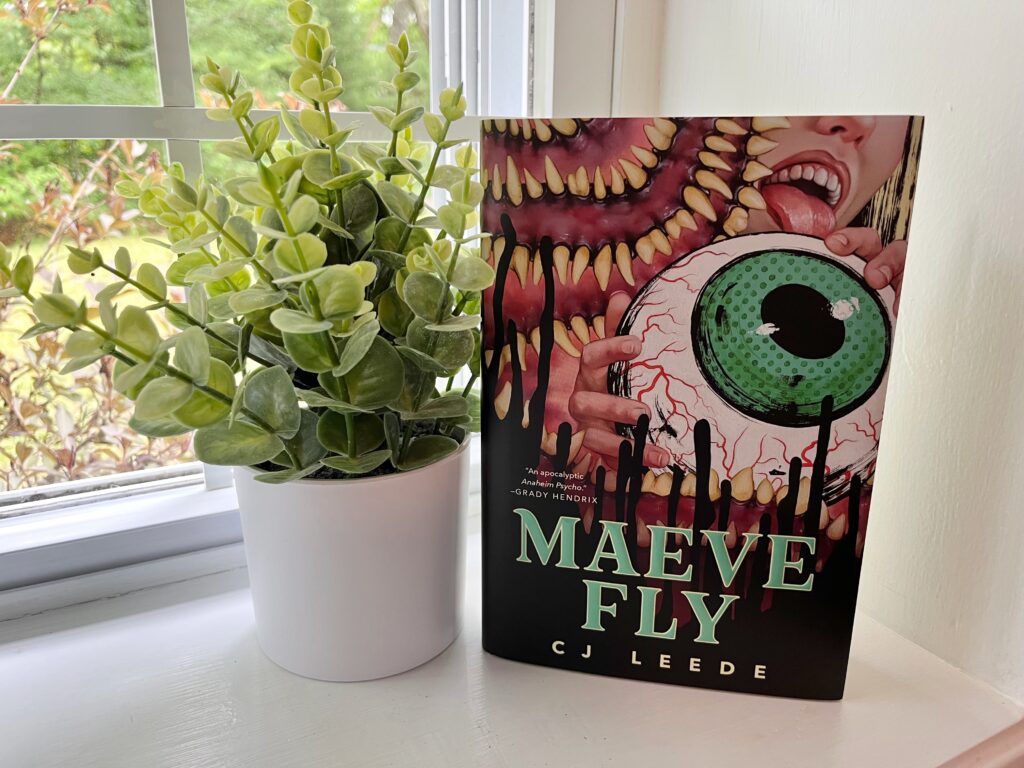 Maeve Fly by CJ Leede is a horrifically bloody, sinisterly sexual, and darkly unhinged tale set in Los Angeles.
Let's dive in!
My Thoughts on Maeve Fly by CJ Leede –
Maeve Fly loves her job. She's a popular princess at a park alongside her best friend, Kate, who plays her princess's sister. While Maeve's day is all sunshine and happiness with some drugs mixed in, her evenings and nights are filled with various dark elements and she's hanging on to her sanity by a thread.
When Kate introduces Maeve to her brother Gideon, something starts to unravel in Maeve, leaving her vulnerable to the darkness that she can no longer contain.
Boy, the power of CJ's writing is powerful! There are so many scenes that are absolutely seared into my brain that I could have done without ever experiencing. From the egg to the cocaine spoon, my stomach turns just thinking of them!
The author takes her time giving readers a wonderful slow burn of a story that really shows you the internal workings of the main character's mind. Then, at the very end of chapter XIII (page 90), we finally see the horror displayed right in front of us, confirming what the author had been hinting at. But that's just the beginning! Things get much more bloody and intense from there.
My Favorite Passages from Maeve Fly – 
Music can make a place feel your own, and this time of year, for one month without fail, my music plays everywhere. The world becomes a little more mine.
This is a failing of men. This same violence, applied to a woman, she does not ask why it is being inflicted upon her, she only struggles unsuccessfully to free herself and grieves the fact she has grieved her entire life, one that she understands fundamentally and innately. That violence simply occurs.
I give his fingers each a little chop and shower them around the bus, place a couple of the pieces in fun hiding spots for someone to find later. Like a scavenger hunt. Finger confetti for everyone!
My Final Thoughts on Maeve Fly –
My goodness, this tale was something! I kept seeing it related to American Psycho, but with a female lead, and I can certainly see that! From the content the main character watched, the internal monologues, the questionable hyper-fixations, and of course, the violence. But there's also a deep love for family and friends on display here.
Fans of darkly erotic horror, this will definitely please you! I just hope you haven't recently purchased eggs… those may expire on you before you're ready to eat them again.
---
Purchase your copy of Maeve Fly
Thanks for reading!