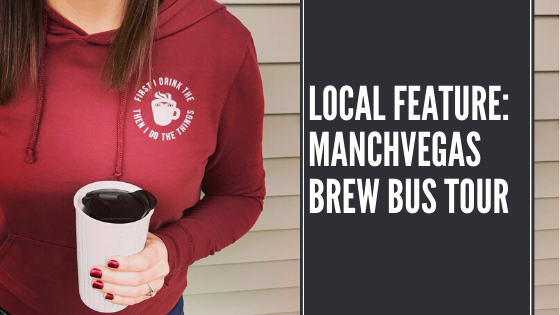 Hey everyone!
I know this isn't my usual type of post, but I just LOVE Lauren Becker (of Shooting Stars Mag) and her Local Tourist posts.
So this is something that I'm hoping to do more of as my husband and I are determined to do more in our city. We've lived here for 5 years now, and we still have a huge mental list of the places we want to visit. So if you enjoy things like this, stay tuned!
Today, I'm featuring a recent evening we had where we visited local breweries!
Let's dive in!
Manchvegas Brew Bus Tour
This event was all in thanks to Jon Byrne of Jon Byrne helping NH buy and sell real estate.
If you're looking to buy or sell in the Manchester/Bedford or surrounding areas in New Hampshire, you gotta reach out to Jon! He helped us buy our house and the entire process was so easy. He had wonderful contacts that he recommended to us, and each person we dealt with was just an amazing fit for us. Jon and his team really made everything fun, which was key for me as I was super stressed out just thinking about the process before we began!
Thanks again, Jon!
---
The tour began at Backyard Brewery. This is a spot that has become one of my favorites in the area. I've been there for book club meet ups, date nights, dinner and drinks with friends, trivia nights, and now the Brew Bus meet up and brewery tour!
At this stop, Alex ordered the Merit Badge Pumpkin S'mores and I got the Red Light Green Light sour.
I'm a HUGE fan of the Red Light Green Light. It's really tart, a bit fruity, and so smooth! I could easily drink a few of these on a night out. I took a sip of Alex's Pumpkin S'mores, and was very hesitant. I do not like dark beers at all, but Alex and our friend Jake convinced me. It was really sweet and I actually didn't mind it! (Thanks for convincing me, guys!) Alex also really enjoyed it.
When we toured the brewing area, we were also given tasting sizes of a light beer, but I can't remember what that one was called. I was also too focused on my RLGL to switch it up. 🙂 The tour was quick but fun! It was neat learning a bit more about the company and the gentleman that lead the tour was great!
After that, we got on the bus!
---
Alex and I had no idea that this place existed! The space is really neat! I loved the atmosphere and the staff we talked to were all very friendly. This would definitely be a great place to visit on a date night or with a larger group.
Alex and I each ordered the Sangria Sour and loved it! We will definitely be back to snag those in the cans.
The decor for the holidays was also lovely!
While at this stop, we also got some fries, which were delicious. I can't wait to stop back in soon!
---
Next up was the Long Blue Cat Brewing Co. What a neat space! The staff was friendly, and the food was tasty. We tried the pretzels!
As we stopped by on a Saturday night, there was a man singing and playing guitar- he was awesome.
At this stop, Alex and I both had the Blueberry Margarita Gose. This one I unfortunately wasn't a huge fan of, and probably wouldn't order it again.
I am so thankful that this was a stop on the tour! I hadn't heard of this place before, but we will most certainly be back! The space is on the smaller side compared to some of the other breweries in the area, but it's a cozy small and there's still plenty of room for groups!
I loved the atmosphere and the humor that was used to create the menu. The staff was also wonderful.
We also ordered chili dogs which looked and tasted amazing! And the "Subtle Banana" beer?! AMAZING. I loved it so much. It was so smooth, light, and the banana flavor was delicious!
We will definitely go back here!!
---
This was such a fun trip! I loved learning more about the breweries in our area and I still can't believe how many we went to that I hadn't even heard of before!
Bill, our tour guide, was wonderful! He was so funny and personable. He made time to chat with every person on the tour. I loved that he was so quick to offer both beer and food recommendations at each stop, which was greatly appreciated on my end! I loved his honesty with each recommendation as there's nothing worse than ordering something that just isn't great.
The Manchvegas Brew Bus is awesome. I mean, the whole brew bus idea is so cool to me. If you're even slightly interested in beer, you gotta take a tour! The graphics that wrap the bus are perfect, the lighting inside the bus was a nice touch, the music selection was great, the snacks provided were nice, and the overall experience was upbeat and wicked fun!
I also love that they also have a cooler on board, so if you purchased anything during the warmer seasons, you can make sure that it's kept cool!
I loved the little goodies we got for free from the trip as well! I'm kicking myself for not buying stickers at each stop for a project that I want to do now… But we'll just have to go back soon!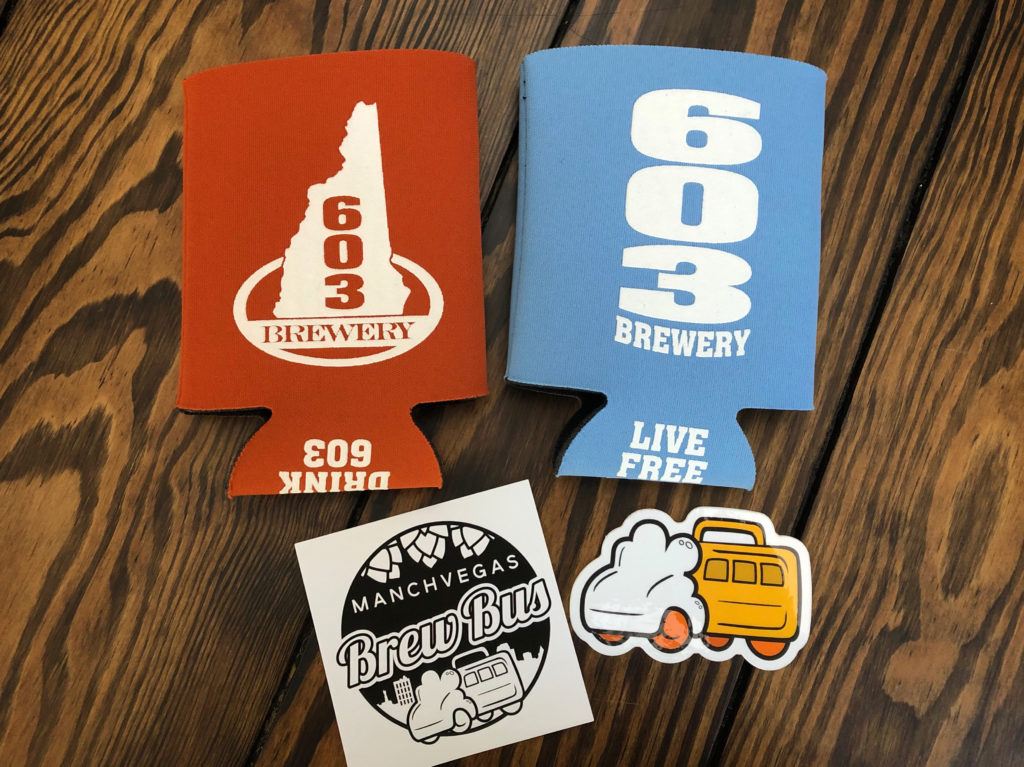 I cannot recommend booking a trip on the brew bus highly enough. Check them out on Facebook or Instagram!
I would love to book another few trips on the brew bus with my family when they come down to visit, with friends both from NH and Maine, and with Alex's family! So the moral of this- if you want to go on the brew bus, I'm totally down!
Thanks for reading!
Have you taken a brew bus tour in your local area?