Arriving on Christmas Eve-Eve, I was SO happy to start the celebrations by opening up the latest send from Little Ghosts Books! In this post, I share what came in the subscription and all the add-ons I snagged this month.
Note: There will be spoilers below.
Let's dive in!
My Thoughts on the Little Ghosts Unboxing – December 2022
Per usual, another custom little ghost was drawn on the packaging, but this time I got a box rather than a plastic mailer!
The Books:
Femina by Caitlin Marceau
I already have a copy of The Dismembered, so check out the bottom of this post for a giveaway that runs through 1/6/23!
The Goodies:
Frightmarish – A Gothic Litzine – Issue Three
A sticker sheet
A sticker from Bad Hand Books
A bookmark featuring a studious looking werewolf
Per usual, I'm obsessed with the sticker set! The ghost with the book and coffee/tea cup is defininitely my favorite of this bunch, but the ghosts in the Christmas lights and the R.L. Spine with the Santa hat are close seconds. And look at that little ghost with the bow and the adorable Krampus! So much fun!
I'm really excited to read the litzine as well!
My Add-On Items:
I couldn't help myself… When Little Ghosts Books announced they had merch, I just had to get some add-ons this month!
The add-ons included:
A Little Ghosts Books sweatshirt
A Little Ghosts Books hat (I want like 100 of these so I always have one handy in case I wear out or lose one!)
Man, Fuck This House by Brian Asman
The Whole Package:
The monthly subscription was already amazing, but adding my other items into the mix makes me so happy!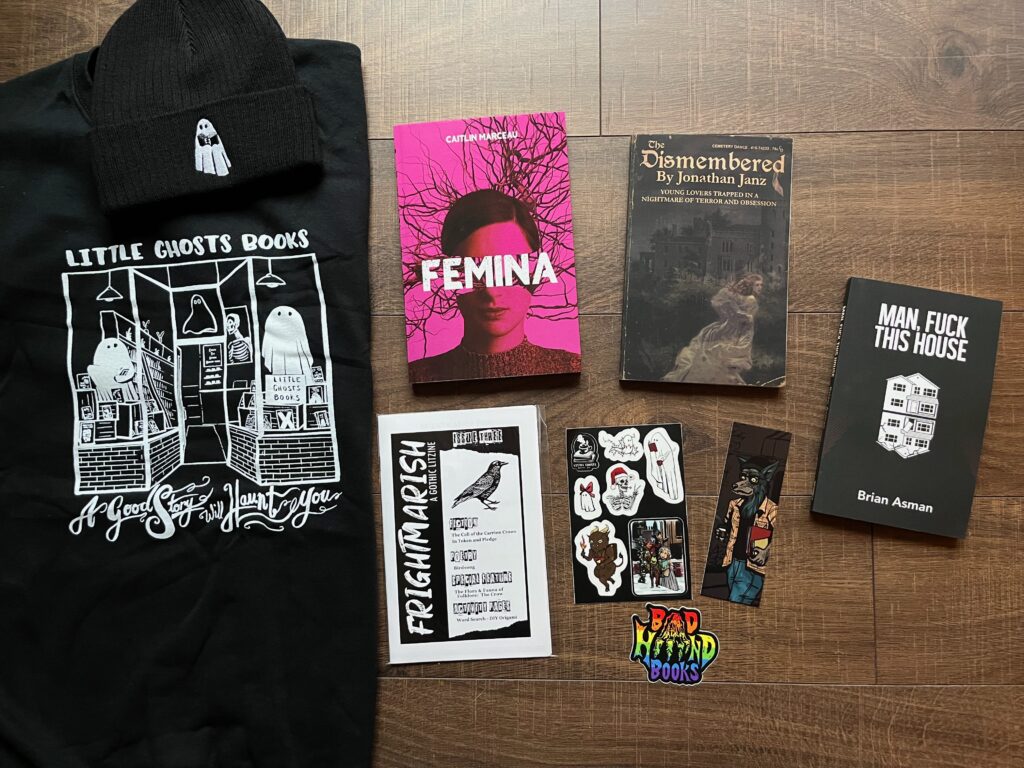 Thanks for reading!
And shout out to Little Ghosts Books! This box was filled TO THE BRIM. What a great packing job!!
Check it out:
---
Giveaway:
Enter to win this copy of The Dismembered by Jonathan Janz! The giveaway runs now through January 6th, 2023 at noon! Good luck!
a Rafflecopter giveaway