Halloween is quickly approaching! Have you planned out your costume yet?
If you're looking for some inspiration, check out these literary costumes that I, personally, would love to try! Each costume has many elements that you may just already have in your closet!

Literary Halloween Costumes You May Already Have In Your Closet
Coraline
This is a costume that could be cute, or very dark, depending on what you're going for! Both would need a long yellow raincoat, blue hair dye or a blue wig, a dragonfly barrette, dark blue or black jeans or tights, yellow rain boots, and brown eyeliner to add freckles to your face.
Or you could go for the darker Coraline doll; you'd wear the same things, but this time, you could add buttons to your eyes.
Want to go even darker? Add a bit of blood to make the button additions look fresh!
Arthur Dent
Looking for a very comfortable costume? Go as Arthur Dent from Hitchhikers Guide to the Galaxy!
All you'll need are your PJ pants, a plain t-shirt, a bathrobe, and don't forget the most important part: your towel! Complete the look with a pint glass or a teacup that you can fill up with whatever you happen to be drinking that night.
Rory Gilmore
You can take this costume in so many different directions! Two of my favorites include:
Student Rory– plaid shirt, button-down shirt, business blazer, knee high black socks, black flats, black or navy blue headband, and a couple of books. Bonus points if you have a yellow backpack!
Relaxed Rory– Jeans or black pants, a jean jacket or comfy hoodie, literary t-shirt, book, and a coffee cup.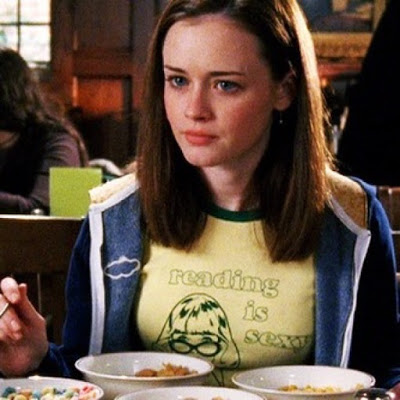 Jack Torrance
This classic character from Stephen King's The Shining, would be very easy to throw together! All you would need is a plaid shirt, a red zip-up hoodie, jeans, messy hair, and a plastic axe (please don't carry around a real axe!).
To make this one darker, you could add some fake blood to the axe and splatter it on your clothes and/or face.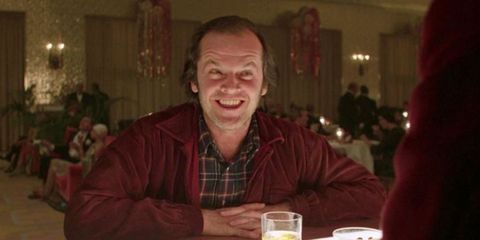 Madeline
If you're looking for a cute costume, this may be a good option! All you would need are a few items; a droopy sun hat with a black band around the middle, a white collared shirt, a long sleeved blue dress, a simple red scarf, tall white socks, and black flats.
Want to make it darker? Add some makeup and fake blood, and rip up bits of your dress and socks to turn into zombie Madeline.
Tyler Durden
This is another costume that could go a number of ways depending on what you have handy!
To go for his most iconic look, if you can get your hands on a red leather/pleather jacket and red sunglasses, you'd be off to a great start! But as a backup, regular black items would do just fine. You'd also need a pair of black pants, a shirt with an obnoxious print such a cheetah print, Hawaiian style, or other such bold things.
To complete the look, you could add makeup for bruising or some slight bleeding and a fake cigarette or bar of pink soap.
To take it a step darker, you could add some serious fake injuries.
Violet Baudelaire
All you'd need to dress up as Violet is a long-sleeved purple dress that goes to your shins, tights, black boots, and a ribbon to tie into your hair. Bonus points if you carry around one of her inventions.
This one can easily go a bit darker without being over the top. Just take one of her inventions and think of a way that it could have either been a weapon or just didn't work out the way she had planned. Examples:
a grappling hook made from metal rods, wire, and torn clothing,
a rope made out of extension cords, curtains, and neckties,
a signaling device made from a piece of cloth, fishing pole, a metal bucket, and a burning hairnet
Arthur the Aardvark
To dress like this classic character, you'd need a yellow sweater, a long-sleeved white shirt with a collar, jeans, and red converse. Easy peasy!
To complete the look, you could also add some round glasses with brown frames.
Thanks for reading!
Are you dressing up this year? If so, what costume do you have in mind?
If you happen to dress as any of these characters, I would LOVE to see photos!!