When I posted my review for Disingenuous Solace Volume 1 by Ronaldo Katwaroo, I noted that this is going to be a name to keep an eye on. Today, I'm so excited to be hosting an interview with the author!
Continue reading below to learn more about his experience with DarkLit Press, how he created his first book all on his own, why he name-dropped the wonderful Cameron Chaney and Janine Pipe, and much more!
Let's dive in!
Interview with Ronaldo Katwaroo, author of Disingenuous Solace Volume 1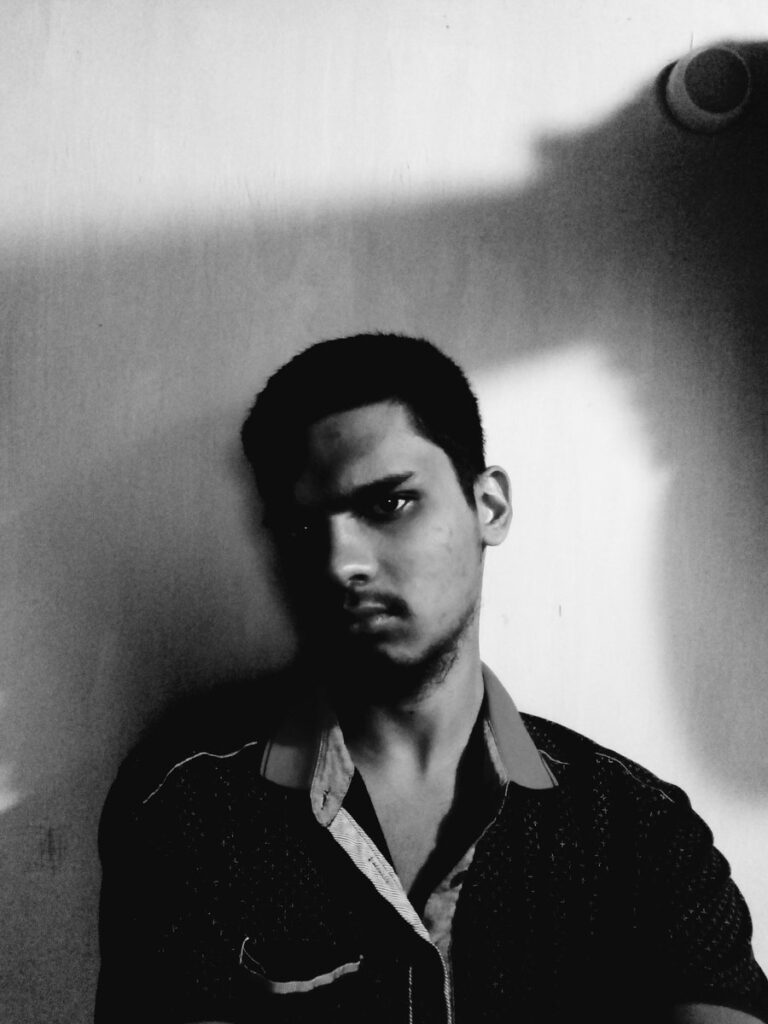 Who is Ronaldo Katwaroo?
Ronaldo Katwaroo is a Caribbean Author hailing from the twin islands of Trinidad and Tobago. For the longest while he has been fascinated with the macabre and all things horror, whether its film or literature. Inspired by writers such as H.P Lovecraft, Bram Stoker and Stephen King, Katwaroo takes a unique approach when it comes to his writing. An advocate for women's rights, he was awarded for his essay on gender equality by his regional corporation in 2021, the same year that his tropical short story "Making Conversation," was accepted and narrated by DarkLit Horrors on their Youtube channel as a part of their bite-sized horror playlist where it has since garnered hundreds of views, granting Katwaroo a place within the horror community and giving him notoriety amongst his peers. In 2022, his short story "Soucouyant Shore," was published in Darklit Press' Anthology "Beach Bodies." His debut collection "Disingenuous Solace Volume 1," packs a heavy punch and showcases his love for the horror genre with tales paying homage to Legendary films such as "Scream," "The Texas Chainsaw Massacre," and "The Shining." As his career continues to mature, he aspires to one day leave his mark on the horror industry like so many greats before him and proudly represent his Caribbean heritage.
What is your first memory of writing for fun?
The earliest memory that I have of writing for fun stems from secondary school. Every Tuesday my form 1 English teacher would give us a premise, sometimes a phrase or one liner to incorporate into a story. We each had fifty minutes to jot down at least five hundred words, then whoever was brave enough would stand in front of the class and read what they wrote down. Everyone else would vote on who had the best story and the winner would get a doughnut. It was something that definitely helped to boost my confidence after a while because nobody knew what to expect from me. While everybody else would write something wholehearted and filled with valuable life lessons, I was that weird kid that wrote horror. Regardless, my friends would volunteer my stories to be read aloud, even when I didn't want to face such an anxious crowd. People love to be surprised I guess.
How many books have you written?
So far, if we're counting solo projects, just one.
What are some of your other interests outside of writing?
Outside of writing, I have an appreciation for art in general. I love to draw, and I have always been fascinated by the performing arts and music. So much so, when I was nine years old I would stay inside during lunch time and write song lyrics to enter in competitions.
Are you also a reader?
I am a huge fan of books. I swear if I had the time, or if I could find a way to get paid for reading, I'll do it. Sometimes my mom would catch me deep in thought, reading and she'll tell me stories of when I was little and still learning how to talk. I'd pick up a story book from the shelf after my mom read it to me and I'd read to my grandmother because I wanted her to be as captivated as I was with the story.
What genres do you reach for the most?
I'm a sucker for horror; it's really my first love, but I sometimes find myself reading mysteries as well.
Do you have an all time favorite book or author?
Currently, my all time favorite book has to be "Finders Keepers," by the incomparable Stephen King. That book was really my introduction to King, even though it's the second book in the Mercedes trilogy, it was the first time I ever read something of his, and it has left a lasting impression ever since.
Regarding my favorite author, I think it would be a bit cliche to just cite Stephen King so I'll also name drop Janine Pipe and Cameron Chaney as two of my favorite authors because of the influence that they have had on my writing style.
Book Related Questions
Your short story, titled Making Conversation, was featured on the DarkLit Horrors Youtube channel. Can you tell us more about what working with DarkLit Press was like and what it meant to you?
Working with Andrew and DarkLit Press as a whole was such a blessing. Every chance that I get, I thank Andrew for giving me the opportunity to be heard. I am proud of what he has been able to do with his publishing house in such a short amount of time, and I'm even more proud to say that I've had the honor of being there at the very beginning when it was still known as Horror Oasis.
I remember waking up one morning and scrolling through Twitter when Andrew announced an open call for beach side vacation horror short stories. He was starting a Youtube channel and wanted quick, but effective (bite-sized terror, as he puts it) to be featured on it. I remember thinking to myself that this was it, my chance to show the world what I was capable of. Everything was aligned perfectly. Andrew wanted that warm, calm and soothing vacation vibe with a splash of horror on the beach and well…being from the Caribbean (Trinidad and Tobago, to be exact) and being the horror fan that I am, I had ample knowledge when it came to beaches and the terror that can lurk on them. Plus I already had a concept down. I knew where I wanted the story to go.
So, one morning before school, I got up at 5 a.m., sat down with my laptop and just started writing. I finished Making Conversation in less than an hour and sent it to Andrew for him to consider. One week later, while I was in class, I saw that Andrew absolutely adored my story, and one thing led to the next, it was posted onto Youtube shortly after. I still remember how it felt seeing my work get so many views, be praised and liked by so many people. Some people I knew in person came up to me and said that I was representing my heritage and my country and that I should be proud of what I was able to accomplish with that story. Thank you Andrew for giving me that opportunity.
Disingenuous Solace Volume 1, a collection of some very haunting tales, is your first solo collection that you put together by yourself! From the writing and illustrations, to the formatting and cover design, it was all you! Can you tell us more about your inspiration to get this collection going and what it was like self-publishing?
Yes, everything was me! Truth be told when working on Disingenuous Solace Volume 1 I had to wear multiple hats simply because I couldn't afford any professional help. It made things unnecessarily difficult because there were some days where the mere thought of working on the book made me feel exhausted. But, I'm such a perfectionist that I didn't even mind taking my time with it.
There was a lot going on in my life around the time I started writing DS1. The pandemic had just hit, and I was still in Secondary school. But what kept me going, what inspired me to take the self publishing route was the encouragement and support that I received from the indie horror community on twitter.
Independent authors seldom chase trends to appease and or capture the attention of a big name publishing house, they write whatever makes them happy. I want to write what makes me happy. Being independently published, having creative freedom and having my work enjoyed by the few people that have read so far has been the best feeling in the world!
In Disingenuous Solace Volume 1, each of the stories could be read independent of one another, but they also tied into one another wonderfully. This format really interested me. I loved trying to guess at what element from the current story would show up in the next. How did you organize this; did you map it all out first, or did it happen naturally as you wrote?
It was a little bit of both actually. So, I knew from the jump when I was planning everything out that I wanted each story to bleed into the next albeit subtle or not. The first minor detail that I had in mind to build that connection to everything was the seasons. Suffer-Kate, the very first story in the collection, is set a couple of days after summer, while the last story, Snow At The Gemini Hotel, takes place during the winter. In between, if you keep a watchful eye, you'll notice that the other stories within DS1 help transition the town of Serendipity Forest from fall to winter. This was what I had done on paper to build a connection and tie each story together. When I actually started writing the stories however, I kind of got lost in my own world building and before I knew it, characters, places, even entities began transcending and crossing over from the boundaries of their own stories and bled their way into tales that I had no intention of including them in, but I'm glad I did. So, for the most part, I guess you can say that tying in each story within Disingenuous Solace Volume 1 came to me naturally.
For readers like myself that have cruised through Volume 1 and are eager to see what happens next in Serendipity Forest, can you give us a hint at what is to come in Volume 2?
Haha! I'm so glad that you enjoyed Volume 1 Erica! To me, Serendipity Forest is such a vast, diverse place that I want to expand and give the reader a full tour of. The residents of this sleepy town have a special place in my heart, and I can't wait for eager readers such as yourself to meet them all (both the good ones and the bad ones). I intentionally left a lot of things unanswered within the first volume, so the best hint that I can give you is that Volume 2 will pick up directly where Volume 1 left off, but there will also be a couple of new anomalies for you to wrap your head around. [In my pinhead voice] I have such sights to show you!
Just one last question; Where can readers find you?
Interested readers can find me on Amazon, Goodreads, Instagram (@ronaldokatwaroo), and Twitter (@Ronaldokatwaro1)!
---
Thanks for reading!
And major thanks to Ronaldo for jumping on to answer these questions! I felt like I really got to know him by reading his wonderful answers here, and I hope you all feel the same way!