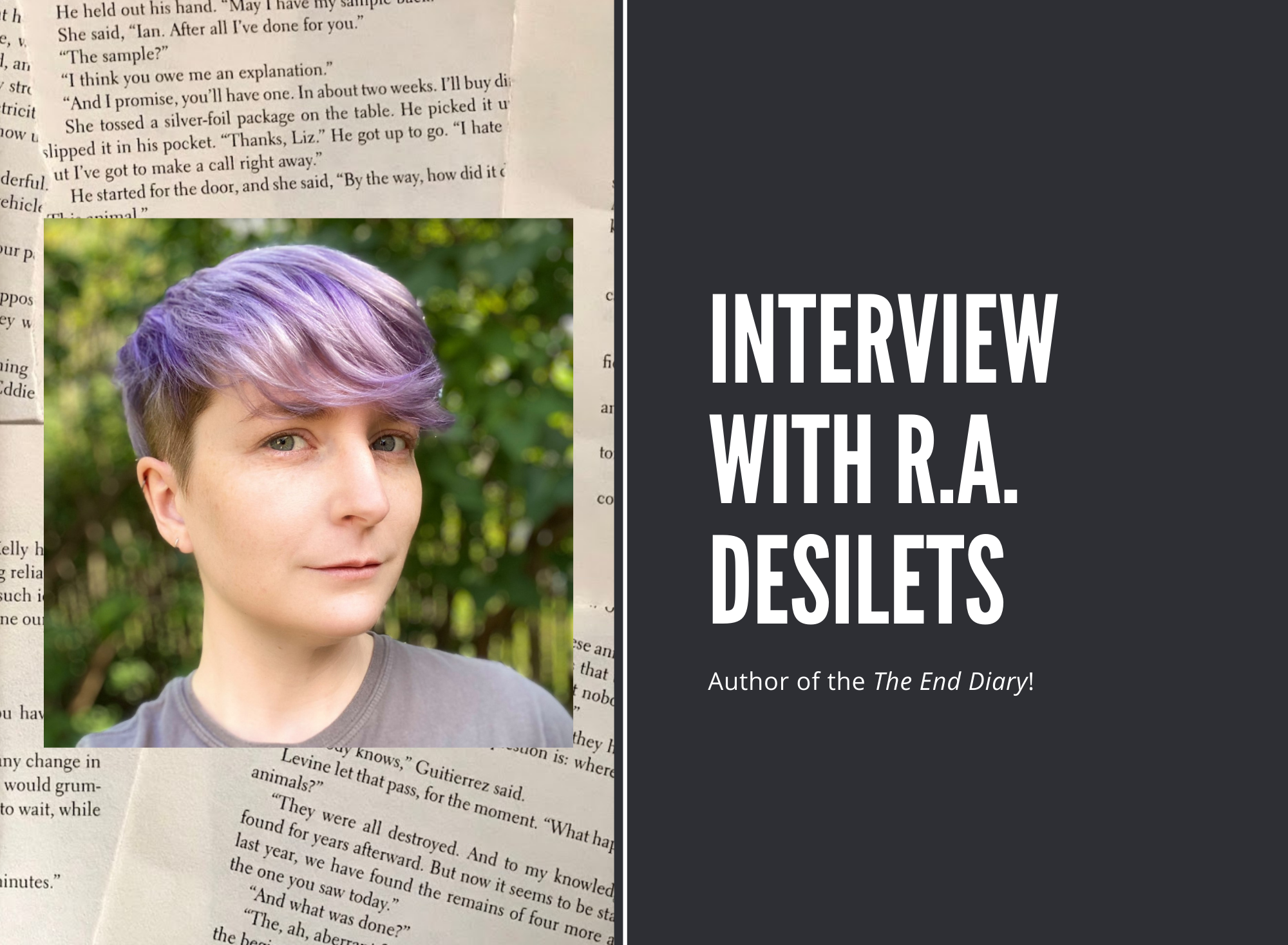 I am so thrilled to post this interview and giveaway today! Major thanks to R.A. Desilets for giving me the opportunity to host this!
Let's jump into the interview!
Interview with R.A. Desilets, author of The End Diary
Who is Rachel A. Desilets?
Rachel A. Desilets was born in southern New Hampshire. She graduated from Emerson College with a B.A. in Writing, Literature, and Publishing. She lived in southern California for a bit and then decided it was too hot. She currently resides in the rainy side of Oregon with her husband and cats.
What is your first memory of writing for fun?
The first short story that I ever wrote was when I was ten. It was about a girl who wanted to get a haircut and entrusted her best friend with the task. Since I was ten, it unrealistically ended with her receiving a fabulous haircut.
I've been writing since then. I still have a draft from high school that's in the works. It's had numerous rewrites as I've gotten older, but it's still a pet project. I have no idea when I'll actually be finished with that one, but I absolutely adore the characters, even if they are over a decade old at this point.
How many books have you written?
Goodness, too many to count? My first two manuscripts I tossed. I've tossed all of my adult manuscripts; they've never had the same passion as my YA works. Published, I have six titles. Unpublished … So many.
What are some of your other interests outside of writing?
I play video games, read a lot of books, run, and snowboard, though I haven't been to the mountains in a long time. I also love photography and have been managing a new instagram page called @OregonIsGross, which is pretty photos of Oregon with sarcastic captions.
Are you also a reader?
Most definitely! I have so many books that my shelves are overflowing.
What genres do you reach for the most?
I read young adult fiction primarily. I go through phases with genres, but I'll read just about anything, from dystopian to retellings to paranormal to contemporary. Occasionally, I'll pick up a nonfiction work on writing or history.
Do you have an all time favorite book or author?
Patrick Ness's writing is absolutely fantastic. I adore the dark wonder of Courtney Summers's works. Caragh O'Brien's Birthmarked series blew me away.
You were born in southern New Hampshire. What is your favorite thing to do or place to visit in this state?
Star Island is one of the most beautiful places I've ever been to. It's a mile off the coast, and there's very little cell phone access, giving you some pure getaway and recharge time. The constant background of waves crashing against the island and distant foghorns is pure bliss.
Book Related Questions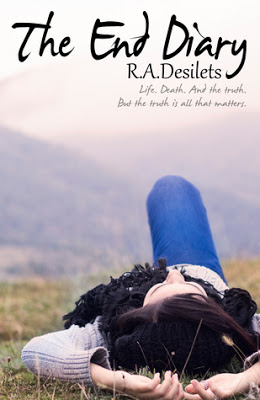 A few difficult topics included in The End Diary include sexuality, bullying, racism, and mental health. Each topic was woven into the story wonderfully. What advice would you give to other writers that are struggling to write about a hard topic?
The End Diary started with a simple idea. If Megan believes everyone in her life is against her, how does that frame her outlook of the world? I took this idea and began layering in everything else she had to struggle with. I think starting with one strong concept enabled me to focus on Megan as a person, which made her voice stronger, which in turn made the rest of the story easier to juggle. With any of these topics, the main character's feelings and outlook on them frames the entire story. Perhaps starting with your character's viewpoints and working outward toward the bigger picture will help.
The main character of The End Diary, Megan, seemed so incredibly real! Was she a character that was already "living in your head" so to speak, or did you pull inspiration from an outside source?
I think a little bit of Megan exists in all of us. She's our personified fear of not being accepted. We've all felt unaccepted at some point in our lives. Also, I've sadly lost a lot of friends to mental illness. Their struggle is one of the many reasons why I continue to explore mental illness in YA fiction.
Many times throughout the book, Megan would stop her story to address the readers. For example: "I digress. Again. Sorry, readers, I'm not good at this "retrospective without spoiling the story" thing." As a reader, I absolutely love when authors allow their characters to break the fourth wall! What was your thought process here?
Since Megan's story is retrospective, I wanted to capture her truth as best as I possibly could. Because she doesn't feel accepted by the people in her life, she's talking to the readers as if they are the only ones who will ever understand her. It creates a powerful connection between readers and Megan. I honestly don't think there was another way to tell the story without those asides.
Megan only wants to be accepted, but she feels rejected by everyone. What is some advice you would give to someone that feels the same way?
Growing up is hard, let me say that first and foremost. When we're teenagers, we're trying to figure out what we want to do with the rest of our lives, we're falling in and out of love for the first time, and we're navigating groups of friends and bullies during one of the most emotionally trying times in our lives.
Megan's story is deeply personal, because I struggled with anxiety, PTSD, and feeling like I had no one to turn to. I kept searching for the right group of friends and finally found them in a place I never expected … In church. Unitarian Universalism ended up being exactly what I needed, but I know spirituality and religion isn't for everyone. It's only because I took the chance that this might work, that something had to work that I found something that did work.
My advice is to take a chance on yourself. Find a community that loves you, even if it seems like the strangest place. Don't be scared to seek new connections when your old ones are failing you. Chances are someone else is looking for that same connection you need in your life.
You obviously have talent when it comes to writing suspense and mystery. Any plans to write a full-blown suspense novel in the future?
There are so many books I want to write! I am working on a YA Horror/Suspense novel that deals with good old monsters. I think that will be really fun when it comes out, with a huge emphasis on the action and creep factor. I've always been terrified of the woods at night, something I'm trying to get over, but that fear will help fuel the story for sure!
Where can readers find you?
I've been terrible at update my social media lately! But here are all my links:
Thanks for reading!