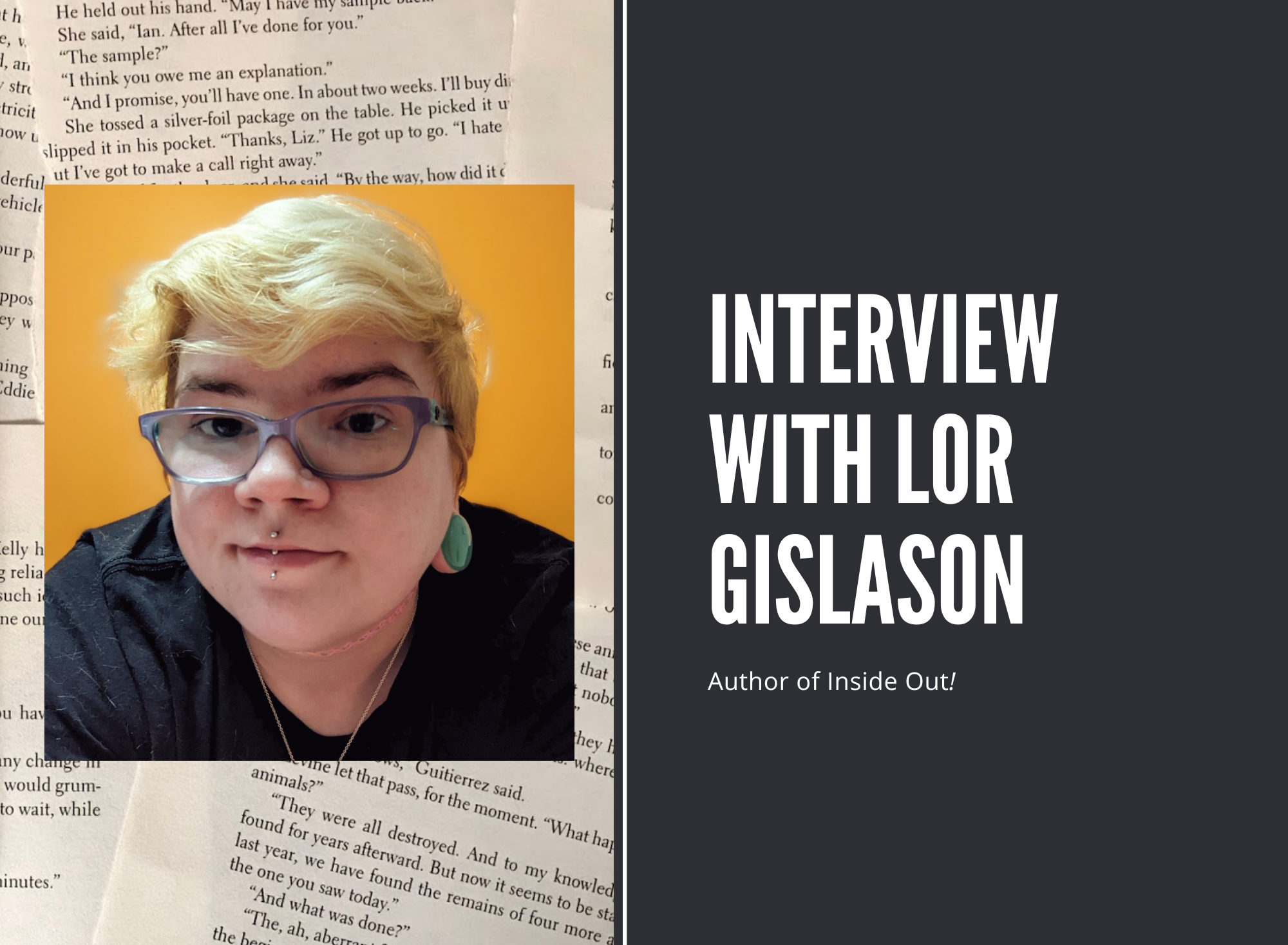 If you haven't yet read anything from the amazing Lor Gislason, now is the time to change that! Celebrating the launch of Lor's first novella, Inside Out, which comes out soon, I'm so excited to be hosting this interview!
Let's dive in!
Interview with Lor Gislason, author of Inside Out
Who is Lor Gislason?
Lor is a Canadian writer with an obsession with all things goopy. They probably post too many photos of their cat Pierogi Platter.
What is your first memory of writing for fun? 
I was really obsessed with the idea of writing a book when I was around 12-15. I'd buy those fancy filigree notebooks but would never get farther than 10 pages or so.
How many books/short stories have you written?
Inside Out is my first novella! I've written about a dozen short stories. I mostly write articles and I think I'm nearing 150 for those.
What are some of your other interests outside of writing?
I play a lot of video games! RPGs, farming simulators, and platformers mainly. I used to hand stitch little felt ornaments and make friendship bracelets, although not as much anymore due to hand pain.
Are you also a reader?
Absolutely!
What genres do you reach for the most?
Horror is definitely the go-to, but I also like Sci-Fi and memoirs.
Do you have an all time favorite book or author?
I'm a huge Dune fanatic and will talk your ear off about it. For more recent books, the Bas-Lag series by China Miéville. The world building is so detailed!
Book Related Questions
Your upcoming novel, Inside Out, is being published on October 10th of this year. I had the chance to give this one an early read, and I cannot wait to dive back in when it officially launches! A couple words that come to mind when thinking of this book, and I mean this in the nicest way of course, is "disgustingly goopy." Can you tell us how the idea for this book came to you?
I'm endlessly pleased that "goopy" has become associated with my writing!
The first three stories I wrote were all part of a dream. Extremely vivid. A man being touched by this disgusting, wet fleshy thing and his eyeballs melting—that was the first one. Then what eventually became The Family, and the final one following a young girl after her parents melt together. I scribbled them down after I woke up and the rest grew out from there.
I love that Inside Out, while a novel, also reads like a short story collection as the sections feature different characters, who are all experiencing the current situation. What was writing in this format like? Do you have any tips for other writers that may want to do something similar?
It honestly came quite naturally, haha. This is my first "long" written project and it's essentially many flash fiction stories slapped together. I wanted to show how different people would react to this terrible affliction, so I'd think of a person—for example, I have a shitty landlord character—and brainstorm their response and creatures they'd encounter. Then I needed things to fill in the blanks, like a "day zero" introduction. The order of the stories changed several times and I even cut a few things. I'm not sure my loosey-goosey method would work for everyone but it's a lot of fun.
The cover of Inside Out has certainly made its rounds in the horror community already and the book hasn't yet launched! This artwork was done by @Valdevia_Art. What was the process like developing the cover?
Ed is a fantastic artist and does a lot of photo manipulation, so we knew that would be the base. He put strings of keywords into an AI-image generator—like one of them was "face melting into a pile of human goo, skin melting off". He then used these pictures like building blocks, adding layers and blending it with stock photos to create a woman we dubbed Flappy. Besides some small tweaks, the entire process was done live on his Twitch channel. It was super fun and made it easy to offer suggestions. We also made a version with googly eyes. I'm endlessly pleased with the result and that it went over well on social media!
The Family is a tale that Darklit Press is offering up for free to give readers a little taste of what's to come from Inside Out. Can you tell us more about working with Darklit Press and how you chose to release this specific short?
Andrew (from Darklit) has been incredibly supportive and easy to work with. We thought it would be fun to give a sneak peek at the world and set the tone of gross, haha. The Family worked perfectly because it's an early chapter and already had accompanying art (by Matt Pierce, aka Hmn Prsn). It's also part of the original trio of stories Inside Out started from, so that feels fitting.
Just one last question; Where can readers find you? 
You can find me on Twitter @lorelli_, and my blog is lorgislason.wordpress.com!
---
Thanks for reading!
Please go give Lor a follow to stay tuned for the launch of Inside Out, coming out in October of 2022! And and you so much to Lor for participating in this interview. I'm so pumped to see the launch of Inside Out next month!
---
Related Reading: