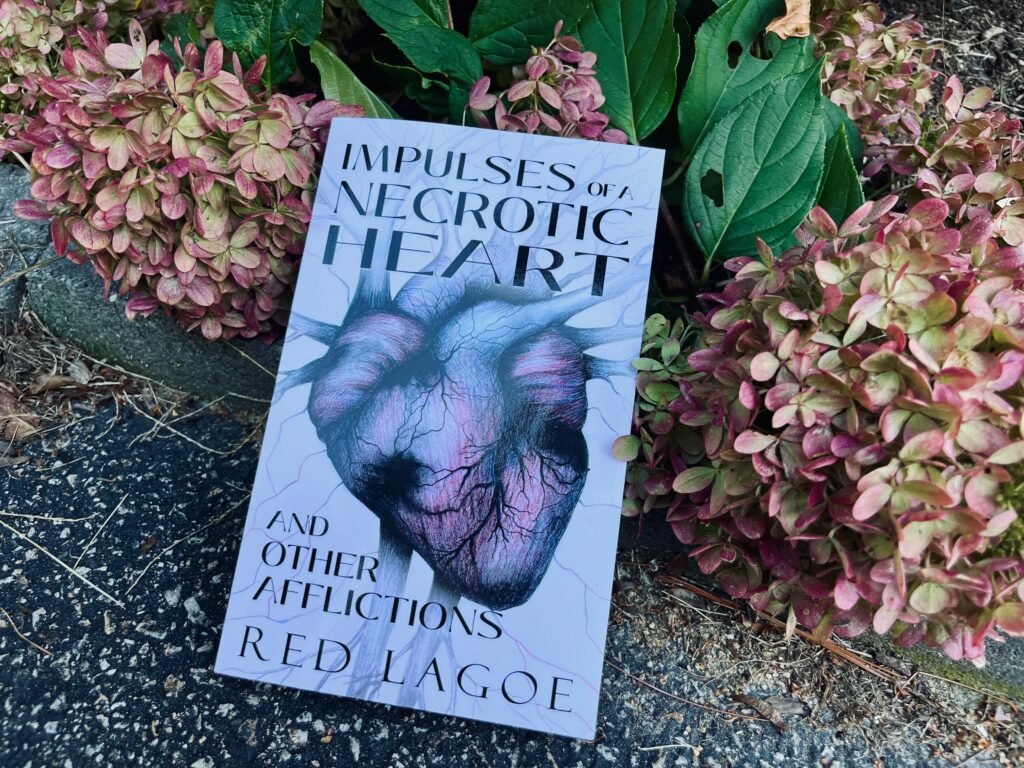 Impulses of a Necrotic Heart: and Other Afflictions by Red Lagoe is a collection of short stories that will both haunt and shatter readers' hearts into a million pieces.
Content Warnings:
Child Death, Mental Health Disorders, Grief, Body Horror, and more.
For more specific CW's, the author has provided a lovely breakdown at the back of the book!
Let's dive in!
My Thoughts on Impulses of a Necrotic Heart: and Other Afflictions by Red Lagoe –
I loved that you could never know what to expect with this collection, even though there is an underlying theme. One minute you could be enjoying a dark body-horror tale, and the next, you're ready to cry with the gut-punch horror.
And as a bonus, each tale had an AMAZING illustration to go along with it!
Here's one of my favorite illustrations: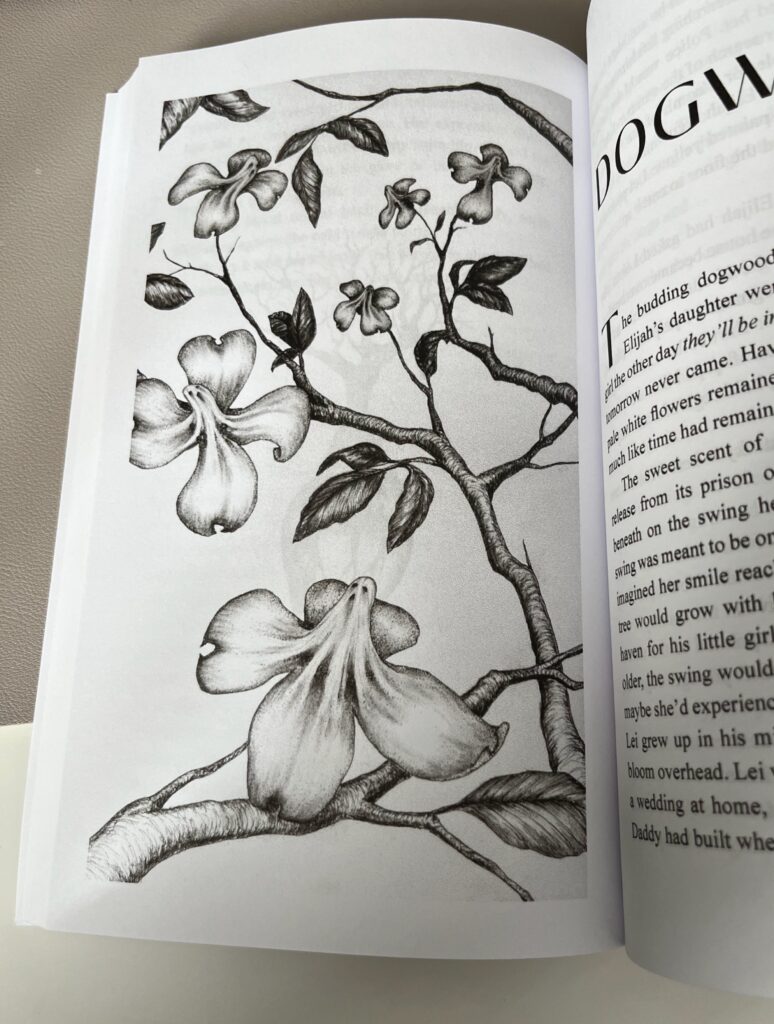 My favorite stories from the collection include:
Infectious Glow
Arachnu
Sensory Deprivation
Blood Bogged
Tangerine Sky
Per usual, here are my notes on each tale!
Introduction –
My gosh, this line: Some of the best and worst people in the history of mankind have followed their hearts.
---
Impulses of a Necrotic Heart –
While his father is on his deathbed, this man has tackled one more job for his father. Now, he's ready to cut ties. But how will his father react?
I was so nervous to see how this situation would play out! I loved that the author teased just enough information to assume we know what's going on with their back story, but didn't lay it all out so we could be absolutely certain. Instead, we focused on their relationship and mental health.
---
Hollowed Hearts –
With a distant mother and bullies at school, this kid is just looking for anything to latch onto. When he accidentally visits the yard of a nearby house, he quickly learns that the tall tales about the old owner may not be that far from the truth.
My heart broke for this poor kid! Understanding how upset he was and how little it could have taken to turn things around, the ending hits even harder.
---
Don't Make It Weird –
Distressed when her breasts start "budding" and then growing in fully, this thirteen-year-old girl just wants to play football. But of course, she's given a very hard time by the boys.
Ugh, I hate what a common experience the first half of this story is. But that ending was wonderful! What beautiful body horror!
---
Consumer Alert –
After her husband passes away, this woman fills her time with online shopping to try to find something that will bring her joy. But rather than trying to enjoy what she's purchased, she just keeps shopping.
Starting out very real world, this one takes a wicked dark turn! My gosh. The thought of being in this woman's house makes my anxiety spike. I can't do clutter, let alone hoarding.
---
Infectious Glow –
After a red giant goes supernova, the public wants to see it. But when night falls and they look to the skies, many people freeze, only awakening the next morning as zombie-like beings. One man and his neighbor are still present in their minds and go out to try to reach someone important.
Deeply unsettling, this one had me squirming. I loved the zombie-like element, but my gosh, the little worms were gross! I also loved the Bird Box reference! Overall, this was a fun and tense tale of terror!
The illustration for this one made me say "ew" out loud when I turned the page and saw it!
---
Arachnu –
Traveling to fix up a property that he and his wife are planning to rent out, this man is distressed to find that he has a bit of a spider problem there. But he has no idea what else he's about to find…
This one is a big nope for me! Ugh, I hate spiders. And wolf spiders at that?! Noooo thank you!! We had plenty of those in my hometown. I would have been out of that house so fast.
---
The Glass Labyrinth –
After a traumatic scene during his childhood, a glass maze and the girl trapped inside has stuck in the back of this man's mind. Unable to move on, he returns when he's an adult for closure.
This was such a quietly eerie tale! So much emotion was packed in while we see a life that attempted to be lived normally while the ties of childhood trauma held him back.
---
Dogwood –
When his daughter goes missing, this father is desperate for answers. When a kid dressed as a ghost starts to appear, he finally follows it into the woods.
Ugh, what a heartbreaking tale of how quickly things can go sideways.
---
Sensory Deprivation –
Haunted by his choices, this man is willing to take extreme action to stop the screaming from his previous loves.
This tale gets darker and darker with every sentence! I loved it!
---
Blood Bogged –
Seemingly cursed to bleed gallons at a time, this poor girl suffers alone in the cabin of the man she believes did this to her. She doesn't want to die, but she has no idea what to do.
Such a brutal body horror tale! Menstruation is no joke! This extreme level had me cringing for the poor girl. This is a very real nightmare that I've had similar thoughts of, mainly the, "what if it never stops" worry.
---
Tangerine Sky –
Haunted by her childhood trauma of her sister being kidnapped, this person has become part of law enforcement and has recently taken down a trafficking ring. But rather than going out to celebrate, they have other plans.
I loved that this one centered around a therapeutic art project! Seeing the grief and anger this person has been drowning in for so long finally released on the canvas was perfect!
---
Here For You –
Giving her all to be a mother, this woman fades away more and more every day.
An absolutely brutal and heartbreaking tale of motherhood.
---
Legacy –
Two siblings struggle with the death of their mother, making it clear that they had very different relationships.
Oofh, having such wildly different relationships with your parents than a sibling had is so tough. This tale takes that to a supernaturally spooky extreme, but the main point hits hard.
---
Fourteen Gallons –
After an apocalyptic event for humans, being outside has become dangerous as microorganisms lurk. Determined to really live before they die, these two decide a trip to the beach is the perfect plan.
So unsettlingly sad, this tale certainly tugs in your heartstrings! What a terrible situation to be in.
---
The Haunting of Swan Lake –
A month after the death of his father, this man is deeply haunted by a whistled tune…
Ah! I love the connection between this tale and the first tale of the collection. What a cool way to end the book. This poor man though.
My Favorite Passages from Impulses of a Necrotic Heart: and Other Afflictions –
Dad's shoulders broadened and his body swelled as if being filled with ammunition, ready to fire at will.
– Impulses of a Necrotic Heart
"What if I go out now and it gets in my eyes?" Devon says.
"You could close your eyes.
"And what? Bird Box my way to the lab in a blindfold?"
– Infectious Glow
In the off-season, the seaside town carried on its salty breeze the ghosts of Isaac Tripp's childhood memories. Stomping barefoot in the ocean, sunburns, salt-water taffy, and aggressive gulls swooping down for bits of French fries or funnel cake. But those glimpses of his past had been viewed through the naïve goggles of innocence for too long. Much like an ice cream cone on the beach, melting away and leaving nothing behind but sticky fingers and disappointment, so did Isaac's rosy picture of his childhood.
– The Glass Labyrinth
Ryan's lip curled in disgust. "When people leave this earth–if they're lucky -they get to make a mark on the world. Ma didn't leave just a mark…she left scars."
– Legacy
Sideways sunbeams pierced the fog over dewy grass and decomposing corpses.
– Fourteen Gallons
My Final Thoughts on Impulses of a Necrotic Heart: and Other Afflictions –
This author has such an amazing writing style. Each and every tale sucked me right in and I was so pleased to experience the range of topics here!
A must-read for horror lovers who aren't afraid to be hurt by the stories they consume.
---
Purchase your copy of Impulses of a Necrotic Heart: and Other Afflictions
Thanks for reading!