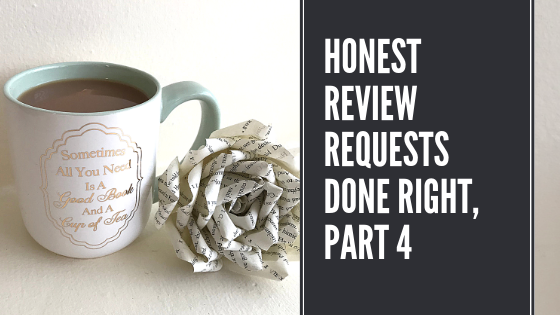 Welcome to part four of this series!
If you missed the first three installments, feel free to check them out below before returning here:
Let's dive in!
More honest review requests done right:
"Oh, and congrats on the house!"
This email is so spot on with what I look for with requests!
Nick greeted me, explained how he found me, and very clearly did research before reaching out as he learned that I was technically closed for review requests but still open to anything horror, and that I had recently bought a house.
He also provided a link for me to learn more about the book that he thought I may be interested in, and offered a free copy.
Wonderfully done, Nick!! Also readers, I LOVED the book! Check out my review for Human Flesh here!
I emailed Nick back as soon as I was able to read the email! Unfortunately with our house buying and the move, it sat in my inbox for a bit.
"And if not interested, no worries at all!"
First things first, this author had already started a conversation with me on Twitter about a short story of his that I had read. That started the relationship off wonderfully! So when I saw this message come through, I was so excited! Not only was it horror, but we had already started chatting so this wasn't just another "cold" offer.
I also loved that he gave me options for the review copy, gave me an out if I wasn't interested, and then added the book details!
I responded right away, and of course, accepted the review copy!
---
"I wanted to touch base to see if there are any upcoming ARC's you'd be interested in checking out."
Shout out to Sarah for doing her research!
This request was so spot on for me! I loved that she greeted me and then introduced herself perfectly. I also love that she provided the full catalog for me to check out, and then continued to list the upcoming books and their release dates along with just a quick sentence about them.
I wanted to read EVERYTHING that she had listed. I picked a couple and emailed back with my interests. I cannot wait to dive into the books that are headed my way!
I'd love to work with Sarah again!
---
Thanks for reading!
What are some things that you look for when you are emailed by publicists or authors? I've love to hear your thoughts in the comments below!
And of course, my thanks to Nick Clausen, Eric J. Guignard, and Sarah Miniaci for sending these emails my way.