Plunge by Joe Hill, illustrated by Stuart Immonen, is a horror graphic novel about a recovery project gone very, very wrong. The project should have been relatively easy, but what the team is about to discover more than just the shipwreck and research.
I seriously need more horror graphic novels in my life!
Let's dive in!
My Thoughts on Plunge
The Creative Team:
Joe Hill – Writer
Stuart Immonen – Artist
Dave Stewart – Colorist
Deron Bennett – Letterer
Jeremy Wilson – Collection Cover Artist
When Captain Carpenter and his crew are sent on a mission to recover a ship that had gone down years ago, they think that the biggest risk they need to avoid is underwater missiles sent from the Russians. Tensions are already a bit high as they are forced to bring along the VP of Special Projects, David Lacome, and the Captain isn't exactly hitting it off with him.
When they arrive at their destination, some of the crew heads to land in order to camp for the night. But when the Marine Biologist, Moriah Lamb, heads away from the campfire to pee, she stumbles across a body. It seems as though the man has killed himself, but there are a few things that strike the crew as odd. Just one item being that Moriah says that he spoke to her.
But while she tries to brush it off as her mind playing tricks, the crew is about to learn that they needed to fear much more than Russian missiles.
I am so glad that I went into this one pretty dark! I had no idea where this story was going and I was so shocked to learn more as the story unfolded.
I fell for all of the characters immediately. I wanted them all to become fast friends, get to the wreck, get what they needed, and get out. But of course, this is a horror graphic novel… so things didn't follow my happy little timeline. I loved Clark the most: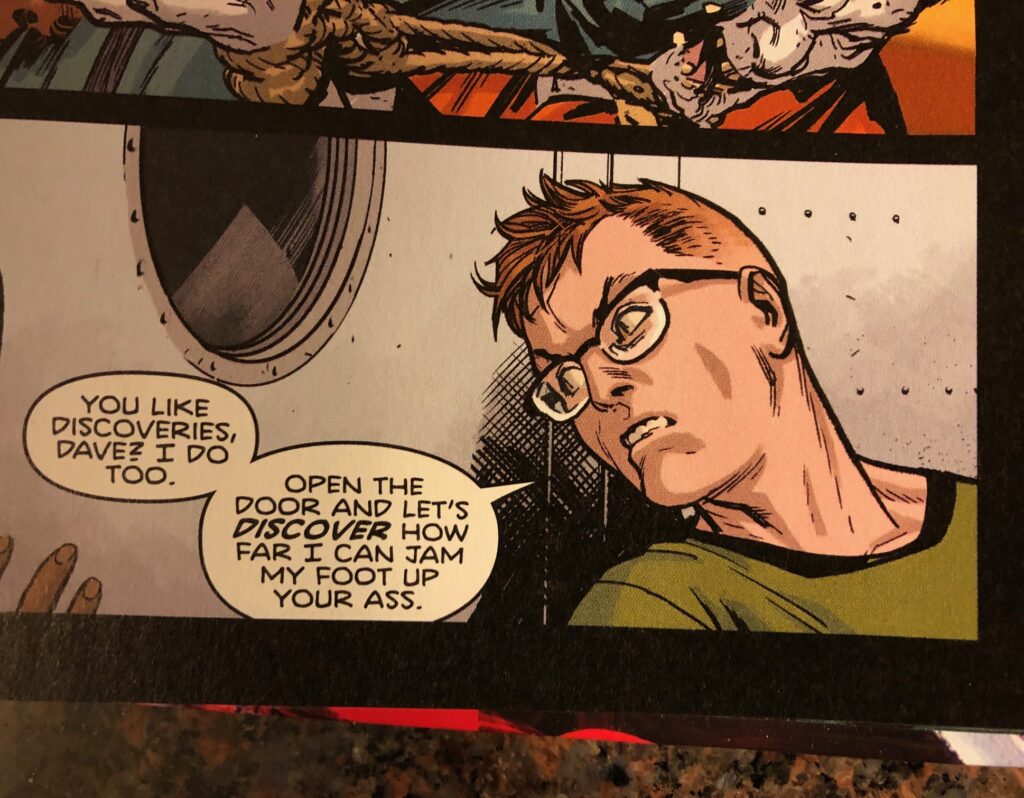 The storyline written by Joe Hill paired with the artwork from Stuart Immonen and the coloring from Dave Stewart was incredible.
To say this tale is creepy is a massive understatement. Some of these vivid scenes had my skin crawling, while others made me grimace involuntarily. There were also many scenes that had me feeling a bit claustrophobic; whether that was in a cave, in any of the underwater scenes, or locked in room on this ship… Eek!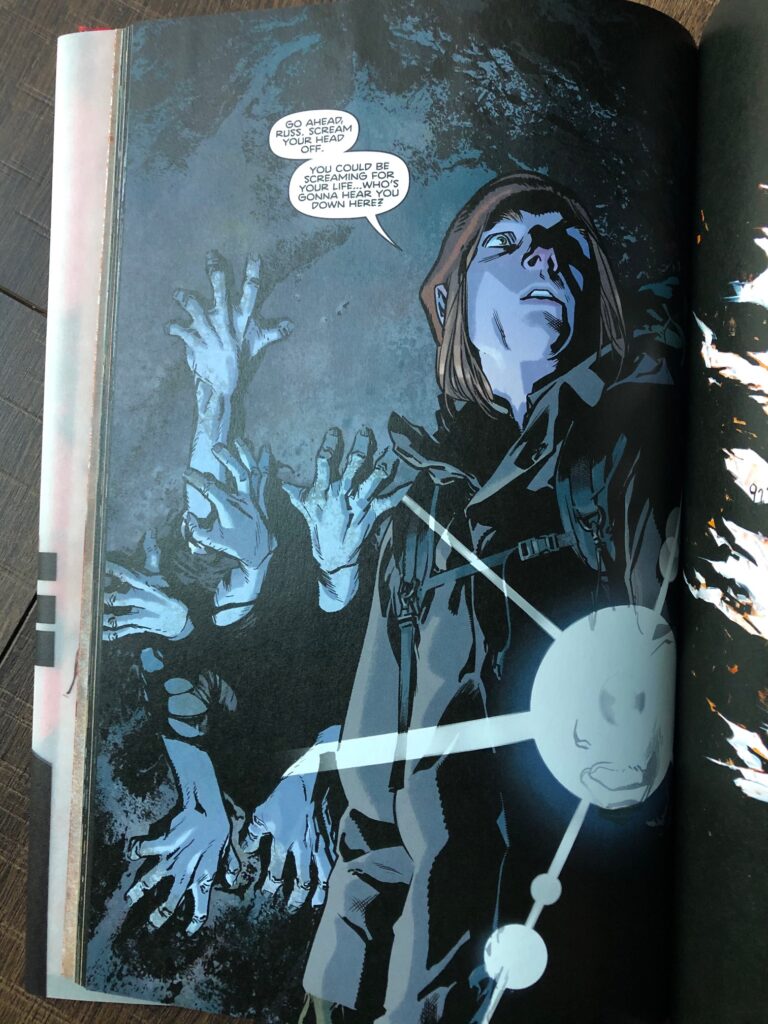 This variant cover by Gary Frank and Brad Anderson sums up the feeling I had frequently while reading:
My Favorite Passage from Plunge
So many stars. The worst thing about civilization is it took the stars away from us.
My Final Thoughts on Plunge
The storyline itself is intense and terrifying, but it's also filled with wonderful characters and brotherly love. Pair that with the killer illustrations and muted color palette with only a few colors, and you've got a hit for me!
Plunge is the best horror graphic novel that I have read in a very long time. I highly recommend checking this one out!
---
Snag a copy through Bookshop to help support local indie bookshops:
Shout out to Water Street Books in Exeter, New Hampshire for holding on to my order for the author to sign!