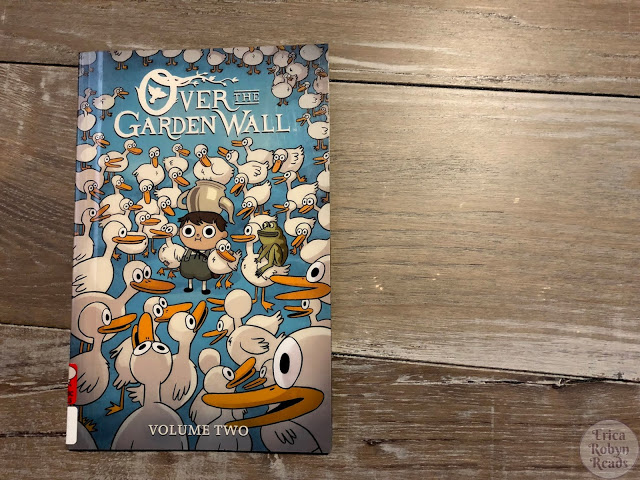 Even though I didn't love the first volume of this collection, I still decided to give Over the Garden Wall Vol. 2 a shot since I had already checked it out from the library.
My thoughts about this one are pretty similar to the first…
Over the Garden Wall Vol. 2 by Jim Campbell & Pat McHale
Hunt for Hero Frog- Greg/Wirt
This book picks up with the two boys in a tavern. Wirt says they had a rough night but Greg is all excited about it! We then see the story of the night told by Greg first, and it's very bright and colorful. Then we see Wirt's version which is much darker… When Wirt finishes his story, he realizes that Greg has left so he leaves to go find him. The rest of this story shows the situations that each boy got themselves into.
I enjoyed this one well enough, though I'm not sure I would pick up the next part of this series. It still just seemed too random…
Pooree The Elephant / The Raft
This one was a total miss for me, I really didn't like it at all. I didn't like the artwork, the storyline, the characters, the flow… I didn't like any of it. I understand that there are lessons in there for the target audience, but I think they could have been done much better. I'm actually a bit grouchy that I wasted time pushing through this one.
My final thoughts:
Overall, this one was a miss as well. I enjoyed the first story well enough but didn't like the second one at all. I doubt I will continue on with this series.
Thanks for reading!
Have you read this series or watched the TV show yet? If so, what did you think? Is it necessary to watch the TV show first?