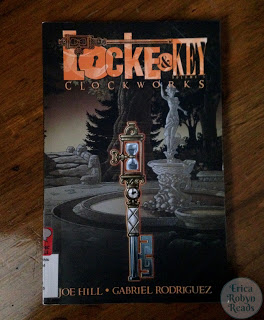 Locke & Key, Vol. 5: Clockworks is another killer installation in this series. While I loved the read, I'm also so sad that I'm nearing the end of this series!
Click below to check out my reviews for the other volumes:
Locke & Key, Vol. 1: Welcome to Lovecraft
Locke & Key, Vol. 2: Head Games
Locke & Key, Vol. 3: Crown of Shadows
Locke & Key, Vol. 4: Keys to the Kingdom

Let's dive in!
My Thoughts on Locke & Key, Vol. 5: Clockworks by Joe Hill, Gabriel Rodríguez
In this volume, we are shown a lot of the past. First, we learn about a group of minutemen who are trapped deep in the cave during the Revolutionary War. In the cave, the black door is open and a young Ben Locke must to find a way to close it. We also really get to know Rendell Locke (the Locke siblings father), Erin Voss, Kim Topher, Ellie Whedon, Mark Cho, and Luke "Dodge" Caravaggio when they were all teenagers and enjoyed messing around with the keys. One day, the group makes a very poor decision, which changed their path forever. 
In present time, Tyler and Kinsey use a key that allows them to travel through time so they can learn more about the keys. 
This volume is another really great collection! My review here is going to be pretty short because I don't want to spoil anything.
I will say that I loved that this collection was mainly focused in the past so I could get answers to a lot of questions that I have been mulling over. I also really enjoyed learning more about the history of the keys and how they were used during different times. 
Getting to know Rendell Locke, Luke "Dodge" Caravaggio, and the crew was really interesting! I loved that we were given the chance to read more about them. It added even more depth to this already amazing story! 
My Final Thoughts on Locke & Key, Vol. 5: Clockworks
I gave this volume another five stars! I just loved it so much.
---
Snag a copy through Bookshop to help support local indie bookshops:
Click here to check out my review on Volume 6!
Thanks for reading!