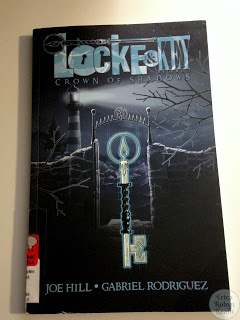 Gosh, I love this series! Locke & Key, Vol. 3: Crown of Shadows really had my anxiety spiking!
Click below to check out my reviews for the others:
Locke & Key, Vol. 1: Welcome to Lovecraft
Locke & Key, Vol. 2: Head Games
My Thoughts on Locke & Key, Vol. 3: Crown of Shadows by Joe Hill, Gabriel Rodríguez
In this volume, Nina (the siblings mother) has really hit rock bottom with her drinking. This causes a lot of drama with the family, and the two older siblings are sick of it. Meanwhile, Kinsey's lack of fear almost gets her killed, the siblings are attacked by shadows while the mom is away, and three new keys are discovered.
Everything about this volume was just as lovely as volumes one and two; I loved the pacing and the flow of the storyline, and the artwork and color palettes were wonderful.
I continued to enjoy the banter between each of the siblings. I also really enjoyed that we got to see more of Nina's character in this volume. Though seeing her in such rough shape was difficult. Her drinking clearly became a major problem in this volume, and I really hope that she gets her act together soon. However, I thought the way that the older siblings handled the situation was very interesting. How calm and level-headed Tyler is really refreshing, especially considering what he's been through.
I was so nervous during the scene in the East Battery 13 Lvcraft Station. The suspense and fear there was very well done! As were the fight scenes between Dodge and Sam, and the siblings and the shadows.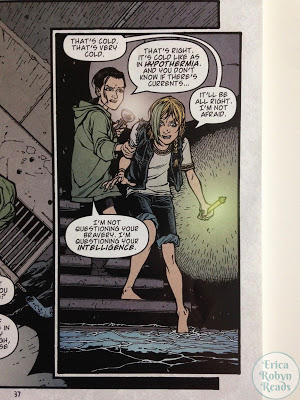 My Favorite Passage from Locke & Key, Vol. 3: Crown of Shadows
Dodge: No, really. What's up with the life preserver?
Kinsey: Some friends gave it to me. So I'm wearing it.
Dodge: Uhh..Yeah. Okay. Seriously. Do you have any idea how… LAME you look… I mean, there are people laughing…
Kinsey: My FRIENDS will think it's cool. I'm not really worried about anyone else's opinions. Hey! Jamal! Scot!
Dodge: Wait. THOSE are the friends we're talking about? Kavanaugh and Saturday? Hey, I haven't been at Lovecraft Academy any longer than you, but even I know that hanging out with those two is jumping off the social cliff into the deep seas of uncool…
Kinsey: That so? Well I guess this is where I say "Geronimo."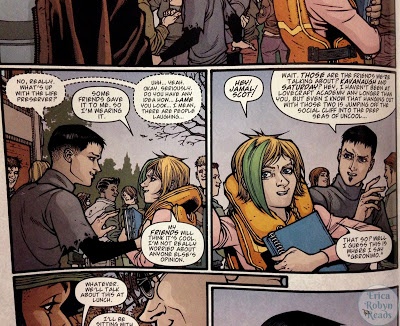 My Final Thoughts on Locke & Key, Vol. 3: Crown of Shadows
I would highly recommend this volume. Another 5 stars! On to Volume 4!
---
Snag a copy through Bookshop to help support local indie bookshops:
Thanks for reading!