I am SO glad that I checked out both Volume 1 and Volume 2 of this series from the library at one time so I could immediately jump into this second volume after finishing the first. I'm officially hooked! Locke & Key, Vol. 2: Head Games was amazing.
Click here if you missed my review of Volume 1: Welcome to Lovecraft.

My Thoughts on Locke & Key, Vol. 2: Head Games by Joe Hill, Gabriel Rodríguez
This volume begins with the death of a teacher at the Locke siblings school. The death is hitting Kinsey very hard, and even she isn't sure why. Meanwhile, Bode has found another key. After searching the house, he discovers that this key doesn't open a door… it opens up a person's head! And when their heads are open, it is possible to put things in as well as take things out. Bode shows what happens to his siblings and finally gets them to believe all the other paranormal things he had tried to tell them.
Unfortunately the siblings don't keep the key to themselves; Tyler brings two friends from school over to help them cram for a test. And by cramming, he means literally shoving textbooks into their heads after opening them up with the key. One student runs out of the house, while the other, "Zack Wells," is just a bit too interested.
I really enjoyed the storyline in this volume as well. Again, it started with a bang and then continued in a fast pace. There were also a few flashback sequences in this one, but not nearly as many as in the first volume. These flashbacks gave us more backstory for Duncan as well as information about Ellie and her connection to Zack Wells.
I really enjoyed getting to see more of the siblings interacting with one another in this volume! The two older siblings reactions to Bode opening up his head was hysterical. On that note, the humor that was added into this volume was wonderful!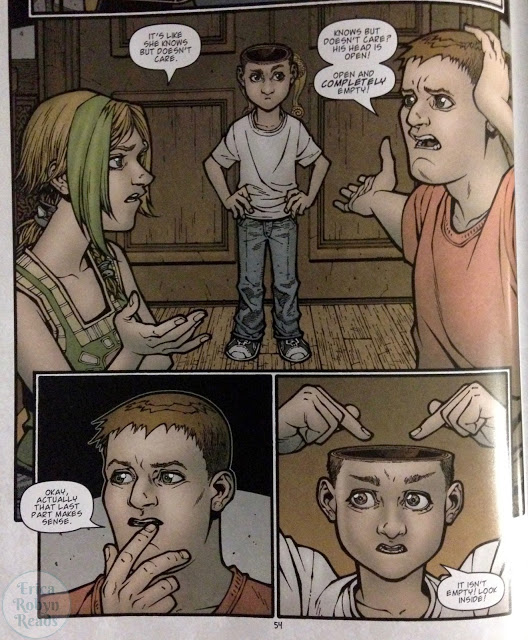 I also really enjoyed that we got to learn a little more about Uncle Duncan in this volume.
Just like Volume 1, I really loved the overall dark and suspenseful tone. I thought the artwork was lovely. And I really enjoyed the flow of the storyline and the perfectly executed transitions.
My Favorite Passages from Locke & Key, Vol. 2: Head Games by Joe Hill, Gabriel Rodríguez
Bode: "How do you feel?"
Kinsey: "Like anything could happen and that would be all right. Like the next thing that happens will be a Christmas present. Good. Bad. Whatever. I can't wait to open it."
Bode: just use one teebs. After it comes to a full boil.
Mom: after it comes…one teebs? You mean tablespoon?
Bode: I don't know.
My Final Thoughts on Locke & Key, Vol. 2: Head Games
I would highly recommend checking out this volume after reading Volume 1. Another 5 stars! I cannot wait to get my hands on Volume 3!
---
Snag a copy through Bookshop to help support local indie bookshops:
Thanks for reading!