Welcome to another FLYTIP post!
FLYTIP is an original feature hosted by FLYLēF. The purpose is to share blog design graphics and advice, as well as encourage related discussions.
The topic for Saturday, September 30th is a guest prompt from Lili @ Utopia State of Mind.
The prompt: Care for Cartography || What are 5-10 of your favorite maps within books?

My Favorite Maps Within Books
Treasure Island by Robert Louis Stevenson
This map appears in the first few pages of the edition of Treasure Island that I have. I love that it outlines treasure island itself and includes notes such as "strong tide here" or bulk of treasure found here."
Dragon Teeth by Michael Crichton
This map is location the the endpaper when you first open the book. The map shows the route taken by William Johnson from Philadelphia, Pennsylvania to Deadwood, Dakota Territory.
Keeper and the Rune Stone by Paige W. Pendleton
This map is located right before the prologue. This photo really doesn't do it justice! I have had the opportunity to see a larger colored version, and it is stunning!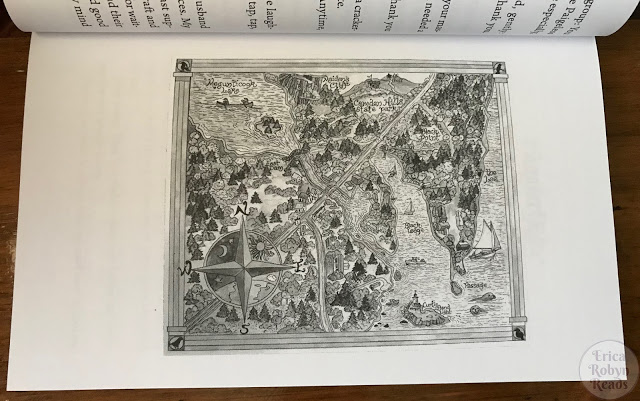 The Fellowship of the Ring by J.R.R. Tolkien
Toward the back of this edition of the book, there is a whole maps section. This one is my favorite, as it shows all of the Westside of Middle-Earth.
The Complete Tales of Winnie-the-Pooh by A.A. Milne
How cute is this map?! I love that it is designed as though Christopher Robin made it, complete with comments and spelling errors. And check out that compass!
Honorable Mention- The Marauder's Map from the Harry Potter series



Thanks for reading!
What is your favorite map within a book?