WELCOME to my second FLYTIP post!
FLYTIP is an original feature hosted by FLYLēF. The purpose is to share blog design graphics and advice, as well as encourage related discussions.
The topic for Saturday, June 24th is:
FLYTIP: Open Topic || Discuss anything bloggish or bookish from a creative point of view.




Creating A Color Palette For Your Blog
Whether your are just beginning to design a blog, or you want to redesign an existing blog, creating a color palette can do wonders for you!
The tool that I use is called Coolors.co. When you navigate to that website, you will see this homepage: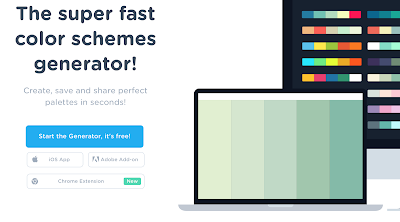 Click the blue "Start the Generator, it's free!" button to get started! On the next page, you will see five slots of colors, like the laptop screen shows above.
Starting your color palette from scratch:
If you have no idea what colors you want to use, just press the spacebar. Each time you hit the spacebar, new colors will be shown. When you see one that you like, hover over that color and click the lock icon. Then simply continue that process until you have all five slots locked into place.
You can also hover over a specific color and adjust its hue, saturation, and brightness manually to get a color closer to the one that you like. If you don't want to manually adjust, hover over the color and click the icon with the boxes; this pulls up a chart of colors in that same range that you can simply click to use.
You can also rearrange the color slots by hovering over a specific color and using the arrow icon. This helps when you want to see two specific colors side by side.
Designing your color palette using colors you know you want:
Along the bottom of the color slots, you will see the color codes. If you have the color code of a color that you know you want to use, simply type it in there and lock it in. Then just hit the spacebar and adjust/lock in until you have a color scheme that you like.
Download your color palette:
Once you have the color palette that you want, click "Export" on the right side of the top navigation. This lets you choose from the following file formats: URL, PDF, PNG, SCSS, SVG, and COPIC. In the next screen, click File > Export as, and export to the correct place in your computer filing system.
I personally export as a PDF, which allows you to see both your wonderful new color palette and all the codes that you may need! Here is mine for a visual: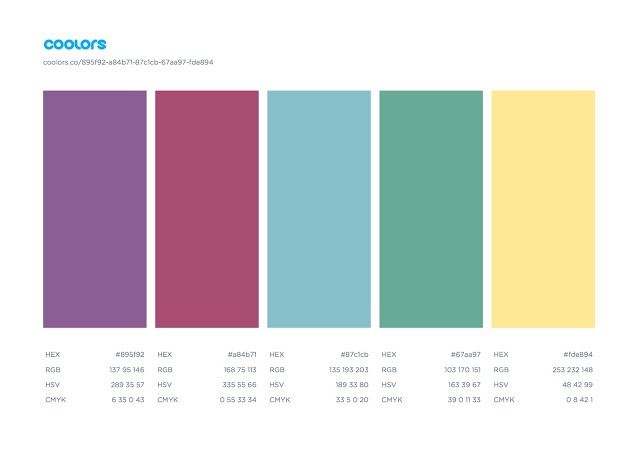 Thanks for reading!
I hope this is helpful. Feel free to comment below with any questions!