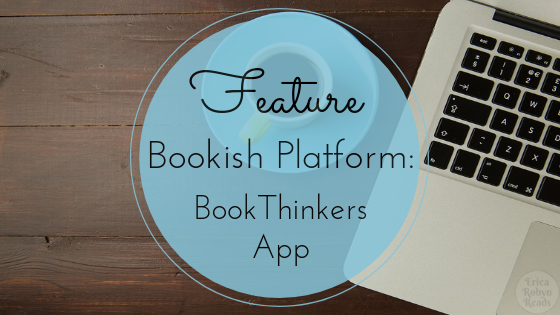 Back in December of 2017, I wrote up a post about the BookThinkers website. Today, I'm so excited to share the big news; BOOKTHINKERS NOW HAS AN APP!
Check out how good it looks among my other bookish apps:
Let's dive in!
The BookThinkers App
You can find the BookThinkers App by logging into the App Store on your phone, or by clicking one of the options below:
Once you have the app, you can log in or create an account right there.
Then you enter the platform! Because I already had an account, I immediately saw my feed on the home screen. I love that you can toggle between seeing activity from just your friends or the public feed. Scrolling through these posts, I really enjoyed how the app displays each post. It's so clean and well organized!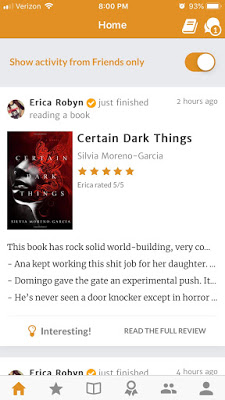 Next up is the Trending page. This allows you to see recommendations based on your virtual bookshelf or you can scroll through a list of books that have been reviewed by fellow BookThinkers. I LOVE the list that appears based on my personal bookshelf the most! This is definitely a feature that I am going to be using more often!
The third option along the bottom of the app is "My Bookshelf," which as you can assume, shows books I have logged. Right at the top, there's a nifty drop down that allows you to select Finished Reading, Currently reading, Will be reading – Owned, or Will be reading – Wishlist, to easily navigate your shelves.
I love how the books are displayed here! It's, again, so simple and clean!
And to add a book to any of these lists is super easy! All you have to do is select the proper list, then tap the orange plus sign to pull up a new window. Then you simply begin typing in the title of the book and it will pop up. Once you tap the book, you can update the date you began reading, select what type of book it was (hardcover, paperback, e-book, or audiobook). You can also add in any notes that you would like to at that point (up to 10). Then the book will appear on your "Currently reading" list.
Another fun feature that the app pulls in is the Challenges. I have yet to use this feature, but I hope to soon!
Next up is the People tab. This tab is fun because you can also scroll through various BookThinkers on the "Find Friends" tab. Tapping on these profiles allows you to add as friend, follow reviews, view rifle, or view full bookshelf.
Then, of course, you can also scroll through "My Friends." Hello, friends!
And then lastly, we have User Profile, which is your personal account.
My final thoughts:
Well there we have it! I, for one, am absolutely pumped that they have released this app! It's going to be so handy to have it right on my phone! So far I absolutely love the app; it's simple and easy to use, but there are so many different elements to it. I can't wait to use it more often!
Thanks for reading!