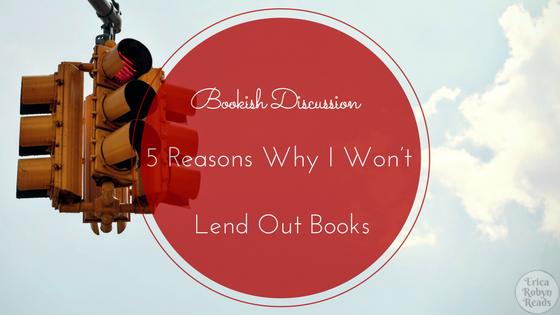 I used to have no problem lending out my books! But that was back in middle school and high school when the vast majority of my book budget came from my parents (thanks guys!).
Today, because I pay for all my own books, I'm much more hesitant. I have also had really bad luck letting other people borrow my books… which has made me realize that I no longer want to risk lending them out at all.
Why, you may ask? Here are 5 reasons why.

5 Reasons Why I Won't Lend Out Books
Far too many book lending horror stories
You may remember the post I made a few weeks ago called "My Book Lending Horror Stories." While I have forgiven each of these people, the stories will unfortunately still stick in my mind.
I have too many darn allergies
It's so not fun to pick up a book from the library only to realize I cannot finish it because it has given me an allergic reaction. This had happened more times that I can count. The worst situation was when I checked out Invisible Monsters Remix by Chuck Palahniuk… This one smelled so strongly of cigarette smoke that I had an asthma attack just a few seconds after opening the book. So risking a book coming back to me that I spent my money on, but can no longer read because I will have a reaction to it, isn't a risk I'm willing to take anymore.
Risk of damage
My bookshelves are small, but I pride myself with my little collection. Part of this pride comes from treating my books well and only purchasing the books I know I will read again and again. Don't get me wrong, many of my books have clearly been very well loved. But I know all the wear and tear on them is from me. It's always such a bummer to lend a book just to have it returned in worse condition.
Books that cannot be replaced
Similar to my last point, I really care a lot about my first editions and signed copies. While I'm not an intense book collector by any means, I do have many books that just cannot be replaced. I will not lend these out to anyone.
I just don't trust people
When it all comes down to it, the main reason why I don't lend out books is because I just don't trust people. No matter how many times someone promises that the book will be returned to me in the same condition, I just can't believe them. What makes this worse is that I have discovered how rare it is for someone who accidentally messes up a loaned book to, 1) apologize, and 2) offer to replace it. It's just not worth the stress.
Thanks for reading!
What are some reasons why you wouldn't loan out a book?