I don't care that 99% of all Hallmark movies follow the same plot… You bet I'll be watching any new one that I see pop up on Netflix!
I am just a total sucker for holiday themed books and movies… I can't help it! It's so wonderful to kick back and enjoy the holiday season with some lighter content. However, as a horror lover, I am also drawn to the darker holiday themed books and films!
I'm so excited to be hosting this stop on the Holiday edition of the Bookish Blog Hop to help fill your TBR's with some great holiday themed reads!
Now, let's dive in to the hop!
Books That Would Make Great Christmas Movies
On the sweeter side of things, I would love to see Dash & Lily's Book of Dares by Rachel Cohn and David Levithan turned into a film.
This book was so cute and such a quick and easy read to kick off the holiday season on a light note! I loved the idea behind the little red notebook and the storyline is so just sweet… It's just screaming for a holiday film adaptation!
My favorite quote from the story is from Lilly's brother, Langston, who said, "The important people in our lives leave imprints. They may stay or go in the physical realm, but they are always there in your heart, because they helped form your heart."
What my fellow book blogging buddies had to say:
The Blue Carbuncle is a great Christmas mystery. I think if they made a feature length film with Benedict Cumberbatch and Martin Freeman it would be a great modern retelling. I liked that series' modern spin on the old mysteries. However, if you are a purest, bring good old Jeremy Brett back in! The story centers around a huge blue diamond stolen during the Christmas season. A man is arrested and sent to jail. Another man finds a goose and hat in an alley and brings it to Sherlock to find the owner. Sherlock tells the man to go ahead and cook the goose while he looks for the owner. The man finds the jewel in the bird and Sherlock is on the trail.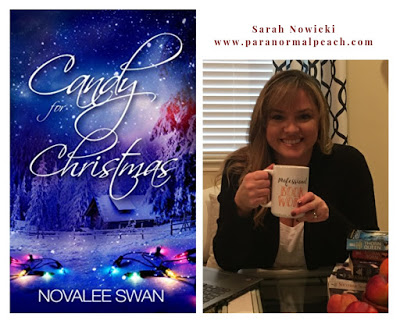 I don't know about you, but when I think about Christmas movies, my mind immediately goes to all the addictive sweet and sappy Hallmark and Lifetime movies we're bombarded with during the holiday season. So when this topic came up, one book instantly came to mind; Candy for Christmas by Novalee Swan. Our hero is a professional hockey player and our heroine is an Olympic gold medalist figure skater. This "enemies to lovers" romance is set over Christmas with a gorgeous winter background. My busy mind immediately casts Chris Evans and Zoey Deutch as the leads and I wish it were real and not just my imagination running rampant. This story will have your heart pounding and melting all at the same time. It's a must read and would make a fantastic Christmas flick.
About the book:
Nolan Ducayne plays ice hockey for the Rangers and is the best defender in the league. Candice Levine is an Olympic gold medalist figure skater. They're fiercely attracted to each other. There's just one little problem. They're at war over the pond ice that lies on the boundary between their properties.
Christmas has always been lonely for Candice but this year she plans to embrace the season. She's even going to get a tree, which leads to a whole set of new problems with Nolan Ducayne. When Nolan comes home and finds the ice princess trying to cut down a tree on his property, he can't help but take advantage of the situation. It's a pity Candy hates him, because she stirs every one of Nolan's protective instincts. Not to mention the other things she stirs.
Hockey player versus ice skater. The battle lines are drawn. But when the pond ice breaks and Candy almost drowns in the freezing water, Nolan risks his life to save her. Hypothermic and trapped together by a blizzard, they're forced to confront their feelings and negotiate a Christmas ceasefire. The only question is…how long will it last?
I'm going to pick Carrots by Colleen Helme. This book has a bit of everything. It wouldn't be a traditional Christmas movie but I think it has all the elements of a good one. Drama, adventure, relationships… all with plenty of humour mixed in.
About the book:
Shelby Nichols is an average woman who is married to the only guy she ever fell for. Her life is organized and predictable, revolving around her husband and two children. All that changes the day she stops at the grocery store for some carrots. As the cashier rings up her purchases, a gunman is busy robbing the bank inside the store. When a customer grabs the robber's mask, he is shot and everyone runs for cover. Everyone except Shelby, who finds herself face to face with the killer. The next thing she knows, she's lying on the floor with a bullet wound to her head. Luckily, the bullet only grazes her scalp, and she doesn't suspect any lasting effects until later, when she suddenly 'hears' what people are thinking. With this uncanny ability, her life takes on a whole new dimension. Her kids think she's bossy and too old to understand them, but that's nothing compared to her husband. He says he loves her, but what is it about the redhead at work that he doesn't want her to know? As if that isn't enough, the gunman knows she can identify him, and he's out to silence her forever. In her fight to stay alive, she is saved from certain death by a handsome hit-man with ties to organized crime. This pulls Shelby even deeper into danger, where knowing someone's thoughts can not only hurt her feelings, but get her killed.
Follow the rest of the hop!
The links for each post that has gone live so far is below. Check back again later for the updated full list!
Thanks for reading!
What book would you love to see turned into a film?