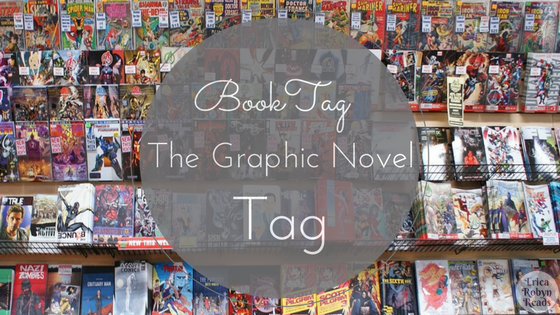 The Graphic Novel Tag, created by Harriett Rosie, is one that I have been meaning to do for ages! I'm so glad I finally got around to it!
Let's dive in!
The Graphic Novel Book Tag
1. The first graphic novel you read:
2. Your favorite graphic novel:
I have to say the
Locke and Key series
! Each volume is just
so
incredible; the storylines are captivating, there is a great dark and spooky tone, and the artwork is so lovely!
3. A graphic novel that disappointed you:
Runaways, Vol. 2: Teenage Wasteland written by Brian K. Vaughan, illustrated by Adrian Alphona. I didn't really love the first volume of this series, but I had high hopes that I would like the second volume more. Unfortunately that was not the case.. It wasn't horrible, it was just a miss for me. I think if I had read this when I was a teenager rather than a 26 year old, I would have liked it a lot more.
4. A graphic novel you'd like to reread:
The Walking Dead series! I can't remember where I left off on my first read though, but now that I own all of them, I'm dying to give them all a read from start to finish!
5. A graphic novel you would recommend to everyone:
6. A graphic novel with art you love:
Tooth and Claw written by Joshua Viola & Angie Hodapp, afterward by Carrie Vaughn
. The artwork in this graphic novel is incredible! Each panel looks a bit like an oil paintings because the texture is very soft. The color palette is mainly natural colors with splashes of vibrance. I loved the way that the panels were broken up on the page in varying formats, and that each border of a panel wasn't clean cut. And boy, I am a total sucker for when the artist includes sound bubbles for noises that are incorporated into the panel!
7. A graphic novel you wish was a series/you wish was longer:
Definitely
Rat Queens
, before it took a bit of an odd turn of course… I've heard that they're revamping this series and I cannot wait to check it out!
8. A graphic novel that made you laugh:
Lumberjanes, Vol. 1: Beware the Kitten Holy by Noelle Stevenson & others. This whole series is so funny! If you haven't checked it out yet, I highly recommend it!
9. A graphic novel that took you out of your comfort zone:
I accepted a graphic novel as an honest review request. From the synopsis, I was immediately nervous. Unfortunately, this book just wasn't for me… It was
Growing Up in the New World Order
.
10. A graphic novel on your TBR or wish list:
Oh my gosh, I have so many!! Here are a few at the top of my list:
The Deadpool Dead Presidents Series
Afterlife With Archie
Moon Girl and Devil Dinosaur Series
Descender Series
Thornhill by Pam Smy
The October Faction
Mighty Jack Series by Ben Hatke and colorists Alex Campbell & Hilary Sycamore
Thanks for reading!
If you'd like to participate, consider yourself tagged! 🙂 The blank questions for ease of copy and pasting are below.
Graphic Novel Book Tag Questions:
1. The first graphic novel you read
2. Your favorite graphic novel
3. A graphic novel that disappointed you
4. A graphic novel you'd like to reread
5. A graphic novel you would recommend to everyone
6. A graphic novel with art you love
7. A graphic novel you wish was a series/you wish was longer
8. A graphic novel that made you laugh
9. A graphic novel that took you out of your comfort zone
10. A graphic novel on your TBR or wish list
SaveSaveSaveSaveSaveSaveSaveSaveSaveSaveSaveSaveSaveSaveSaveSave