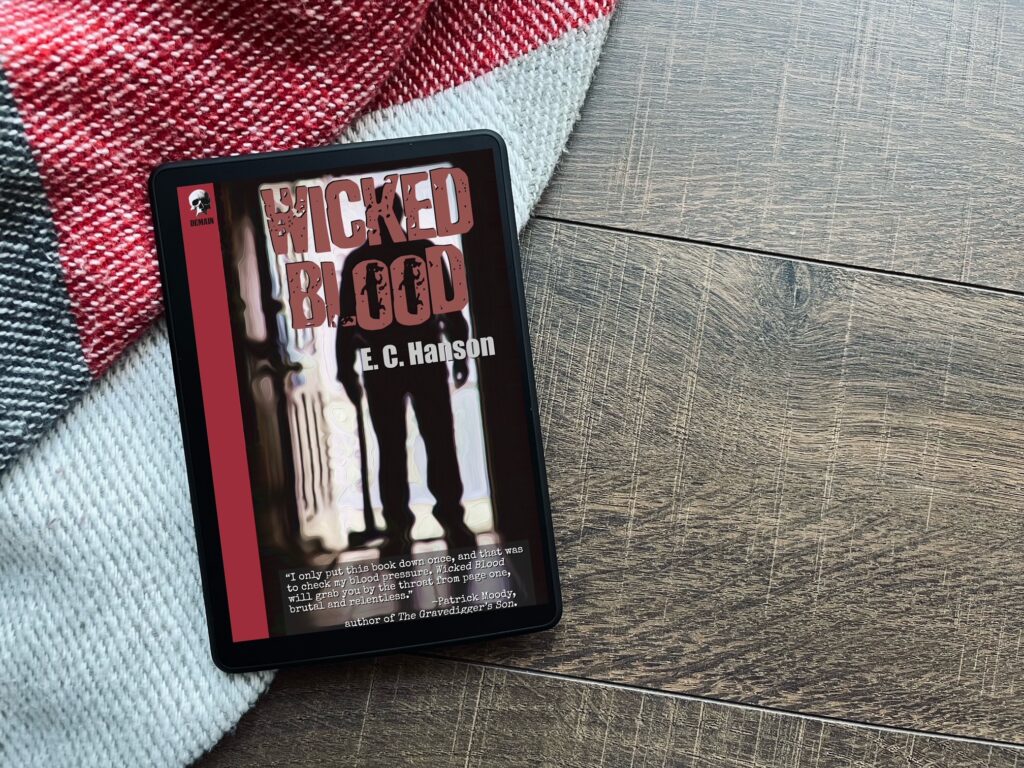 Wicked Blood by E.C. Hanson is a vivid and unsettling tale of a family falling into chaos. With one part slasher and one part struggling family dynamic, this story is fast-paced and unputdownable!
Full disclosure: I was given a free copy of this book from the publisher on behalf of the author per request of an honest review. This did not affect my rating in any way.
Let's dive in!
My Thoughts on Wicked Blood by E.C. Hanson
This story begins with this passage that sets the tone:
Had I known what would happen to my family in October of 2020, I might have done something to stop it.
What a killer opening line! Right away, we know that this won't end well… Even so, while reading I couldn't help but hope that it would have a happy ending.
In the first chapter, we meet three teenagers that are witnessing the fight to end all fights between their parents. When their mother announces that she is leaving their father, that escalates the fight even further. Before anyone can step in, an action occurs that changes the trajectory of these kids lives forever.
Needless to say, this starts with quite a bang! The rest of the plot is so intense! I'm not going to discuss what happens next as the fun lies in experiencing that yourself! But boy, am I glad I wasn't in this poor girls shoes…
With all the pop culture references and perfectly written action and gore, this one will suck you right in!
One last note before we move on to the next section, E.C. crushes the timeline here with the light references to the pandemic. We see N95 masks mentioned, while shopping the arrows on the floor are followed, an elbow is used to open a door, and a couple times, the six-feet guideline is referenced. If authors are looking for ways to set the timeline in their stories in regard to COVID-19 without overdoing it, take note of the work here!
My Favorite Passages from Wicked Blood
Had I known what would happen to my family in October of 2020, I might have done something to stop it.
I traveled through a series of zigzags until I located my brothers, still in masks, mind you. They both snored in the corner of the room. It concerned me that they would wear these rubbery things throughout the day. The fact that they slept with them on spoke to the condition of their mental state.
We were going through hell and we, like it or not, had to keep going.
My Final Thoughts on Wicked Blood
If you're a horror reader that enjoys tales that play out like films while reading, this one is going to be a hit for you! Reading this tale is like watching a scary movie through your fingers; you'll be terrified of what is to come, but you also can't wait to see it all play out!
---