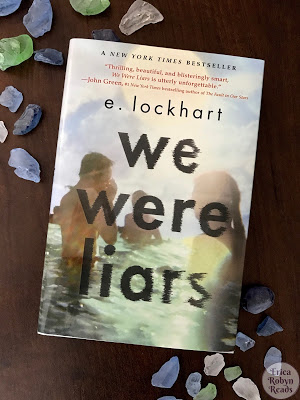 We Were Liars by E. Lockhart is a fantastically addictive read, but also a terribly sad story about a young girl and a summer that changed everything!
To put it best, "There's not even a Scrabble word for how bad I'm feeling right now…" but not in a negative way! This book just really hit hard, even though this was my second read through!
I read this for the first time with a friend, knowing absolutely nothing about it when I dove in. I highly recommend doing the same if you can!
When this book was picked for our first book club read, I was so excited to read it again! When I got home from our meeting, I immediately went to Amazon and ordered myself a copy.

My Thoughts on We Were Liars by E. Lockhart
So to start, I just have to mention the construction of the book. I really love the bokeh print endpapers and the silver foiled spine with the textured edges!
I also appreciate that the author included a map of Beechwood Island, Massachusetts. This is such a great visual and helps the reader really imagine the island while reading. And so clever that the illustration of the Claremont house appears in the family tree page.
Reading the first chapter, I had the same reaction with each read; I thought it was incredibly off-putting. But boy does it set the tone of the book perfectly!
A really interesting element, is how often "three" pops up throughout the novel. If you watch, you'll see it everywhere! Whether that is in the sentence structure, line breaks, or the description of something. You'll see it when the narrator, Cadence Sinclair, describes her cousins:
Johnny- bounce, effort, snark
Mirren- sugar, curiosity, rain
A few other areas where the mention of three really stood out include:
The three aunties
The three daughters in the fairy tales
The three flowers her grandfather picks
The three ice cream bar flavors
The three jellyfish caught
The three colors of the tomatoes
Overall, I really enjoyed the writing! It all flowed well, even through there were many time jumps. The organization of the storyline really helped add to the mystery.
The characters were very well developed and all seemed so real. The author really nailed the personas of each of her characters! The dialogue especially seemed very realistic to me!
I usually hate repetition. But this is one of the very few books where I actually loved that certain passages and phrases were repeated throughout the story.
And the last quick thing I wanted to mention is that I also loved that the book circled back and ended in a similar format to the second chapter.
My Favorite Passages from We Were Liars
I own a well-used library card and not much else, though it is true I live in a grand house full of expensive, useless objects.
Granny Tipper's mouth made a straight line. Then she showed all her teeth and went forward.
His nose was dramatic, his mouth sweet. Skin deep brown, hair black and waving. Body wired with energy. Gat seemed spring loaded. Like he was searching for something. He was contemplation and enthusiasm. Ambition and strong coffee. I could have looked at him forever.
We looked at the sky. So many stars, it seemed like a celebration, a grand, illicit party the galaxy was holding after the humans had been put to bed.
His thumb rubbed the center of my palm. All my nerves concentrated there, alive to every movement of his skin on mine.
Just think before you complain about stuff other people would love to have.
There is not even a Scrabble word for how bad I feel.
My Final Thoughts on We Were Liars
I really enjoy this book! The first time I read it, I gave it four stars. But on this re-read I bumped it up to five stars because I would happily re-read again!
Thanks for reading!
My book club prompted each of us to bring three words to describe ourselves, in as style similar to the way Cady describes her friends. Example: Mirren- sugar, curiosity, rain.
I thought about this prompt for a LONG time. I finally gave in and asked my fiancé what words he would pick for me. His words were adorable, but not what I was going to bring to book club (Sorry Alex!): amazing, beautiful, perfect. 😉
So next I asked my reading buddy, Heather of Heather's Reading Hideaway, and she chose for me: tea, sunflowers, and loyalty.
If you were to choose three words for yourself, or ask a friend to help, which words best describe you?