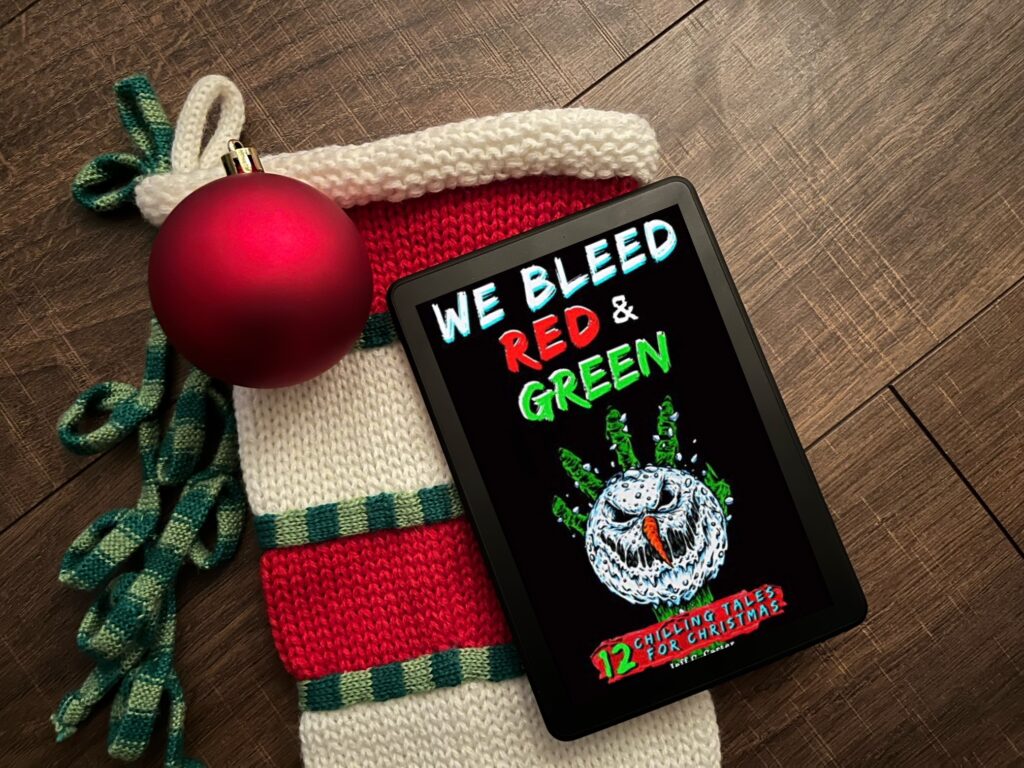 We Bleed Red & Green: 12 Chilling Tales for Christmas is another collection of killer tales from short story master, Jeff C. Carter.
Full disclosure: I was given a free copy of this book from the author in exchange for an honest review. This did not affect my rating in any way. I also purchased a copy.
Let's dive in!
My Thoughts on We Bleed Red & Green: 12 Chilling Tales for Christmas by Jeff C. Carter
I had previously read Jeff's book We Bleed Orange & Black and absolutely loved it! After that, I started counting down the days until I could jump into this one during the month of December. This collection was an absolute blast to read!
My favorite tales from the collection include:
Blacker Than Coal
P.S. Decoded Ring Not Included
Free Drinks
With Their Eyes All Aglow
He Spoke Not A Word
Here are my thoughts on each tale:
Candy Cane
What a creepy tale to kick things off with! This one will certainly make readers think about what may happen next! I first read this one in A Krampus Carol and loved it even more the second time around!
Blacker Than Coal
This version of Krampus kills me! It's so unlike any other tale I've seen the creature in. But of course, Santa needs Krampus to step it up. If he won't, Santa will find another way.
The names of the characters in this one paired with their actions was hysterical! Take that and add in what Santa was planning and you have comedy horror at it's finest!
Breath Like White Smoke
On a trip to try to job his memory so he can finally accept reality, this man is pushed to the edge.
What a heartbreaking and terrifying tale! This poor man.
On the Feast of Stephen
Set the to tune of a song, this is a dark and brutal little tale about the quest for power!
Blessed Silence
On a quest to get back into absolute silence, this man pushes things a bit too far.
This one was so unsettling! I love my peace and quiet, but I don't think I would last more than a couple seconds in absolute silence!
P.S. Decoded Ring Not Included
A tale set up as a friendly letter from an elf to a child, there's a dark message here that readers will see in the capitalized letters!
The Wrapped House
Entering a house that had been wrapped in order to be fumigated, these men break in to find gifts to give for the holidays…
What an awful idea these two had! Of course the gas starts to affect them.
With Their Eyes All Aglow
A discovery in a jungle leaves a man scrambling to get the word out that these trees are tainted. But is it too late?
This one was terrifying. The thought of bringing a live tree inside makes my skin crawl imagining all the bugs that come along with it… I'm extra grateful for our fake tree after reading this!
Free Drinks
At a bar, these first responders trade fiery stories and photos to compete for the most intense tale. Winner drinks for free. When this dentist strolls in, his story shocks the group.
I've never wanted to see someones phone so badly in my life!
Liquid Sky
This one reads like a fever dream! Phew!
Turnspit Thomas
When a boy has a rough upbringing, he makes a better life for himself by learning how to fix and build things. After crossing the wrong man, those skills come in handy!
This one was so fast paced and it totally captivated me!
He Spoke Not A Word
While making his rounds, Santa makes a sad discovery.
What a sad but beautiful tale to end on.
My Favorite Passages from We Bleed Red & Green
Halloween delivers both trick and treats, but winter knows no such mercy.
Santa slipped down the chimney with the grace of a snow flake and settled atop a bed of cold ashes. A wisp of soot drifted forth like a languid murmuration of starlings. He recognized this perfect stillness and entered the home with a sigh.
My Final Thoughts on We Bleed Red & Green
I loved so many of these tales and I already cannot wait to revisit them again next Christmas!
Fans of holiday horror will have a blast with this!
---
Snag a copy using my Amazon Affiliate link or inquire at your local indie: