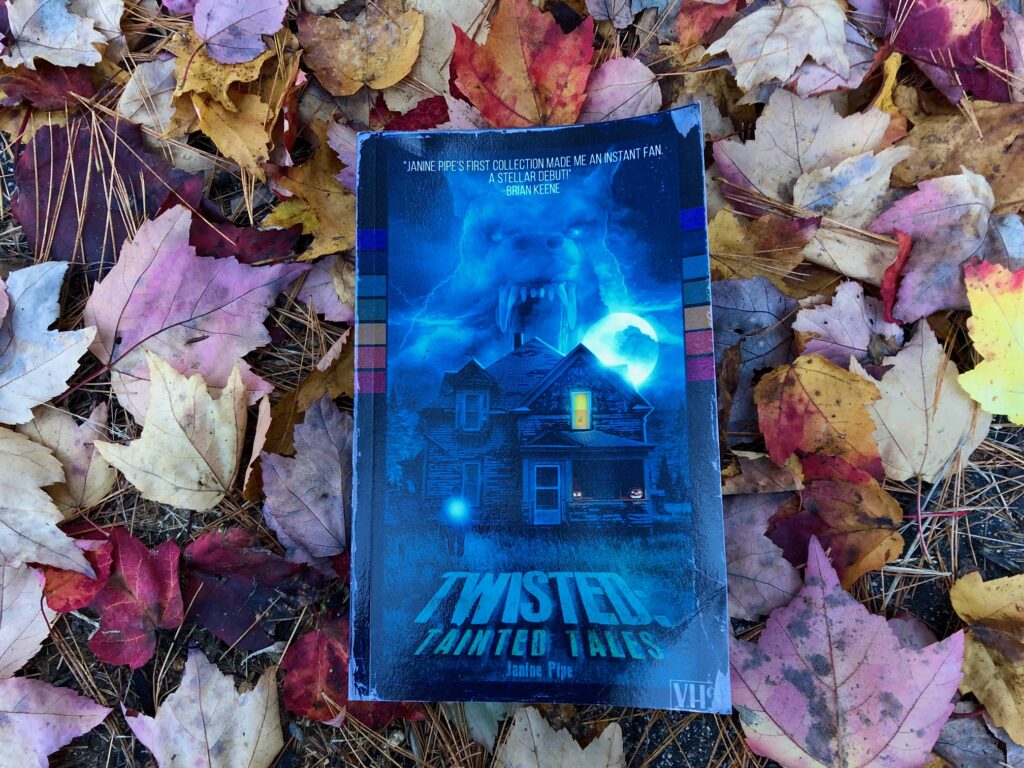 Twisted: Tainted Tales by Janine Pipe is a killer collection of stories from an author that you will want to keep your eye on. These shorts all pack a serious punch and the collection overall will make you antsy for more from Janine!
Let's dive in!
My Thoughts on Twisted: Tainted Tales by Janine Pipe
First, a quick note on the forward; I love when authors pump up other authors! This foreword, written by Glenn Rolfe, was so much fun! It certainly gets readers excited to dive in. It also reminded me that I really need to hurry up and read some of Glenn's work!
On page one, we dive right into the thick of things as we meet the narrator of this book, Jill.
Jill has been sent to a house to check for anything of value before it was cleared out. While it looks pretty sparse already, the fact that the previous homeowner had just up and vanished intrigued Jill and she makes sure to take a very thorough look through what is left.
During the search, Jill stumbles upon a pile of loose papers. On these pages were dark and twisted stories that the homeowner had written. Intrigued by the tales, Jill takes them with her.
For the rest of the novel, Jill takes a moment to introduce each story to the readers before the tale itself is included. Sometimes Jill makes light of what's to come, but for others, she provides a bit of a warning…
From the collection, there are a few that really jumped off the pages for me. These tales included:
Sweet Child O Mine
Lost in the Shadows
It's A Sin
Running with the Devil
School's Out Forever…
Living on a Prayer
Nobody's Fool
They
Per usual, here are my notes on each individual story that is included in this twisted collection.
Track One – Footsteps – Four Stars
When two women head to a forest in order to meet up with a third friend to camp for the night, they're both antsy to get there and set up. When they arrive, they see their friends car and her tent, but the friend herself is no where to be seen…
Oh goodness. Going on a camping trip while on your period? That sounds like a nightmare. Sure enough, this woman should have stayed at home!
This tale has an element that I absolutely love; there's a mention of something deep in the story that happens very quickly while in the midst of a lot of other intense things. This item then comes back near the end. This writing element always makes me want to shout! It leaves such a powerful impact to close out the story.
Track Two – When Doves Cry – Three Stars
When a woman who has been traveling crosses paths with a man's who appears to be kind, she is swept up in that kindness. But little does she know, this man is hiding something.
This quiet horror tale was so atmospheric! As readers will immediately be weary of the overly kind stranger, you'll want to yell at this woman not to go along with things even if she's in a tough spot.
Janine adds wonderful notes here to show readers what is happening. Only once you see how this story ends will some of those notes fall into place. This is one I definitely recommend reading again right away!
Track Three – I Want To Break Free – Four Stars
A tale with two perspectives, one of a woman that has been captured and one of the man who had captured her.
This intense tale will make you want more from this world!
Track Four – Maneater – Four Stars
When two detectives get called out to another crime scene where the blood of the victims is missing, they're frustrated. But the source of these killings is closer than one of them thinks.
This one was so fun! It's a fast paced tale that hooks you from the start and doesn't let you go until the end. What a clever premise! I would love to see this detective again!
Track Five – Addicted To Love –
Not one for me. Fans of erotic horror will enjoy this one!
Track Six – Sweet Child O Mine – Five Stars
When a family heads to an old farmhouse to spend time with each other, the mother begins to get anxious. She asks her mom questions to try to pin point the feeling, but doesn't find anything. It's only once she chats with her daughter that memories come rushing back.
Phew! This story was tense throughout! I loved the stomach drop that this tale gives you while reading. While it was certainly leading readers along and hinting at imaginary friends, the end still hits very hard. Like Janine says in her note afterward, I also love the ambiguous ending. It certainly lets readers wonder what happens next!
Track Seven – Tainted Love –
Not one for me. Another that fans of brutal and erotic horror will love! The intensity of this woman's obsession is very unsettling.
Track Eight – Lost in the Shadows – Five Stars
A town that has been rocked by kids going missing hears that another kid is gone. This time, an individual gets a glimpse at where they may be going…
Oh my god. I loved this one. Set at a drive in, I was prepared for something crazy to happen. This is another tale where Janine adds in little hints that smack you right in the face later on when you find out exactly what the deal is.
Track Nine – It's a Sin – Five Stars
When a new kid named Jack arrives in this small town, Sam is excited to develop a friendship with him. But when Jack suddenly goes missing, something doesn't seem right.
I was so nervous to see where this was going as the cold weather was mentioned a few times. This one really packs a punch at the end and it takes quite a turn that I wasn't expecting! And what a terrifying last line!
Track Ten – Love is a Battlefield – Four Stars
A woman is selected to participate in "The Game." On her way there, the reader is caught up to speed about what's going on. Once filled in, readers are sure to be fearful of what she is about to face.
This one is so unsettling. I loved the nod to the Hunger Games, but this one seemed much darker. This tale will make readers shout out loud at the ending!
Track Eleven – Running with the Devil – Five Stars
Obsessed with a local legend, this teen finally got her chance to try to see the rumored occurrence in person on Halloween night.
PHEW! I loved the set up of this one so much! By the time we got to the woods, I was spooked! Then the flashback… wonderfully done!
Track Twelve – Paradise City –
While overall not one for me, this one did give me a chuckle before making me cringe, and then I laughed an uncomfortable laugh again afterwards.
Track Thirteen – Schools out Forever… – Five Stars
When two girls go into an abandoned school, they think they'll be returning to school with bragging rights. But when things go sideways, they'll be lucky to make it back out of there.
This one was so creepy. Thinking back to all the stupid things I did when I was younger… especially when I was in New York, this tale hits close to home.
Track Fourteen – Living on a Prayer – Five Stars
After their mother is murdered, these two boys and their father go to the woods for a camping trip to get away from the house for a bit. The boys are still heartbroken, but the father is just angry. When they hear noises from their fathers tent, they freeze, unsure what to do…
Any story about being in a contraption of fabric, with no real safety between you and the world outside the tent terrifies me. This one was so creepy! It really puts readers right back into the shoes of their younger self while on a camping trip!
Track Fifteen – Bones of Boarded-up Baby Bodies Behind the Bath-panel – Four Stars
When this kids friend, Scotty, appears outside his window and they head out, ending up outside of the haunted house in their town, our main character goes along with the plan. Only once inside the house does he really begins to question what exactly is going on here.
This unsettling tale cranks up the unease immediately and only steadily turn Lane the dial up as the story goes along. I loved the ending!
Track Sixteen – Nobody's Fool – Five Stars
When their child is tormented by night terrors, these two parents try everything to get him help. When things finally start to get a little better when he is a teenager, he has another set back and just keeps repeating "sixteen"… but what does it mean?
Oh man, the ending of this is insane! The build up to the explosive turning point was so good! I loved this one. This poor family though.
Track Seventeen – They – Five Stars
When a group of boys compete to win a kiss on the cheek from a pretty girl, they each enter a dark drainpipe hoping to outlast the others. Each boy comes up claiming something happened in there. When it's Sam's turn, he is determined to win. But is he alone in the pipe?
Janine mentioned to me while prepping to record for Dead Headspace that the last tale is the best. While I loved a number of these stories, I would have to agree! This one was excellent! It really closed the collection out with quite the bang. This one NEEDS to be adapted for TV!
My Favorite Passages from Twisted: Tainted Tales
Looking back, it was a fucking stupid idea. We could have been hurt, we could have been caught and either would have caused us a bucket load of trouble with our parents. But you think you're invincible when you're a teen, don't you? Immortal and untouchable.
Unless it all goes shit-shaped…
Whoever, whatever, was in there, was likely headed to them next. But Alex wanted to believe that if you were super quiet, the bad things went away.
Every town has one haunted house. Or to be more specific, reportedly haunted house.
My Final Thoughts on Twisted: Tainted Tales
If you don't already have your eye on Janine Pipe, now's your chance! This is a must read for horror fans.
---
Snag a copy through Bookshop to help support local indie bookshops:
Thanks for reading!
And special shout-out to Janine for allowing me to preorder and then for sending me a signed copy from overseas!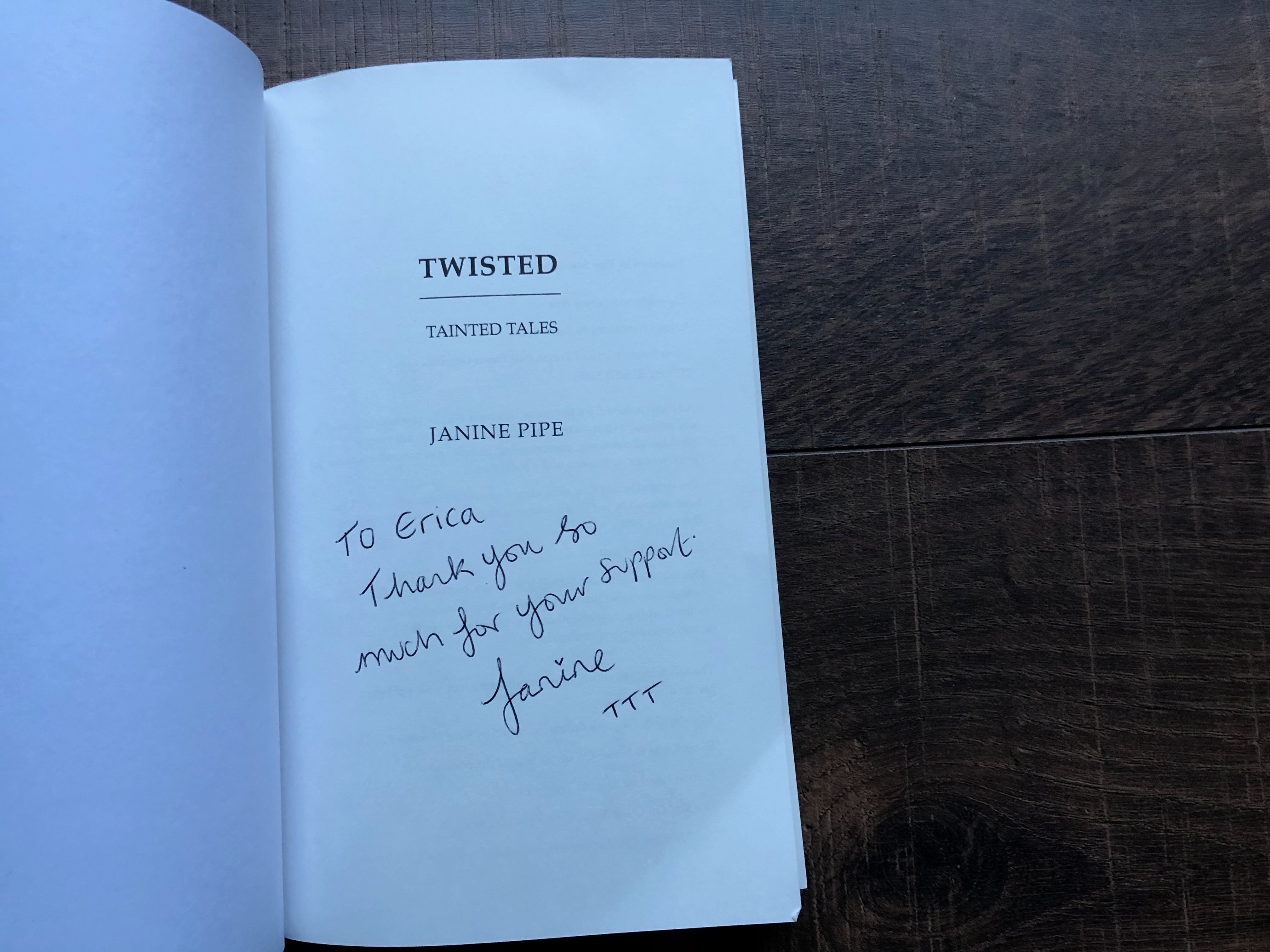 Stay tuned to the Dead Headspace podcast where I got the chance to join Patrick and Brennan while we chatted with Janine herself about this collection, what she is working on now, and much more!
Another review of TTT will also be live on the Dead Headspace site if you'd like to read even more about what I thought about this collection!