Twelve Slays of Christmas by Jacqueline Frost was a wonderfully atmospheric Christmas murder mystery!
This was a book that I really struggled to put down! I was do drawn into the story. I just couldn't wait to see what would happen next, if the killer would be caught, and of course, if that slow burning romance would blossom!
My Thoughts on Twelve Slays of Christmas (A Christmas Tree Farm Mystery #1) by Jacqueline Frost
First things first, how lovely is this dedication?!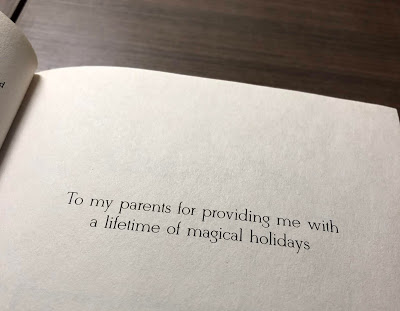 I absolutely love when the first chapter of a cozy murder mystery begins sweet and slow, but then ends the first chapter with a bang! I was so drawn into the wonderfully warm small town holiday atmosphere already and then to have the murder happen so quickly totally captivated me!
The town of Mistletoe, Maine, where the story is set, sounds so wonderfully cozy for the holidays; murder aside of course! I love the idea of the twelve days of Reindeer Games at the farm and that people travel from near and far to attend every year.
The cast of characters was also lovely. The White family was such a perfect little family, and it was so nice to see the dynamics between each of the family members play out. I also really enjoyed learning more about the characters that were close to the White family, like the always bubbly Cookie, and the reindeer keeper, Mr. Fleece. There were also various town people and tourists that we met, many of which were so much fun! But of course, there were also characters that were more grumpy, but still interesting! And of course there was the wonderful Sheriff!
Holly White was the main character, and she was back in town living in her parents guest house on the farm after her Christmas Eve wedding was suddenly called off when her fiancé left her for a yoga instructor. While totally heartbreaking, I loved that Holly didn't let that bog her down too much. I really appreciated her strength and positivity. It was also super refreshing to see that she understood her self worth and was able to bounce back from the breakup rather quickly. I just loved that she didn't sit and wallow in her sadness or anger like I've seen in so many other books.
When Holly is the first to discover the murder scene, she and Sheriff Gray cross paths. Of course the first conversation they had was darker, and more focused on the matter at hand, but they begin to loosen up around one another shortly afterward. I thought that the banter between Sheriff Gray and Holly was so much fun right from the start! It was clear that this was going to be quite the interesting relationship.
There was so much humor and fun included in this story! I especially enjoyed the scene at a diner between Sheriff Gray, Holly, and the waitress; I laughed right out loud and immediately had to tell my husband about it.
Wonderfully written, and even though some of the general storyline arc was predictable, there was plenty that still caught me off guard and I loved every second of it!
My Favorite Passages from Twelve Slays of Christmas
Mom manifested from the kitchen in a puff of sugar and cocoa powder.
Strange how a town can be exactly the same and completely different at the same time.
I wanted to argue, but he was right about the pain. My body felt like a piñata after the party.
My Final Thoughts on Twelve Slays of Christmas
I loved this book so much. It was a perfect cozy murder mystery for the holiday season and I would highly recommend it!
This is definitely an author that I need to read more from ASAP. I've already requested book two in this series from my local library!
---
Snag a copy using my Amazon Affiliate link or inquire at your local indie:
Thanks for reading!
What is your favorite cozy holiday read? I'd love to hear about it in the comments below!