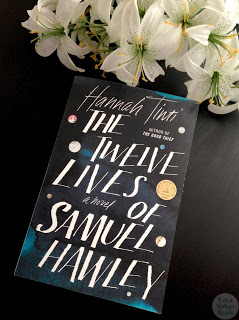 The Twelve Lives of Samuel Hawley by Hannah Tinti is one of the 2017 releases that I was most looking forward to reading this year. When I got an email letting me know that I had won a copy from a Goodreads giveaway, I was so excited! And I am very happy to say that this book did not disappoint!
In honor of this book being released today (March 28th, 2017), here is my review!
Full disclosure: I received an ARC of this book from the publisher in a Goodreads giveaway. In no way does that affect my review.
Let's dive in!
My Thoughts on The Twelve Lives of Samuel Hawley by Hannah Tinti
This story is about a teenage girl, named Loo, and her father, Samuel Hawley. These two have been moving from place to place for as long as Loo can remember. But now, Hawley wants to settle in Loo's mothers hometown to give Loo a shot at a "normal life." But after a couple run-ins with the locals, they're already off to a rocky start. Will they be able to stay in the town, or will Hawley's past come back to haunt him?
Right from page one of this book, I was hooked! However, I will say that I also found it to be bit slow moving and some bits seemed long winded. But I was still totally captivated and needed to see what happened next.
The storyline was organized in a lovely way; the main storyline arc was focused on Loo and Hawley in the present, but the chapters were broken up by flashbacks where we got to learn more about Hawley and his past. Each of these flashbacks were focused on each of the bullets that Hawley had taken. Because of this organization, there was a bit of a mystery vibe to the story, which I really enjoyed.
The two main characters were very interesting, though it does take some time to really understand them. For example, with Hawley, he seemed super sketchy to me at first. But after reading a few of his flashbacks, I was able to understand why he acted the way he did. I also really enjoyed that we both got to see Loo grow up. Her struggle at being a "normal" kid was heartbreaking to me at first. But her character as a whole seemed so incredible. I loved how strong she was and how she always wanted to think for herself and not just take someone else's word.
Yes, there is violence in this story. But like I said above, once you find out more about Hawley's past, you'll understand why the violence is still present in their lives. I would also like to say that this story does not center on the violence; it centers on the love that the father has for his child and late wife, and the lengths that he will go to to protect his daughter.
My Favorite Passages from The Twelve Lives of Samuel Hawley
It was a clear day. The leaves had abandoned their branches for the forest floor, a carpet of crimson, yellow and orange; crisp and rustling.
Each new place they travel to, she would wait until dark, spin the dial, set the right date and time, in the chart would reveal Cassiopeia, Andromeda, Taurus and Pegasus. Even if there were too many streetlights, and only the Big Dipper or Orion's Belt was visible, wherever they were would start to feel like home.
For a brief moment she was nothing but a person in a place and there was no past and there was no future, only the single moment where her life flashed open – and she was awake and she was alive and she was real.
My Final Thoughts on The Twelve Lives of Samuel Hawley
I really enjoyed this book and I would definitely recommend giving it a read! I gave my edition four stars, but I would love to re-read it once the finalized copy is released to see if the latest edits bumped this to a five star read.
---
Snag a copy through Bookshop to help support local indie bookshops:
Thanks for reading!
Are you planning to pick up The Twelve Lives of Samuel Hawley?