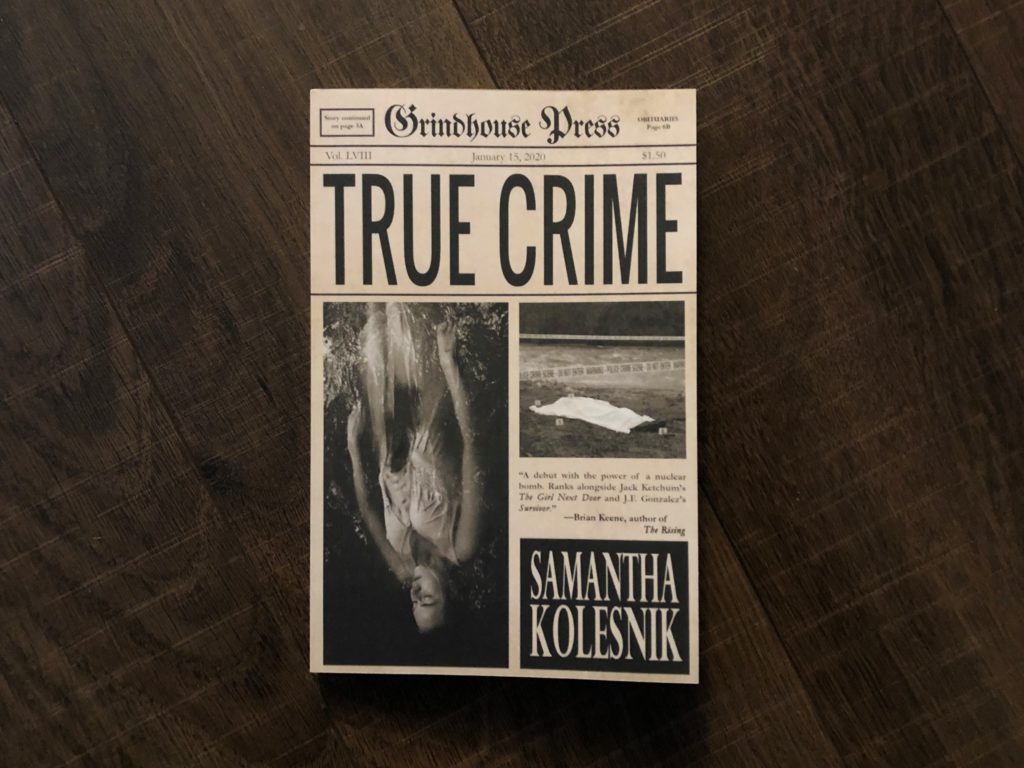 True Crime by Samantha Kolesnik is a dark and ugly tale that centers around a victim of horrible abuses. But in the darkness, there is always a bit of light. As difficult as it was to read, this novella was equally difficult to put down.
There are many trigger warnings for this one; rape and sexual assault, emotional and sexual abuse, child abuse/pedophilia, animal cruelty and animal death, self-injurious behavior, incest, kidnapping, death, murder… Take care of yourselves, friends <3
Like I mentioned above, this tale is a novella. So while there is a lot of darkness, it doesn't focus on the details of any one thing too much. There's also a healthy mix of happier elements like love, kindness, and second chances.
Let's dive in!
My Thoughts on True Crime by Samantha Kolesnik
True Crime is a tale about a young girl that is just trying to get by while growing up with a monster. When she finally snaps, her life takes a new path. But had the darkness that hovered around her soul already settled in?
I have to admit, when I first started reading this, I almost had to put it down. The first three chapters were so uncomfortable to read due to the horrific subject matter. I can't say it that got much easier to read, but for me the first three chapters were the most difficult. Once I got past them, I couldn't stop reading!
I really enjoyed that this story grappled with the whole nature vs. nurture debate. It wasn't spelled out for the reader in the text, but the things that happened definitely made me question how everything would turn out.
Another element that was really interesting was the psychological aspect. As we followed the perspective of the main character that went through all of this, we also got to see how she grappled with it. Many things weren't black or white situations to her, there was plenty of gray.
It was so powerful to see how the main character progressed over the course of the story. I won't give any more detail there, as it will give away too much…
While this covered some really tough subjects, it was also beautifully written. Check out some of my favorite passages below.
My Favorite Passages from True Crime
I started to see my life as a finite series of moments and I tried to catch each one as it passed. It was like trying to catch fireflies. Every time I thought I snagged one, I opened my hand to look at the pretty light and it disappeared.
We stood in line for tickets. All around us ran children and families. Fathers shouted after sons and mothers twirled their daughters' hair. In their midst were at least two murderers, though they were none the wiser.
I wondered how the world made its villains and why it never apologized for making them.
But there was something about me which made people hesitate. I was the black sheep, the sheep with teeth, the sheep even the wolf wouldn't eat.
To come in as a murderer and to murder is one thing. To come in as a friend, but to be a foe is another. Deceit is really the true crime of humanity.
My Final Thoughts on True Crime
This story is brutal. It's heavy. But it's also beautifully written. I can't remember the last time I read a tale that was this uncomfortable, but also this absorbing…
A must read for horror fans. This one will demand your attention the minute you begin reading.
---
Snag a copy through Bookshop to help support local indie bookshops:
Thanks for reading!
What was the last book you read that made you uncomfortable?