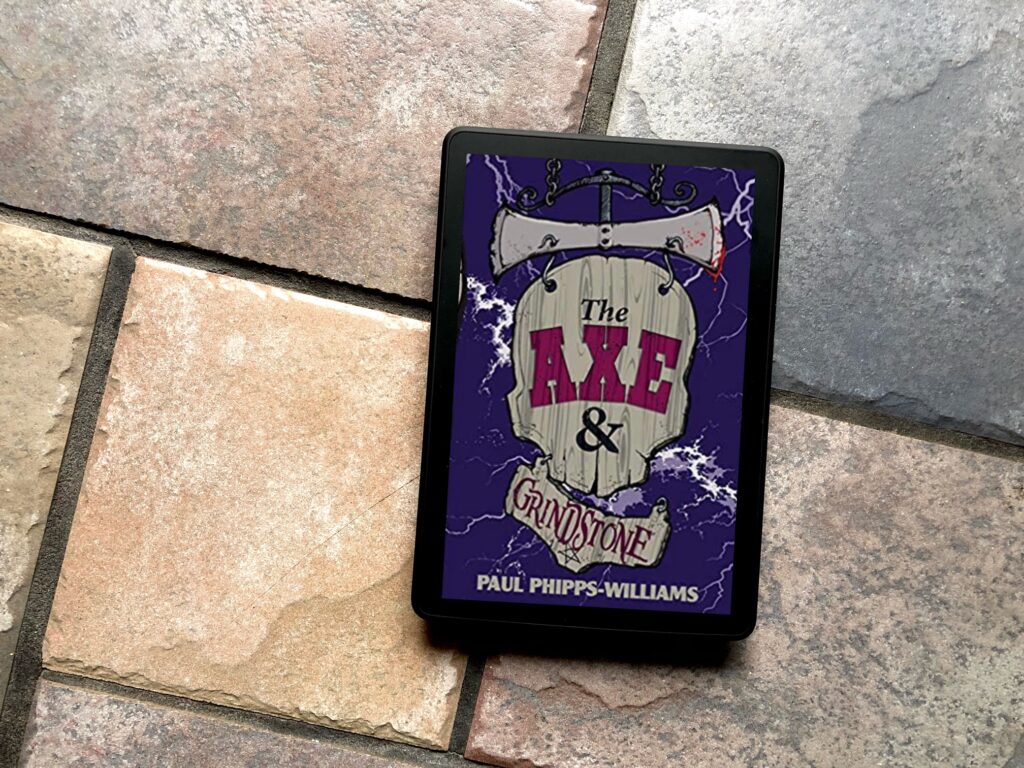 The Axe & Grindstone by Paul Phipps-Williams is a tale about cherry brandy, screams, and forgiveness. This tale centers around a man that gets a job at a pub in the middle of nowhere. But this isn't your everyday type of pub…
Full disclosure: I was given a free copy of this book from the author in exchange for an honest review. This did not affect my rating in any way.
Let's dive in!
My Thoughts on The Axe & Grindstone by Paul Phipps-Williams
When this tale begins, I we meet our main character, Mark Adams. Mark is working at a dead-end job at a pub in a town he hasn't even considered leaving. One night, he is faced with some hard realizations that leave him questioning his future. Luckily, he's approached by someone from his past who offers him a new job. He accepts, and before he knows it, it's time to leave town to make his way to the new pub.
When he approaches the pub, he's confused. Turns out there were a few things that his contact left out when pitching him this job… Well, make that more than just a few things.
This pub is actually two pubs. One is a ghost town in which he doesn't expect any visitors, and one is a popular place that actually connects to another world. Unfortunately it's not all sunshine and pints on the other end. There's trouble brewing and Mark is about to learn just what the job entails.
This was an absolute blast to read! I mean a pub that doubles as a portal to another world?! I'm so in!
Right from the start, I was rooting for Mark and wanted to see him move on to bigger and better things. With each new thing that was thrown at him in the first half of the book, I couldn't help but laugh at his reactions because they were so realistic. Too often in fantasy, the characters immediately go over the top with their reactions when faced with things like this. But not Mark. Mark kicked back, observed, and just grabbed a drink to soak it all in. When he realized he wasn't dreaming, he had a bit more of a reaction, but it was still just too funny.
As the story continued on, and things got more and more intense, the laughter came to an abrupt halt.
While we mainly focus on Mark, the rest of the supporting characters were all wonderful as well. I loved learning a bit more about everyone and seeing how they engaged with one another. I also loved seeing everyone pull together when it was needed. It gave me all the warm fuzzies!
When the story moves into the intense scenes, it certainly doesn't shy away! So hopefully you like a bit of darkness in your fantasy reads if you pick this one up! I, of course, loved it.
This tale was wonderfully written. I loved the way it was organized not only from the pacing of the plot, but where the chapters broke! It was a perfect combo to keep readers hooked and unable to find a good "stopping place" to put the story down for the night. The dialogue flowed wonderfully, the characters were intriguing, the world building was perfect, and the action scenes were described perfectly in order to really play out in readers minds. This tale is just screaming to become a movie!
One last note here; scattered throughout the story, we also see various graphics that add a fun layer to the text! For example, in one scene, when a character gets a text, we see the phone with the text on the screen. In another, we see the contract with the old style script written out.
My Favorite Passage from The Axe & Grindstone
There's something in the air, something I can't explain and can't quite put my finger on. It's the feeling you've left the gas on, or you know someone's looking at you from a distance.
The feeling that something's not quite as it should be.
My Final Thoughts on The Axe & Grindstone
The Axe & Grindstone is Paul Phipps-Williams first novel! While this is certainly a must-read for fans of fun and fantastical tales with a fair dose of intensity and terror, Paul is also a name that you'll want to keep an eye on! I cannot wait to see what Paul writes next.
---
Snag a copy through Bookshop to help support local indie bookshops:
Thanks for reading!