Sworn Guardian by T.L. Branson is the first book in the Forbidden Magic series, and what a series kick-off this was!
I definitely picked this one up at a bad time because it took me a couple weeks to get through it… But with how interesting and fast-paced the plot was, this is a book I easily could have read over the course of a weekend if I had had adequate time!
Full Disclosure: I received a copy of this book from the author in exchange for an honest review. This did not affect my rating in any way.
Let's dive in!
My Thoughts on Sworn Guardian (Forbidden Magic, #1) by T.L. Branson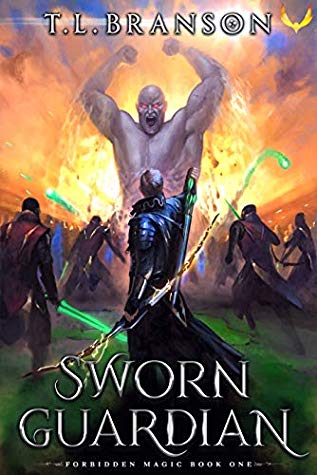 I love T.L. Branson's writing style so much! His tales are always so action-packed and exciting. When I got the email that this one had launched, I was so pumped! I dove in just as soon as I could.
When this tale begins, we're dropped into the middle of a battle where something just happened that has thrown the main character for a loop. It's clear that time is running out and that things are not going well… But before we get much more information, an explosion occurs.
In the next chapter, the main character wakes up in a bed on a ship. He has a bad feeling about things, but can't remember much. Over the course of the book, we follow this character on an epic quest where he tries to save his sister, and the world all while working to re-learn everything that had been wiped from his memory.
Right from the start, it's clear that there is magic involved in this world. Though as we were dropped right into the action, we didn't learn more about that detail for a short while. Instead, we learn all the ins and outs of the magic gradually over the course of the book as our main character re-learns the things himself. I really enjoyed this as it was easier for me to digest this information slowly rather than getting the information all at once.
I also really enjoyed the gaming element and how each character had MP, EXP, AP and such things. I'm not a huge gamer, whether that's with video games or table top campaign-based games, but I have played a few and I could easily follow this theme.
For some reason, when picturing the stones that the characters could use to augment their powers, I was picturing those little plastic stones that were Harry Potter themed that you could collect back in the 90's…
Anyway! The characters themselves were so fun. They each had their own strengths and weaknesses and I couldn't help but chuckle at quite a bit of their bickering. I already cannot wait to see who returns in the next book in the series.
The main character was definitely a strong character. I didn't agree with some of his choices, but keeping in mind how terrifying this world may seem to someone that had had lost most of their memories and is just trying to stay strong and stay alive, it all made sense. This was especially the case with his sister Claire and some of the discussions that they had. I felt that the author walked a find line between having Claire give Alton just enough to see how things would play out based on fate without giving him too much just in case that lead them down the wrong path.
Bring on book two!!
My Favorite Passages from Sworn Guardian
So, I did what any self-respecting person would do, I ran for my life.
"What's going on?" Claire asked as she struggled to sit up again. "How am I not dead?"
"You sure looked it when you flew out of that vortex," Bella said.
"After I did what now?" Claire asked with her eyes wide and mouth agape.
"Love isn't something you brush aside or save for later because there will never be a later. It's something you make time for today. Without it, what point is there to all of this? Why fight for our kingdom except to protect the ones we love? Without love, we have nothing worth fighting for."
My Final Thoughts on Sworn Guardian
After I finished reading this and I went to log it on Goodreads, I saw it labeled as a "LitRPG." I had never heard of that before! LitRPG is a literary genre that combines some standard conventions of and RPG (role playing game) with science-fiction and fantasy novels.
It was interesting for me to see that this would be in the same category as Ready Player One because I was getting some of those vibes with the elements of this book. I'm definitely going to have to look into more books like this!
So in that case, if you're looking for an action-packed LitRPG featuring magic, monsters, friendships, and betrayal, then this is one you gotta check out!
---
Snag a copy through your local bookstore or feel free to use my Amazon affiliate link:
---
Thanks for reading!
To check out my reviews for more of T.L. Branson's work, feel free to click the links below: