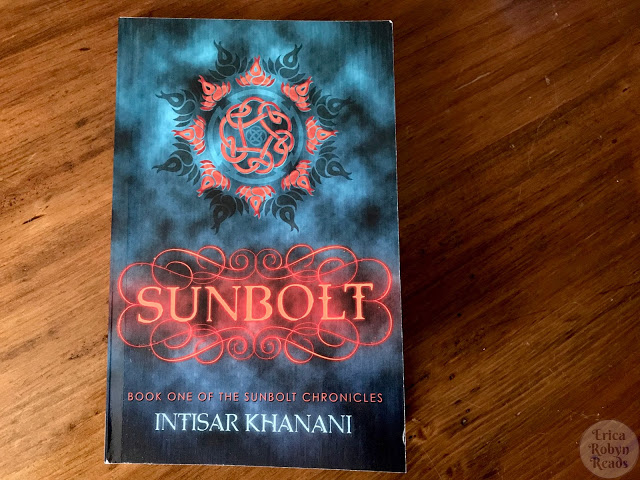 Sunbolt is the first book in The Sunbolt Chronicles by Intisar Khanani. I won this book during Armchair Book Expo and I am just kicking myself! I should have started this book as soon as it arrived in my mailbox… It was incredible!
My Thoughts on Sunbolt (The Sunbolt Chronicles #1) by Intisar Khanani
This book was such a refreshing YA fantasy! When I pick up YA reads with elements of magic, I'm always very hesitant. Far too often, we see a very immature character that lacks training, but somehow manages to master their power just in the nick of time. I'm so happy to say that that wasn't the case here!
The main character, Hitomi, is a mature teenager who has power referred to as, "Promise". She hasn't been properly trained but she can use her magic for small things. However, when she works her magic, it totally drains her. As the story moves along, it is clear that she needs special training, but will she be able to find someone that has the ability and willingness to help?
I absolutely loved the magical elements of this story as well as the paranormal characters, which included:
Humans that can shift into animal forms.
Mages– humans with Promise, trained to kill Breathers.
Fangs– similar to vampires, they feed on blood. They can also control their victims with their gaze.
Lycans– individuals that appear half human, half wolf.
Breathers– human-like individuals that feed on souls. They can control others by shaping their thoughts.
The characters were developed perfectly. Of course, there is more I want to eventually learn about a few of the characters, but I thought that the author gave us just enough information about them and their past in order to keep the story moving along. I've got my fingers crossed that we will learn some more backstories in book two.
The writing was lovely! The storyline was perfectly paced and flowed well. The use of description was excellent; I could really imagine many of the settings. The dialogue was realistic. There were a few classic fantasy/paranormal tropes, but they each had a nice refreshing twist to them.
This is a book that I got totally lost in once I started reading it.
My Favorite Passages from Sunbolt
*slight spoilers below*
Our cave is set in a sandy bluff that rises above the stream. The opposite side is wooded, the trees tall and lovely. They are mostly bare now, their branches sweeping the sky in elegant curves. Interspersed among their ranks stand solitary pines, showing tall but heavyset, sheathed in their armor of needles. The moon hands low; dawn brightens the far reaches of the horizon.
I try to shake the thought loose, but it sticks in my mind like a prickly burr, catching on memories that lie just beneath the darkness.
I don't know who I am. I only have bits and pieces of what I was. How can I grow if I have no past, no roots?
I grin, unaccountably amused. "What hair?"
"That is, in fact, my concern."
"You haven't considered the benefits of being bald," I tell him. I list the advantages, ticking them off on my fingers, "No lice, no worries about how to tie it up, no need to dry it in winter, nothing for anyone to grab you by, and," I pause, trying to come up with one more reason.
"Nothing to keep your brain warm," Val supplies.
I laugh.
In the morning, Val is gone.
I know it the moment I wake, an almost physical awareness, as if the air I breathe has lost its moisture, or a color had disappeared overnight so that, on waking, I find a world without amber or topaz, or amethyst.
My Final Thoughts on Sunbolt
I just loved everything about this book. I cannot wait to start the second book in the series.
If you enjoy wonderfully written stories with awesome characters and elements of the paranormal and magic, you gotta check this one out!
Thanks for reading!