The Summer the World Ended by Matthew S. Cox… oh my goodness. What a rollercoaster! This is another book where I just want to shout, "GO READ THIS!" This book has heartbreak, quite a bit of terror, and a whole lot of heart.
Full disclosure: I was given a free copy of this book by the author in exchange for an honest review. This did not affect my rating in any way.
To be honest, I didn't remember anything about the synopsis before I dove into this one. I had read it once, when I agreed to review the book, but by the time I finally got around to reading it, it was like I was totally clueless.
If you enjoy letting a book take you by surprise, I recommend skipping this review and avoiding the synopsis.
What I will tell you without spoiling anything is that this is an intense ride. I almost DNFed it because the first few chapters were so heartbreaking and hit me really hard. I'm so glad I stuck with it though because once the main character leaves her hometown, it's a real page-turner filled with twists and turns!
If you don't mind being a bit spoiled (even with the synopsis), let's dive in!

The Summer the World Ended by Matthew S. Cox
*LIGHT SPOILERS THROUGHOUT THE REVIEW BELOW*
Synopsis:
As far as Riley McCullough is concerned, her best friend getting 'dragged' off to Puerto Vallarta for the first two weeks of summer vacation was the end of the world―at least until the bombs fell.
Life in suburban New Jersey with her mother has been comfortable, not to mention boring, to an introverted fourteen year old. As if her friend's surprise trip wasn't bad enough, her expectations for the 'best summer ever' disintegrate when she gets sent across the country to stay with a father she hasn't seen in six years. Adjusting to a tiny, desert town where everyone stares at them like they don't belong proves difficult, and leaves her feeling more isolated than ever. To make matters worse, her secretive father won't tell the truth about why he left―or what he's hiding.
Her luck takes an unexpected turn for the better when she meets a boy who shares her interest in video games and contempt for small town boredom. In him, she finds a kindred spirit who might just make the middle of nowhere tolerable.
Happiness is short lived; fleeing nuclear Armageddon, she takes shelter with her dad in an underground bunker he'd spent years preparing. After fourteen days without sun, Riley must overcome the sorrow of losing everything to save the one person she cares about most.
My thoughts:
Phew. The first five chapters of the book was so hard for me to read, emotionally. The pain the main character, Riley, was feeling was so REAL and intense. It made me so incredibly sad that I kept debating DNFing the book. Bravo, Matthew, that NEVER happens to me!
Once I hit chapter six, there was still a lot of sadness as Riley continued to deal with the hand that life dealt her, but this was also when the story really sucked me in. From then on, it was so full of twists and turns that I couldn't put the book down! And again, because I hadn't remembered the synopsis, I absolutely did not see each twist coming.
I loved the characters! The author absolutely nailed the pre-teen persona with Riley; from the way she reacted to things her dad said or her thoughts about kissing, to the struggle she had between being a kid and an adult, it was all so wonderfully done. I really enjoyed Riley and her father's relationship, which again, was so realistic. I also really loved both of their humor that was scattered throughout the novel. For example: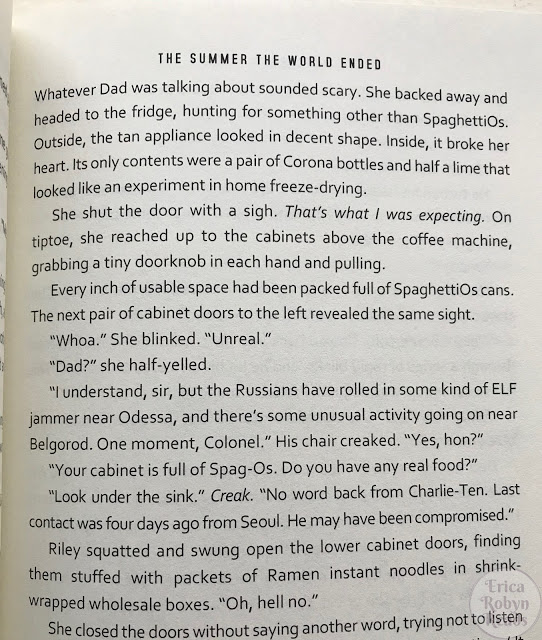 Man, there are SO many things that I wish I could talk about with this book… But it would stray too far into majorly spoiling the story. So I'll have to just leave it at that.
My favorite passages:
"I want you to be comfortable talking to me, Riley. I'd prefer you wait until you were eighteen, but if you decide to have sex, I'd rather you do it safely rather than sneaking around behind my back."
Riley discovered that chicken tacos weren't too easy to breathe. When she stopped coughing, she hid her face and her arms, wanting to crawl under the table and disappear.
That place is so boring, I think the dust has dust.
He set his hands on her hips. Riley's heart skipped about, getting into a boxing match with the butterflies in her stomach.
"For an event like this, the government wouldn't bother warning anyone. All it would do would create panic and add a short period of terror and misery before the nukes hit."
My final thoughts:
This book really had it all; video games, friends, heartbreak, interesting family dynamics, love, suspense, terror, and plenty of twists and turns. And it was so wonderfully written! Five stars. I cannot wait to give this one a re-read!
Thanks for reading!
What was the last book you read without reading the synopsis that you ended up really loving? I'd love to hear the title and author in the comments section below!