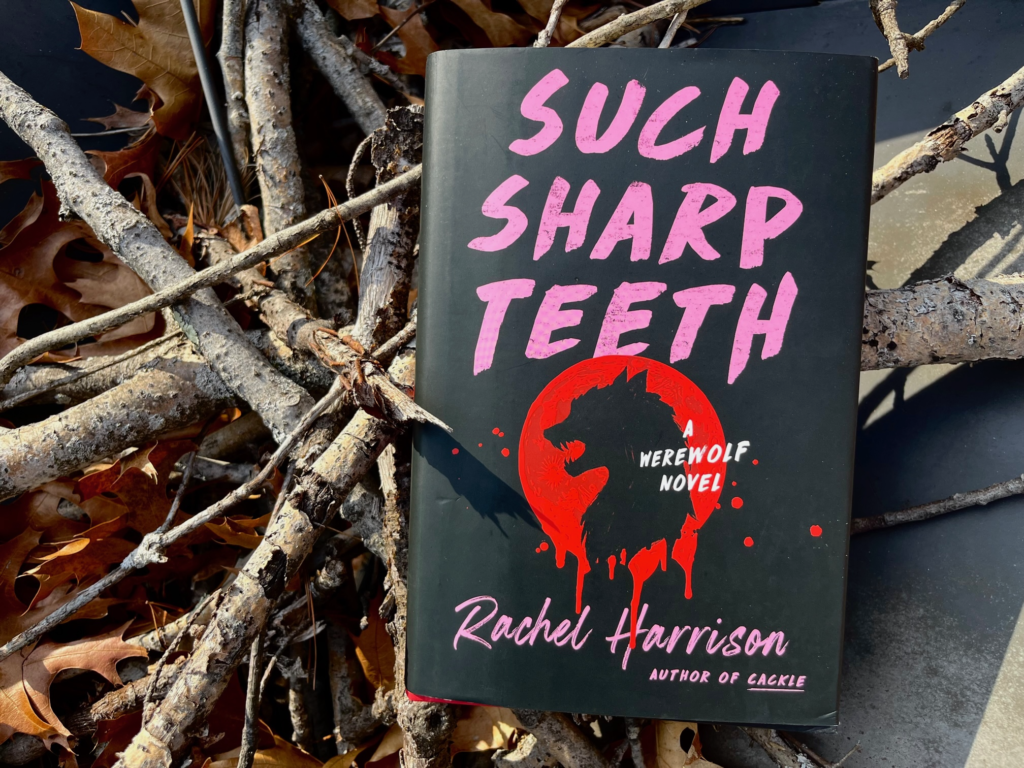 Such Sharp Teeth by Rachel Harrison is an unflinching tale of body horror, both natural and supernatural. Centered around the strength it requires to endure, this story is also filled with a lot of love and second chances.
Let's dive in!
My Thoughts on Such Sharp Teeth by Rachel Harrison
Returning to a town that she had previously escaped from, Aurora (Rory) Morris isn't exactly thrilled to be back. She has returned to help her twin sister, Scarlet, through her pregnancy as her partner is out of the picture.
Already missing the big city and struggling with the memories that start popping up, Rory goes out drinking at a local bar. The high-note of the night is that she runs into an old friend, Ian, but the low is that she has an accident on her drive home that results in her being attacked by an animal. But this isn't just any attack…
She wakes up in the hospital and is told that she was very lucky that she only had a few cuts and scrapes. But this doesn't make any sense to Rory. She remembers the animal tearing flesh from her body. But sure enough, when she eventually looks under the bandages, there's hardly anything there. That's her first inkling that something isn't right, and things only get more and more bizarre from there!
This tale takes such an interesting path! The terror kicks in immediately with the animal attack, but then even though things calm a bit, the little horrors that are dropped in throughout kept me reading as fast as I could to see what would happen next. The author tackles so much here; the bond between sisters, how the past affects the present, how to navigate a troublesome relationship with family, how to let love in, how to forgive, how to endure bodily changes when you have no control over it, how to cope with the process of pregnancy, and so much more.
I loved so much about this story! The relationship between the sisters was just one of those items. Their dynamic was written so well! I got all the warm-fuzzies thinking about having a relationship like that.
I also really loved how the author handled both sisters' transitions. While I've certainly never been bitten by a werewolf, and have yet to become pregnant, I can't relate to their exact situations. But I can relate to how they process things. Seeing things through their experiences was so refreshing. Being a female and bleeding every single month is difficult and there's no way around it. From a very young age, we learn how to cope and that superpower is reflected here wonderfully.
The writing style was wonderful. I cannot wait to read more from Rachel Harrison very soon! I was in awe of how perfectly everything flowed, not just the storyline itself, and not even just the flow of the dialogue. But more so how the author was able to make readers feel that they were right there in the story, watching the events unfold around them.
One last quick note; the sarcasm and humor mixed in here was right up my alley! I laughed at so many sections. Check out a few of those in the section below!
My Favorite Passages from Such Sharp Teeth
I forgot about the mist. There's an ever-present mist that skulks around here like a townie. It tumbles down from the mountain, seeps out of the woods, and slathers itself across the dull suburban landscape. It might be the only defining quality of my hometown.
Persistent mist.
Even with my brights on, there's negligible visibility. I drive slowly around the winding curves of Cutter Road. I used to know it by heart. I could drive it in the dark no problem, but it's been a long time since I've been back. I didn't think it was something I could lose. I thought that the map of this place was etched into me, that I could navigate from muscle memory, but I guess time erases the things you least expect.
Having a nightmare during a nap seems particularly cruel. Regular sleep, fine. But to be betrayed by a nap? Uncool.
The lie is so big, it barely fits through my lips.
When you're young, you're oblivious to what is rare because you don't have enough experience to identify it.
I can't undo what's been done, but I can try to figure out a way to live with it. To harness it. Find some control.
After hours of frantic research, I find an occult shop about an hour away that specializes in "supernatural phenomena." I'm not too keen on revealing my werewolf status to a complete stranger, especially one who will likely just try to sell me crystals, but if I want my life back, I don't really have any other choice.
It does have good reviews on Yelp. And where do I get off being skeptical? I'm a fucking werewolf.
My Final Thoughts on Such Sharp Teeth
Such Sharp Teeth is a must-read. It was such a fun but pointed story that really makes you think about the human body and all that it goes through.
This is definitely a book that will sink its teeth into you, nagging until you've finished the very last page. I had such a hard time putting this one down as I would immediately look forward to picking it back up again!
---
Snag a copy through Bookshop.org to help support local indie bookshops:
---
Thanks for reading!
Have you read Such Sharp Teeth yet? If so, what did you think?