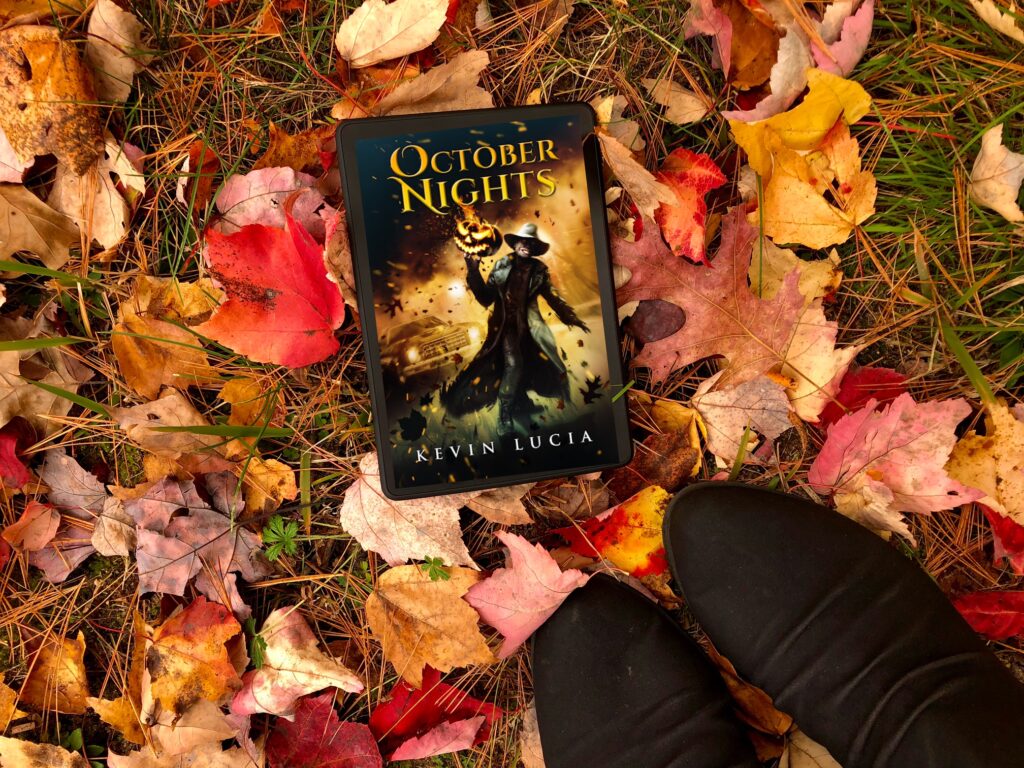 October Nights by Kevin Lucia is a haunting tale of the bizarre things that happen in a small town around Halloween. This collection is packed with loss, revenge, and the bravery it takes to face your past.
Full disclosure: I was given a free copy of this book from the author in exchange for an honest review. This did not affect my rating in any way.
Let's dive in!
My Thoughts on October Nights by Kevin Lucia
October Nights is a tale about a writer working in the small town of Clifton Heights. This place isn't just any old town… strange things happen here and the closer it gets to Halloween, the stranger the occurrences become.
When the story opens, our narrator is approached with a gift and he's very surprised that this has happened again! The last time something similar happened, he was able to write a book using the stories that he was given. This second gift appeared just when he needed it most. As the tale goes on, we get to read the stories that he was handed, all of which occurred in that small town.
I LOVE when collections like this all tie into one another. The further you read here, the more the tie-ins come to light. There were many instances where I realized what a certain part tied into and I literally gasped.
Readers, you're going to have a blast with the horror within these pages!
Per usual, here are my notes on each story:
The Rage of Achilles – Three Stars
When a father gives his son some space to do something alone for the first time, he thinks nothing can go wrong. Unfortunately, that wasn't the case. Returning to town to make things right, this man stops into a church to confess what he is about to do. Unable to just sit back and watch, this priest steps up.
This tale was so infuriating at the beginning before it heads into heartbreak territory. And what a chilling ending! Tread lightly with this one if you have children.
Long Night in the Valley – Four Stars
Hearing that the basketball camp that changed his life forever was going to be torn down, this man is drawn to the area. He knows that he shouldn't be out there, but he just can't help it. Will what he finds help put his mind at east, or make things worse?
This one was so unsettling. My heart broke for this poor guy. I could relate to the knee pain as I had knee surgery in high school that never healed right. But once we learn more about what was going on at camp, well that changes things. I loved the jumps back and forth between two settings. While the first one threw me for a loop, I ended up loving the jumps!
The Last Will and Testament of the Not-So-Good Reverend Ford – Four Stars
A pastor who has fallen on some very hard times goes on a trip to deal with the things he's been bottling up. As he's no longer with the church, he dives headfirst into reading and watching horror without guilt. But in this town, odd things are happening and they seem to be eerily similar to things from horror movies. As he spends more time in the town, even more bizarre things happen as he feels compelled to carry out certain things, even if he doesn't have interest.
Wow this one was intense! The build up is quite a slow burn, but once things start falling into place at the very end, it's heartbreakingly awesome. This poor man. My heart hurts for him.
One Last Pitch – Three Stars
When a young man suddenly gets the urge to throw a fast ball right at another person, both of their lives change forever. Meanwhile a young woman has a surprising ability to help people when they are in need. One night at a gas station, their lives are suddenly put at risk and they are forced to work together to try to get through the situation safely.
This one was so interesting! I loved how it started out jumping from one character to the next, slowly building up to the big scene that really kicks in the action.
My Favorite Passages from October Nights
Jack-o'-lanterns grin joyful fire from porches.
… at the end of the day, we were all skeletons-in-waiting.
My Final Thoughts on October Nights
This is the perfect read to pick up on a chilly October night. These tales will suck you in and leave you haunted!
---
Snag a copy through Bookshop to help support local indie bookshops:
Thanks for reading!