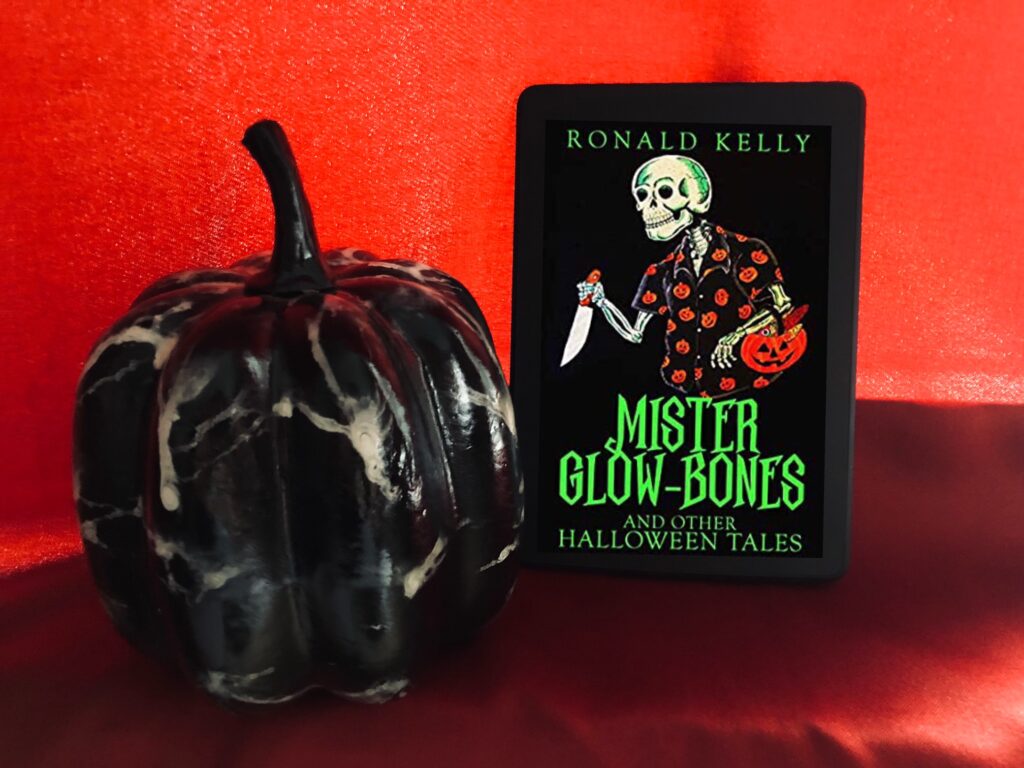 Mister Glow-Bones and Other Halloween Tales by Ronald Kelly is a collection of eleven stories that range from the wonderfully nostalgic, to the stomach-churning and brutal.
Full disclosure: I was given a free copy of this book from the author in exchange for an honest review. This did not affect my rating in any way. I also purchased a physical copy.
Let's dive in!
My Thoughts on Mister Glow-Bones and Other Halloween Tales by Ronald Kelly
When I first picked this collection up, I was a bit unnerved with how spot on the first paragraph of the Introduction was! I was indeed picking it up on a cool October night; it was October 2nd, at 8:32pm, and it was fifty-five degrees outside!
This collection has such a wide range! You'll never know what you're going to have served up next. Each tale also has a wonderful illustration included at the start that Ron made. Each of the illustrations were so much fun!
Here are my thoughts and notes on each tale:
Introduction
Well doesn't this intro get readers pumped for the Halloween season?!
Ronald Kelly needs to record a reading of most of this text and post it every October 1st for the official start of spooky season! It's the perfect rally cry!
Mister Glow-Bones – Five Stars
When a man is forced to move back into his childhood home that was the scene of the gruesome death of his father, he's shocked to find the thing that he believed was responsible for the murder. His wife doesn't believe him… but she will.
This one starts out tense, makes you put your guard down a bit, then jumps right back into the thick of it! What a terrifying thought! Who hasn't had a glow in the dark skeleton hanging on their wall?!
The Outhouse – Five Stars
On a missions to tip an outhouse, this group of boys has no idea what they're getting themselves into with the dumb prank.
The world needs fewer people like Mike in it. I hate seeing people use loyalty against their friends just in general, but I hate it even more when it's used for stupid reasons. I did love the action that this tale contained! Phew!
Billy's Mask – Five Stars
When the group of bullies ask Billy to go trick or treating with them, Billy seems cautious. But when they see his mask, everything changes.
This one was so fun! I loved how Billy didn't give up any information. He waited until the big reveal.
Pins & Needles – Five Stars
I was already nervous with the illustration for this story… This tale is straight out of my nightmares. The flip in the storyline was nice to see fo a little revenge, but it was cringe inducing all the same! This one is brutal!
Black Harvest – Four Stars
When a town throws a harvest party, one young man is surprised to find the blood red ear of corn. As tradition goes, he may kiss the prettiest girl at the party later on. But of course, that doesn't go quite as planned.
This one was so spooky! I was almost rooting for the young man, but then I was rooting for the girl he set his sights on.
Pelingrad's Pit – Five Stars
When a curious boot trespasses on an old man's property, he discovers an odd pit in the ground that seems to be for burning. But there's something strange and spooky about this place that he originally thought.
This tale is super eerie. I was so nervous to see what was under the newspaper each time. And that ending!
Mister Mack & the Monster Mobile – Five Stars
When two boys just can't resist the lure of seeing things from monster movies, they enter the camper of an old man. When one realizes these are fakes, they try to leave…
Such a spooky one! I love the play on curiosity. This one took a turn that I did not see coming!
The Halloween Train – Four Stars
A father had a near miss with death when he was a child. But has the Halloween train actually passed him by?
This one was so sad! This poor family.
The Candy in the Ditch Gang – Five Stars
This tale is wonderfully nostalgic! We're seeing Halloween through the childhood memories of a father while he watches his children experience the holiday.
Halloweens: Past & Present – Four Stars
This one will break your heart.
Monsters in a Box – Three Stars
Another tale centered around nostalgia to close things out!
---
My Final Thoughts on Mister Glow-Bones and Other Halloween Tales
I had a blast reading this! I was going to save it for a bit closer to Halloween, but I'm so glad that I didn't. This is a wonderful collection to get you into the spooky mood!
From the rally cry of the introduction, to the terror held within the pages, this is a must read for the Halloween season! Go pick up a copy today!
---
Snag a copy through Bookshop to help support local indie bookshops:
Thanks for reading!